11 Jun 2014
Blueberry Coulis Cupcakes with Maple-Brown Butter Frosting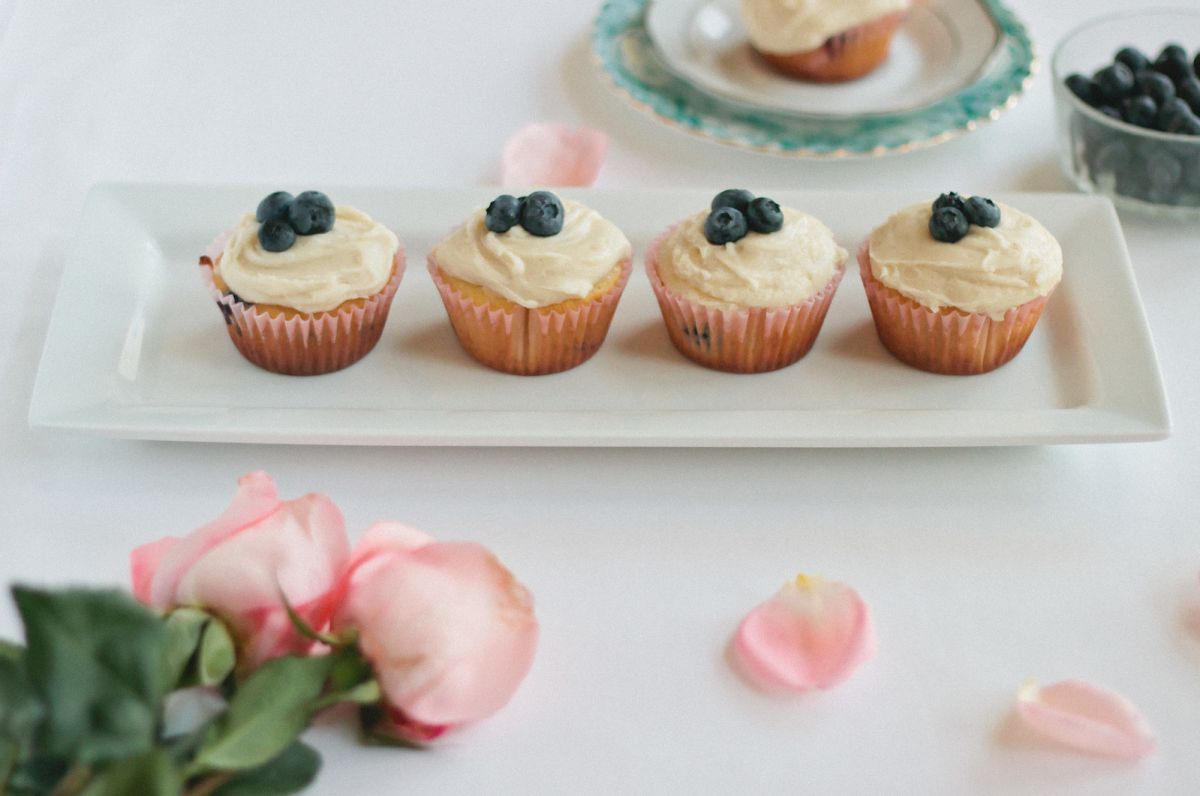 One of my favorite summer activities so far has been to sit outside with a cold bowl of berries particularly strawberries, blueberry, and raspberries. If I've planned it right, then I'll also have a bowl of frozen green grapes on me too. There's something really sweet about summer berries that makes everyone excited about the season. I think the freshness really hits home to people and allows everyone to embrace the season. Berries in particular feel like little jewels as getting the best and ripest ones is really rare.
When I lived in Scotland, I would find local berries and sit under the tree listening to the birds chirp in the summers. Days were exceptionally long in that part of the world, so I was able to enjoy the season perfectly. With the extra abundance of blueberries this year, I decided to make a number of different recipes including these blueberry coulis cupcakes. Coulis is a pureed fruit that is then run through a sieve. It's a versatile element for any breakfast or dessert. I love adding a tablespoon or two to my morning porridge, I'll pour a bit on top to a storebought cheesecake, and adding it to this blueberry coulis cupcakes really intensifies the flavor of blueberries! I paired it with a maple and brown butter frosting to give the fruity flavor a more decadent and warm finish. It was really a delight!
If your blueberries are not as sweet as you would like, feel free to add a quarter cup of sugar to the blueberries when you add it to the saucepan with vanilla extract. Otherwise, let me know how you get on with the blueberry coulis cupcakes. They were a hit with my family!
14-16 Cupcakes
Blueberry Coulis Cupcakes with Maple-Brown Butter frosting
ingredients
1¼ cups all purpose flour
¾ cup sugar, divided
¼ tsp baking soda
1½ tsp baking powder
pinch of salt
1½ sticks butter, room temp & divided
1 egg
½ cup yoghurt
½ cup milk, divided
2 cups blueberries, divided
½ tsp vanilla extract
3 cups powdered sugar
¼ cup milk
4 tbs maple syrup
---
method
For the coulis, combine 1 cup of the blueberries and vanilla to a heavy saucepan over medium-high for about 5 minutes. Add the lemon juice and bring the mixture to a boil over high heat while stirring occassionally. Then transfer to a blender and blend until it's smooth. Strain through a sieve and let the mixture cool. Set aside.
Preheat the oven to 350F and prepare cupcake tins with liners. For the cupcakes, sift the flour, sugar, baking soda, baking powder, and salt. In a spearate bowl, mix 4 tablespoons butter and egg. Add the youghurt and milk and blend. Toss blueberries with a tablespoon of flour and fold into the batter. Fill cupcake liners, add a tsp of the coulis on top, swirl with a toothpick. Bake at 350F for 20 minutes until the toothpick comes out clean.
For the icing, in a sauce pan, melt butter at medium heat and let it simmer until it's golden brown color. In a mixing bowl, add the butter to the powdered sugar and mix on medium-high speed. Then slowly add the milk and syrup. Whisk until it is a thick consistency.
Top the cooled cupcakes with frosting and a few fresh blueberries on top!