09 Jul 2014
Vanilla Mascarpone Cupcakes with Orange Blossom-Raspberry Jam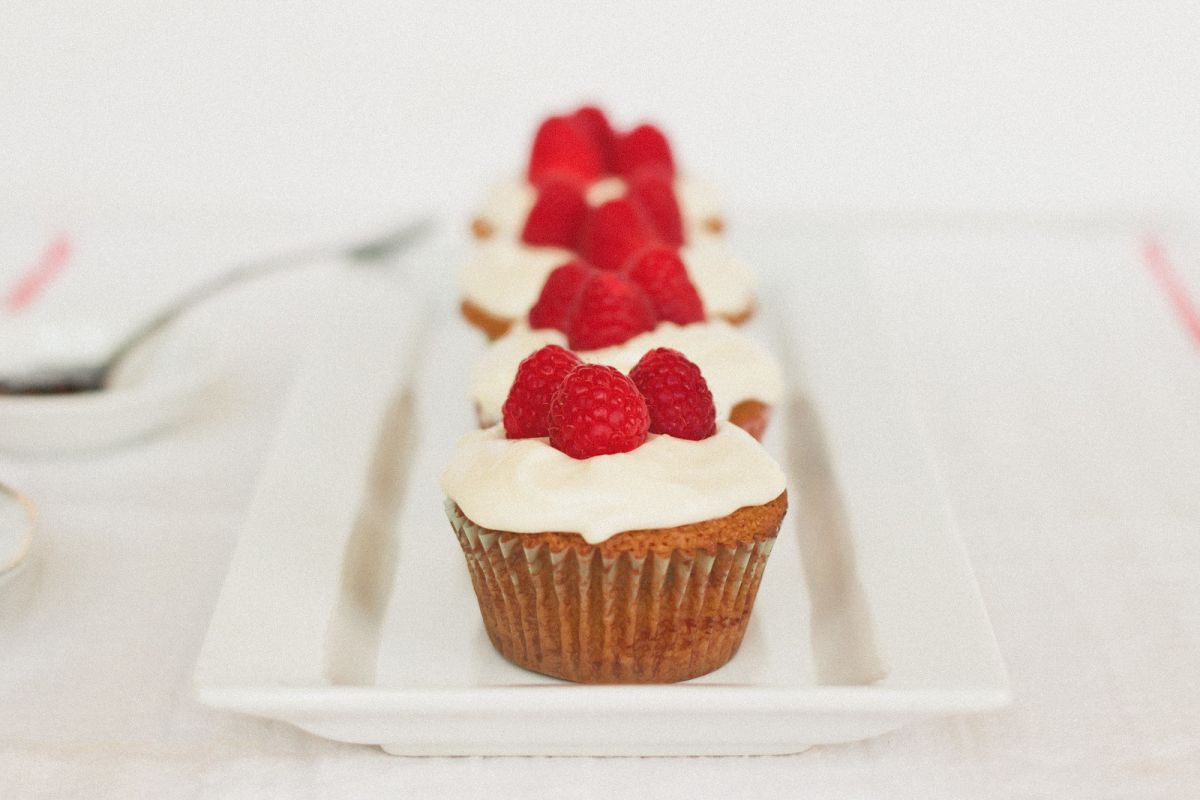 It has been one of those weeks where things are either not going to plan or I'm a step behind. We always have one of those weeks right? Sometimes even waking up an hour earlier or staying up an hour later just slows you down even more. I guess it's a reminder that I need to breathe and take things slowly and focus on efficiency. But it's important to remember that it's only midweek and we have the rest of the week ahead. Tables can turn.
Do you know what makes weeks like this better? Indulgence. These smooth and gooey mascarpone cupcakes are a nice change of pace from your everyday cupcakes. Mascarpone cupcakes are tender and rich with eggs, butter, and cheese. It's almost like a hybrid between a cupcake and a cheesecake. The reason why I love filling mascarpone cupcakes with preserves or jam is that it brings freshness to the cupcake, breaks down any density, and enhances the richness.
Notes for the Recipe
Chia Seeds - If the consistency for the jam doesn't come out as thick as you would like, adding a tablespoon of chia seeds will help soak up excess water.
Orange Blossom Water - This ingredient takes the cupcakes to a whole new level. I prefer to use this orange blossom water because it's all-natural and not diluted.
Rosewater - If you don't like the flavor of orange blossom water and looking for a floral alternative, then give rosewater a try here! I've been using this rosewater for years.
Mascarpone Cheese - The best alternative to mascarpone cheese is blending 8 ounces of full fat softened cream cheese with 1/4 cup of whipping cream.
Have you ever had mascarpone cupcakes before?
Vanilla Mascarpone Cupcakes with Orange Blossom-Raspberry Compote
ingredients
1 cup flour
½ tsp baking soda
pinch of salt
½ cup butter
1½ cups sugar, divided
1 egg
1¼ tsp vanilla extract, divided
½ cup mascarpone
3 tbs orange blossom water, divided
1 tbs lemon juice
4 oz cream cheese
1 cup unsalted butter, softened
2 cups powdered sugar
---
method
Add raspberries to a hot pot and stir as the juices come out. I prefer not to break down the berries too much. Add ½ cup sugar and lemon juice and simmer for about 20-35 minutes. To know if the consistency has thickened, place a little on a plate and let it cool completely. Run your finger through the mixture if sticky, you will know it's fine. At the last minute, stir in the 2 tablespoons orange blossom water.
Preheat oven to 350F. Stir the flour making soda and salt. In a mixing bowl, cream the butter and sugar until light and fluffy. Then add ¼ teaspoon vanilla and egg. Stir in the mascarpone and then the flour mixture. Fill cupcake liners one-third of the way, place a spoonful of hte compote, cover with batter so it's just above halfway full. Bake for 20 minutes.
For the cream cheese frosting, mix all the ingredients including the remaining 1 tsp vanilla extract and 1 tbs orange blossom water until fluffy.
You can then pipe the cream cheese frosting on top and place a few fresh raspberries on top!