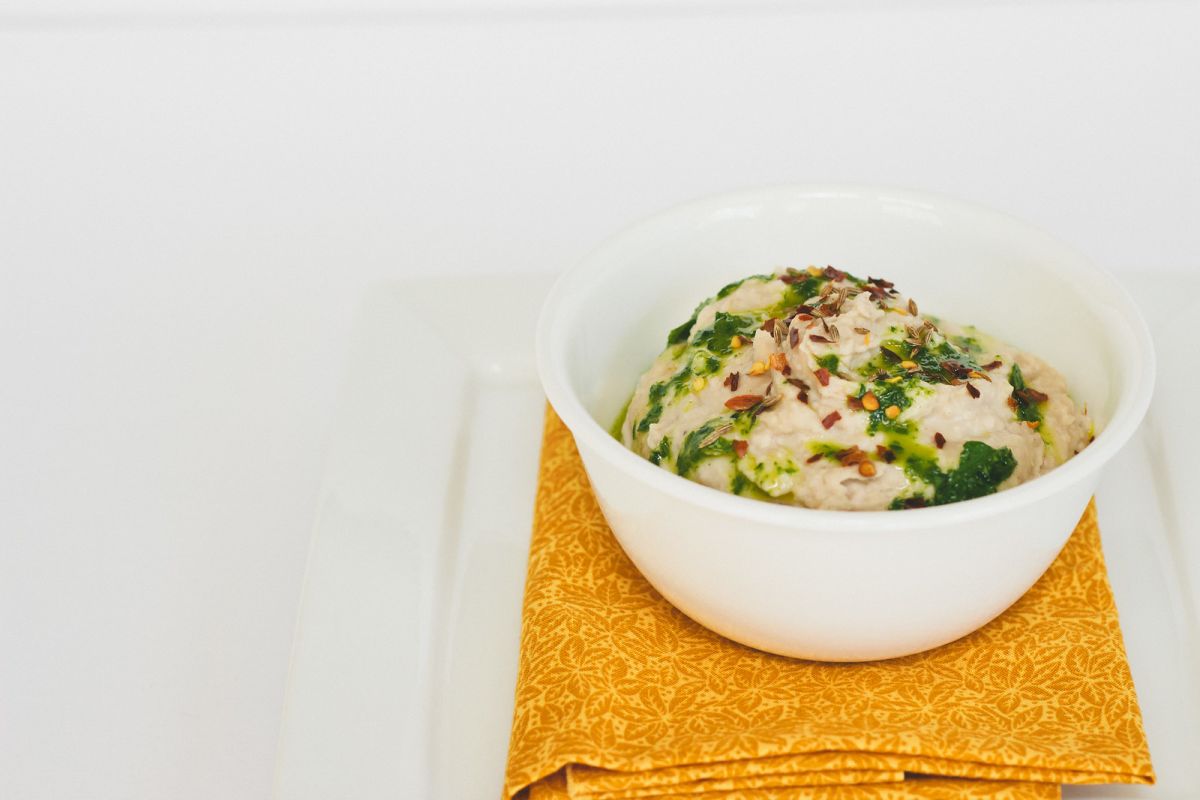 Maybe it was the fact that hummus was the first thing I ever served my family that I made completely on my own, or just the fact that I learned how to make hummus when I traveled through the Middle East, but hummus has always had a soft spot in my heart. A comfort food of the sorts and a dish that I played around with so much that I felt very comfortable with the ingredients so early on in my cooking adventure. So I thought I would ponder the use of different beans.
Chickpeas have a dryer taste and tougher consistency, but the nuttiness is what gives traditional hummus lots of flavor. Cannellini beans turn int a velvet consistency with blended well. It's a bean that you can dress up in so many ways, which is why I decided to make this white bean hummus. White bean hummus can be enjoyed like your traditional hummus. It should be served with vegetables cut in spears, olives, crackers, and bread. I like to use this white bean hummus in sandwiches. It doesn't overpower the other ingredients in your sandwich and is a smooth enough consistency.
Since white bean hummus has a more buttery flavor, I thought I would add a special herbed olive oil to extract some life out of the recipe. If you're planning on making this white bean hummus, then make sure you add some richness to the dish by dressing it with herbs or even bacon.
Notes for the Recipe
Food Processor - it's a must if you're planning on making this white bean hummus! You want the consistency to be super velvety, so that the cumin seeds add a textural delight. It will also make your parsley oil smooth! This food processor is a great value!
Whole Cumin Seeds - Since the consistency of the white bean hummus is so smooth, I wanted to add a touch of smokiness, nuttiness, and crunch. The whole cumin seeds are a great addition to that!
Parsley Oil - The technique I shared is a traditional kitchen way of making an herbed oil to extract maximum flavor. You can use this technique with any herb!
This white bean hummus is such an easy recipe that can feed a crowd, perfect for meal planning, and will impress your friends and family!
About 2 Cups
White Bean Hummus with Parsley Oil
ingredients
2 cups cannellini beans
2 garlic cloves
½ tsp whole cumin seeds
2 tbs full fat yoghurt
2 tbs ice water
½ lemon, juiced
salt and pepper to taste
⅓ cup parsley, destemmed
½ cup olive oil, divided
---
method
In a pot with boiling water, add the parsley and remove from heat in about 90 seconds. Remove from heat and run under cold water. In a food processor, blend the parsley stems and slowly pour in ¼ cup of the olive oil. Season with salt and pour the mixture out and set aside.
Combine the beans, garlic cloves, yoghurt and lemon in a food processor. As the food processor is running, gradually pour in the remaining ¼ cup of the olive oil and the 2 tablespoons ice water one at a time. Set the mixture aside.
In a pan over medium-high heat, add the whole cumin seeds and stir until smokey and fragrant, about 5 minutes. Then stir it into the bean mixture.
Serve with crudite, toasted bread, or crackers.