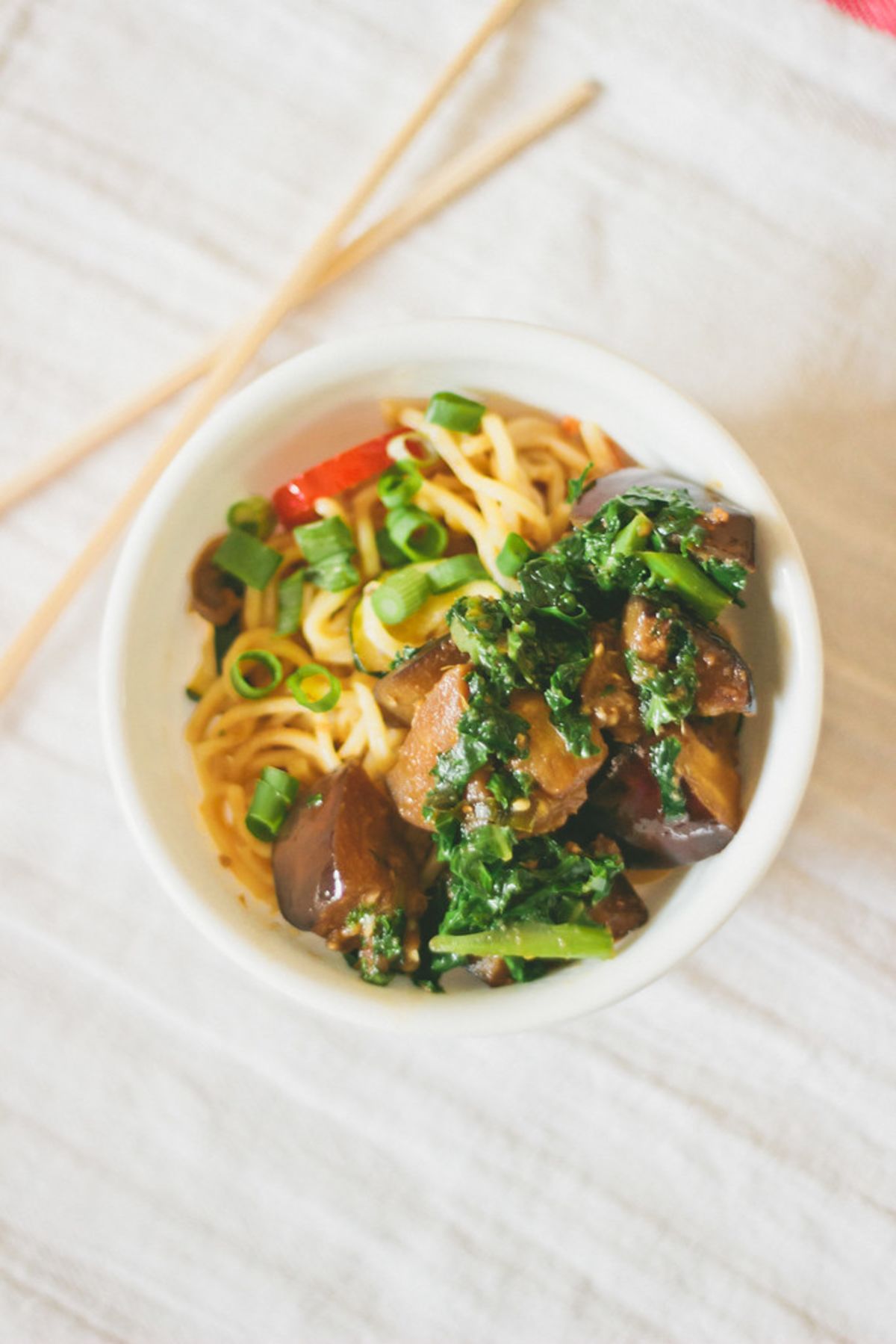 Note from 2020: I'm currently refreshing old blog posts and these photos had be face palming my 2014 self. Just wanted to note that I know placing chopsticks crossing each other is incorrect. I will be re-taking these photos as soon as I get the chance! Apologies for that and thank you for your kindness!
What I love about making Asian-inspired food is that it is fast, versatile, and you can add all the veggies in and it will still be delicious! Weekday meals have always been a bit of a fuss for me. I'm usually so exhausted by the time I'm home that making something seems fairly daunting that a peanut butter and jelly sandwich seems like an appropriate choice. With aubergine being a personal favorite alternative to meat, I decided to make a simple aubergine and kale noodle bowl packed with vegetables. Quick and simple weekday meals. You can prep this ahead of time if you want and eat it throughout the week or whip this up pretty easily on a weeknight!
This aubergine and kale noodle bowl itself has about 5 different vegetables and a whole bunch of flavor. It's hard sometimes to think of something so quick and nutritious, but this sauce combination can be applied to just about combination of meat and vegetables. I like to make the sauce ahead of time and throw it a container in the freezer. When I want to have this meal one evening, I'll just remove it from the freezer in the morning and set it on a plate on top of my counter and when I come back there's a ready to go sauce.
I'm looking for some weekday meal inspiration. I found that salmon en papillote is an option that is easy and fast whilst remaining nutritious. So if you have any ideas, I would love to know and experiment! Hope you enjoy my aubergine and kale noodle bowl.
Serves 2
Aubergine Kale Noodle Bowl
ingredients
1 aubergine
4 tbs avocado oil, divided
4 cups kale, chopped
1 tbs grated ginger
4 garlic cloves, minced
3 tbs soy sauce, divided
1 tsp red chili flakes
1 tbs rice wine vinegar
1 tbs brown sugar
½ cup vegetable stock
pinch of white pepper
½ lb. wheat noodles
½ cup shredded carrots
½ red bell pepper, chopped
½ cup mushrooms, sliced
3 tbs sesame oil
salt and black pepper, to taste
---
method
Cut the aubergine in 1-inch cubes and place in a large bowl of salty water.
Cook the noodles according to package.
In a mixing bowl, combine the ginger, garlic, 2 tablespoons soy sauce, chili flakes, rice wine vinegar, brown sugar, and white papper.
In a large frying pan, heat 2 tablespoons of the avocado oil over high heat. Add the aubergine and fry for about 7 minutes. It should get a little charred color on it. Reduce the heat to medium-high and then add the ginger-garlic sauce you made above in the mixing bowl. Mix for about 5 minutes. Add in the kale and the vegetable stock. Continue tossing the aubergine mixture until cooked through and tender. Remove from the pan and place on the side.
In the same frying pan, add 2 tablespoons of the avocado oil again and toss in the shredded carrots, red bell peppers, and mushrooms and sautee for a few minutes. As the mushroom starts secreting some water, toss in the noodles and a tablespoon of the soy sauce and salt and black pepper. Remove from heat and then pour 3 tablespoons of sesame oil to the noodles.
Note: don't add too much salt as soy sauce is already pretty salty.