14 Apr 2015
Raw Zucchini Salad with White Balsamic Vinaigrette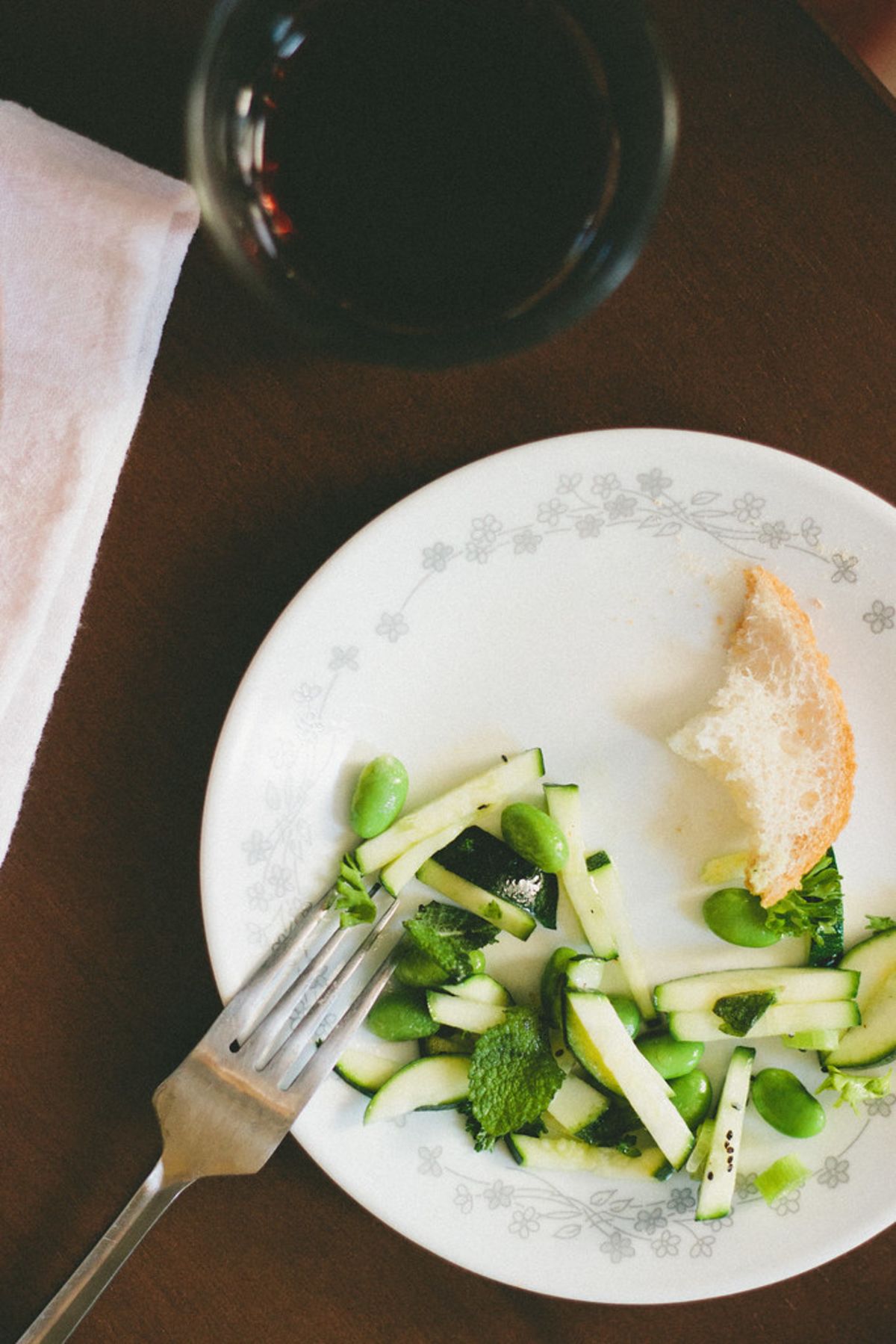 It was one of those days where I pulled the saucepan onto the stovetop under the impression that I would make some sort of courgette pasta. Though pasta seemed a bit too dense to eat after a brilliant dinner the night before. So I reversed my process of coming up with a recipe and finding ways to blend ingredients seamlessly. Instead I started chopping the zucchini from the market and was curious as to how they would be as a raw salad. It's not something I've ever had before, but the bright colors had me curious to try a raw zucchini salad.
When it comes to a raw zucchini salad, you want to make sure you dress it well. A white balsamic is sweet to bring some depth to the raw zucchini salad and tartness to help other flavors. To ensure your raw zucchini salad has a crunch, you want to incorporate other elements to it that introduces flavor and divides up the surface area that the dressing hits.
I longed for something slightly Mediterranean, but torn between Asian and Italian too. It seemed only natural for me to blend the coolness from the Mediterranean, heat from the Asian and comfort of the Italian into my raw zucchini salad.
If you're looking for something to serve my raw zucchini salad with then why not with my Mughlai roast chicken recipe or Indian spiced shepherd's pie!
Serves 2-4
Raw Zucchini Salad with White Balsamic Vinaigrette
ingredients
3 cup zucchini, cut in matchsticks
1/2 cup edamame, steamed
1/4 cup white balsamic vinegar
1 tbs ginger, grated
1/4 cup mint leaves
1/4 cup parsley, chopped
1/4 cup olive oil
2 garlic, smashed
1 tsp tahini
1 tbs nigella seeds, toasted
1/2 lemon, juiced
salt and pepper to taste
---
method
In a blender, combine the white balsamic vinegar, ginger, parsley, olive oil, tahini, lemon juice, garlic, salt and pepper. Blitz just so it's combined. I like to keep the parsley leaves intact as much as I can. Pour over the zucchini and edamame and toss in the mint leaves. Top with nigella seeds.
Let the salad sit for about an hour before serving.