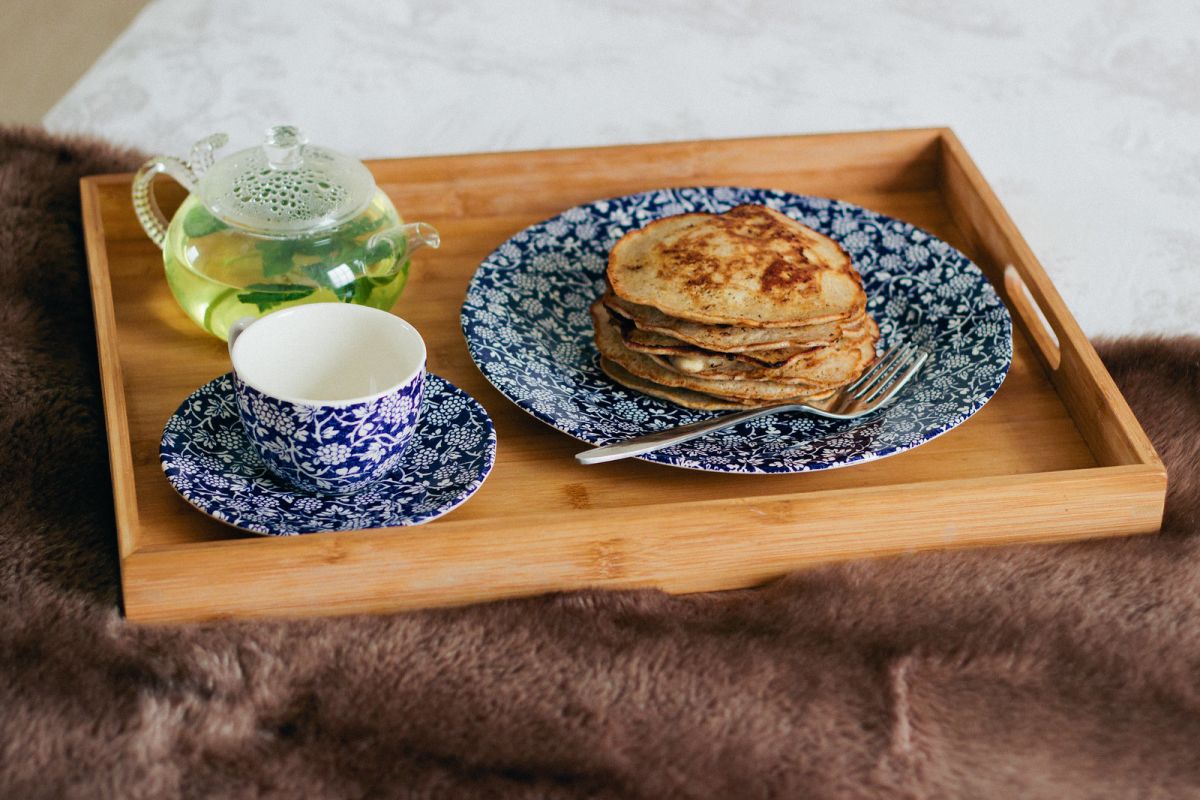 In Between the Sheets
As of 2016, I told myself that I would loosen the strings and let myself enjoy this thing that is life a bit. I went to bed after reading my three words and 'spontaneous' stuck with me. As the rain tapped on the window and the heating engulfed the room, I was in a deep slumber. Waking up, the sun was shining and it was a cloudless day in London, one that is so rare. I fixed myself a cup of mint tea (I've given up caffeine and more on that soon) and started preparing healthy pancakes. My wellbeing and health is something I'm looking after this year and I've taken it full on even in the toughest of moments where I want to lose myself to the work that is piling up around me.
The methodical notions of preparing brunch is ever so different than preparing breakfast on a normal weekday, I feel. It has that feeling of serenity. The flour hits the bowl with a light puff of cloud and the whisk against the bowl. The sun crept ever so closer to the center of the kitchen and it was precisely at that moment, when the warmth rode up my leg, I decided to cancel all my plans of resting and preparing for the week ahead and to take advantage of the sun. These buckwheat banana pancakes are my go to. They're heart enough to get you through the day, but delicate enough to keep you wanting more. Buckwheat banana pancakes are my go-to Sunday brunch, so here's my recipe for it! Have you ever have buckwheat banana pancakes?
Serves 4
Buckwheat Banana Pancakes
ingredients
1 cup buckwheat flour
1 tbsp agave nectar
1/2 tbs ground cinnamon
2 tbsp ground flax
1 cup plant based milk
1 ripe banana, mashed
1 tsp baking powder
1 tsp baking soda
pinch of salt
Coconut oil for the skillet
Maple syrup to serve
---
method
Mix the dry ingredients in one bowl then mix the agave nectar, milk and banana in another. Add the wet ingredients to the dry ingredients and whisk until well blended. Don't worry about the banana clumps though! The batter should be thick, but runny.
Grease a cast-iron skillen or a non-stick pan over medium heat. Scoop about 1/4 cup batter onto the skillet and cook until there are lots of bubbles on top and then flip, which is about 3 minutes. Flip over and cook for an additional two minutes. Continue with the remaining batter and then serve with maple syrup!