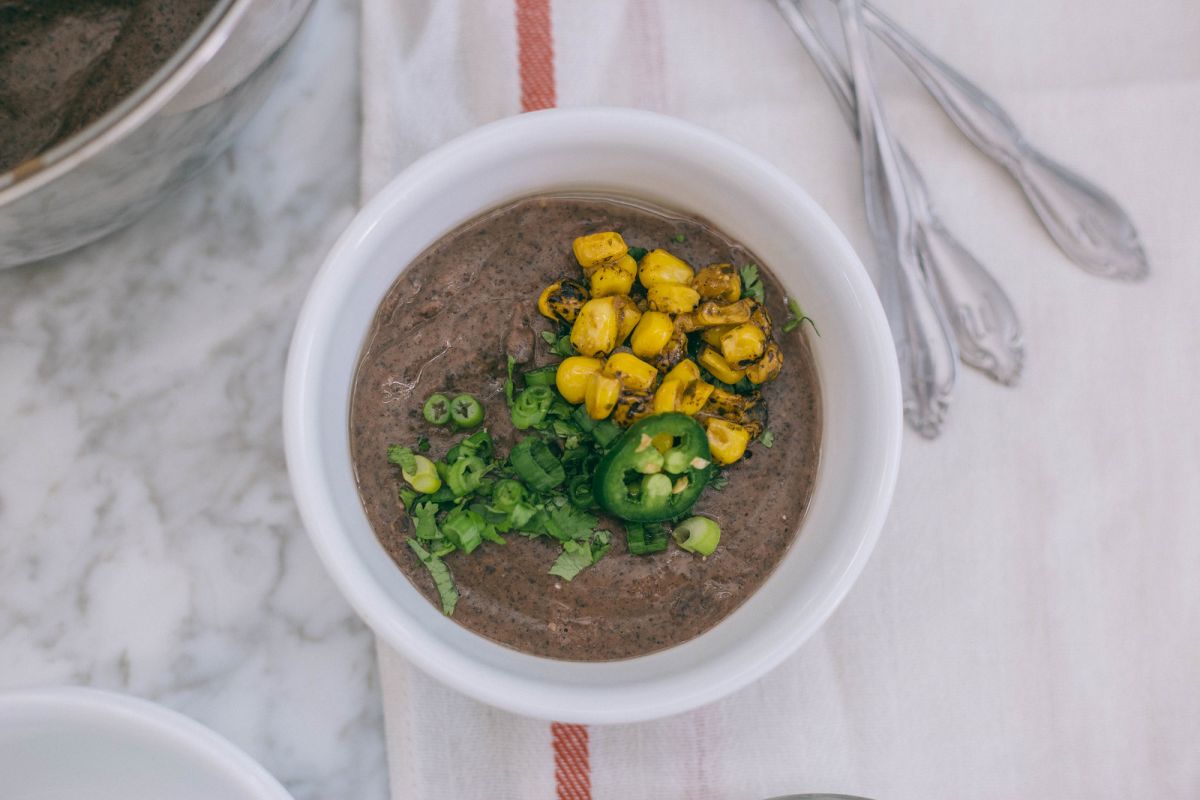 I think there are two ways to understand and appreciate a place you travel: the art and the meals. The art contextualizes the people, community, and broader goals of the community. The meals have very little to do with the food and more to do with the history and legacy of where you are.
When I was looking for places to eat in Costa Mesa, I found an abundance of Anglicized Mexican food that built dishes around modern flavors of Southern California adapting to the way of life there. Then there was Taco María that did the opposite. Carlos Salgado took local favorites and completely reconceptualized them dressing each dish to the nines with Mexican flavors. One dish from the tasting menu was a grilled sourdough with refried beans, queso fresco, salsa tatemada, and huitlacoche butter. Partially unaware of two of the ingredients, I still consumed what was put in front of me and the flavors ignited the humble bean–the star of the plate.
Since that brunch, I've been passively obsessed with beans, which is why I'm sharing this vegan black bean soup. It sounds like a simple thing, but to be able to build flavors like that within a vegan black bean soup or even a legume is an art and that was a bean I'll never forget.
Though you can make do with any basic kitchenware, to truly make this recipe easier and efficient, I found that a few of my kitchen basics and favorite are superior. Feel free to use alternatives from your kitchen and share your experience in the comments below!
An immersion blender is perfect for for blending soups, sauces, and other liquids. The long stem after the blades makes it so easy to just blend directly in the pot, container, or bowl your preparing your food in. It's definitely worth investing in for easy clean up and one-pot cookery! I've had my immersion blender since 2010 and have never looked back! • BUY IT HERE
I love cooking in a cast iron pot because it retains heat so well making it the perfect pot to have in your kitchen for just about any type of food. The heat enables you to build flavor, take it from stove-top to oven, and even allows for a super easy clean up! I consistently use mine for frying, making pasta, poaching chicken, and making and hearty soups! A kitchen staple! • BUY IT HERE
Cooked with layers of flavors, seasoned with a smokiness, topped with a bit of freshness and a touch of acidity. It's the perfect meal served hot or a great dip served warm.
8-10 servings
Smoky Vegan Black Bean Soup Recipe
ingredients
1/2 tbs cumin seeds
1 large red onion, chopped
4-6 garlic cloves, minced
1 large carrot, chopped
3 celery ribs, chopped
2 tbp ground cumin
1 tbs smoked paprika
1/2 tbs dried oregano
1/2 tsp chili flakes (optional)
2 tbs tomato paste
4 (15 oz) can of black beans
32 fl. oz. vegetable broth, warm or room temperature
salt & pepper to taste
---
method
In a large cast iron pot, heat the avocado oil over a medium-high flame. Then add the cumin seeds. You will see them sizzle and smoke, but be sure not to let them get black and burnt. Remove from the heat if you have to. Once the cumin is fragrant, add the onions and garlic and sauté for about 5 minutes until the onions are translucent. Then add the carrots, celery, ground cumin, smoked paprika, oregano, chili flakes, and season with salt.
Over a medium heat, sauté for an additional 10 minutes stirring occassionally. Add the tomato paste. As the tomato paste heats up, you'll notice it release oils and caramelize. Be sure to coat entire mixture with it. Sauté and stir occassionally for an additional 7 minutes.
You'll see bits sticking to the bottom of the pot, but don't worry about that! Bring the heat up to medium-high and add about 1/4 cup of the vegetable broth to the pot. Use that the scrape any bits on the bottom of the pot. Then add the rest of the broth and the black beans. Bring the mixture to a simmer, turn down the heat to a medium, cover partially and let it simmer for 10 minutes.
Remove from heat and using an immersion blender blend the black bean mixture into your desired consistency! I garnished mine with a squeeze of lime, charred corn, spring onion, and fresh cilantro. You can also top with tortilla chip stripes, radish, salsa and sour cream. The possibilities are endless!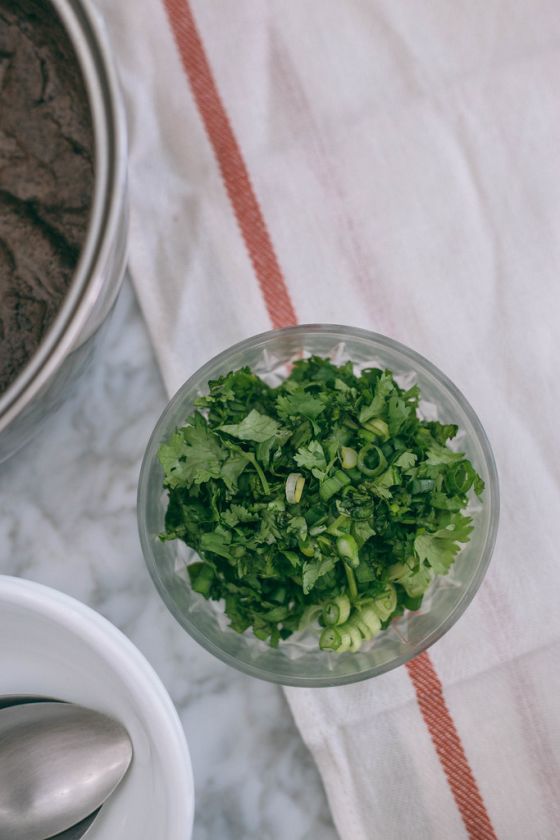 A smoky vegan black bean soup is one of those meals that can be dressed for any season. A bit of queso and jalapeños for winter months to warm up or some corn and queso fresco to greet spring and summer. No matter the season, serve with your favorite tortilla chips on the side! We also let this vegan black bean soup cool down a bit and enjoyed it as a dip and addition to a taco salad!