02 Sep 2023
The Ultimate Wine and Cheese Lover's Gift Guide for Every Occasion
Calling all wine and cheese enthusiasts! Whether you're a seasoned sommelier or a casual cheese connoisseur, there's one thing we can all agree on: the joy of pairing a fine wine with exquisite cheese. In this ultimate wine and cheese gift guide, I've curated a selection of perfect pairings for every occasion. It wasn't until lockdown a couple of years ago did that I take the opportunity to plunge on a charceuterie trend that was taking storm and try a few pairings. I got fancy and decided to share with my parents who absolutely loved the Friday evening experience. So it was only natural to put pen to paper, or fingertips on keyboards, to put together a wine and cheese lovers gift guide for all special occassions. Whether you're looking for the ideal gift or planning a memorable wine and cheese experience, I've got you covered.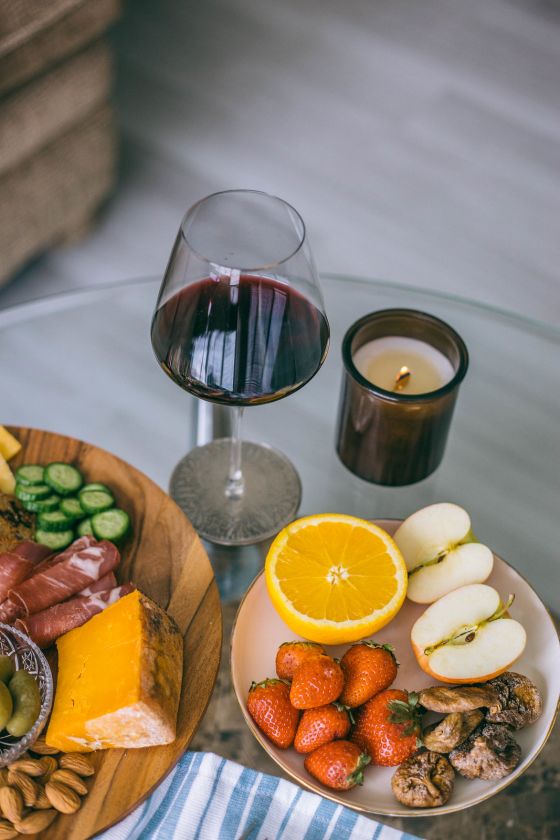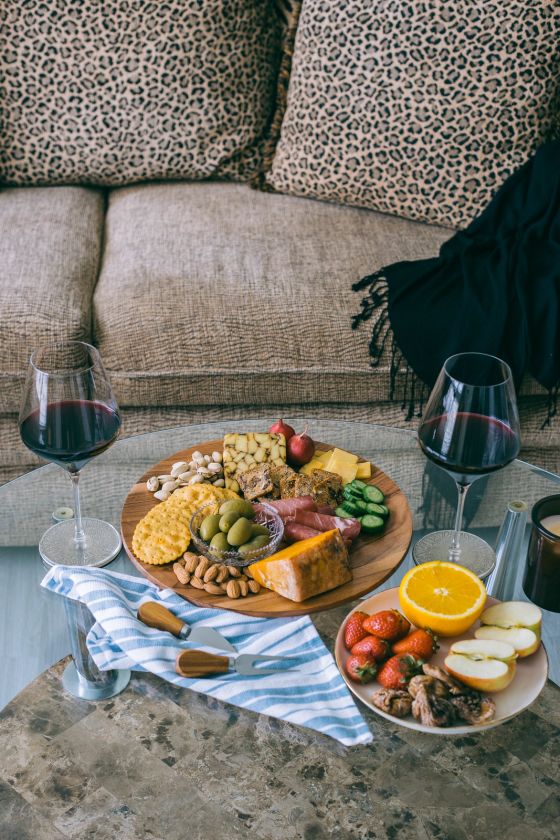 For the Romantic Evening In
Wine and Cheese Basket for Two
Create an intimate evening with a thoughtfully curated basket featuring a bottle of your favorite wine, a selection of artisanal cheeses, and a bouquet of fresh flowers. It's the perfect recipe for romance. Imagine dimmed lights, soft music, and a delectable spread to savor together.
Personalized Wine Glasses
Elevate your wine-drinking experience with customized wine glasses engraved with your names or a special date. Cheers to love and flavor! These personalized glasses will become cherished keepsakes of your romantic moments. For anything monogrammed, I love going for Mark and Graham who make beautiful pieces and the engraving and personalization is done so elegantly.
Celebrating a Milestone
Aged Wine and Vintage Cheese
Mark a special occasion with the gift of time. Choose a bottle of well-aged wine and pair it with a selection of vintage cheeses that have matured to perfection. Celebrate milestones like anniversaries, birthdays, or career achievements with this exquisite combination of flavors.
Wine and Cheese Tasting Experience
Treat your loved one to a guided wine and cheese tasting experience at a local winery or cheese cellar. It's a memorable way to celebrate milestones. You'll learn about the intricate art of pairing and discover new favorites together.
The Budget-Friendly Option
DIY Cheese-Making Kit
For those who love to get hands-on, a DIY cheese-making kit is a fun and budget-friendly gift. Create your own cheese and pair it with an affordable bottle of wine. This thoughtful present allows you to explore the craft of cheese-making together. I received this cheesemaking kit from Amazon a couple of months ago and can say it was fun and easy to do!
Wine and Cheese Recipe Book
Inspire creativity in the kitchen with a cookbook dedicated to wine and cheese pairings. It's an affordable way to explore new flavors and experiment with different combinations. Cooking together becomes a delightful adventure. I have The Sommelier's Cookbook: Recipes and Wine Pairings for Discerning Palates and can say it's as good as it sounds. Lots of the dishes are simple and the pairing experience make it very fun! Or if you want to gift a cute look coffee table type book that explores wine, cheese, and bread through Europe then I highly suggest Cheese, Wine, and Bread who just so happens to be someone we all know from here!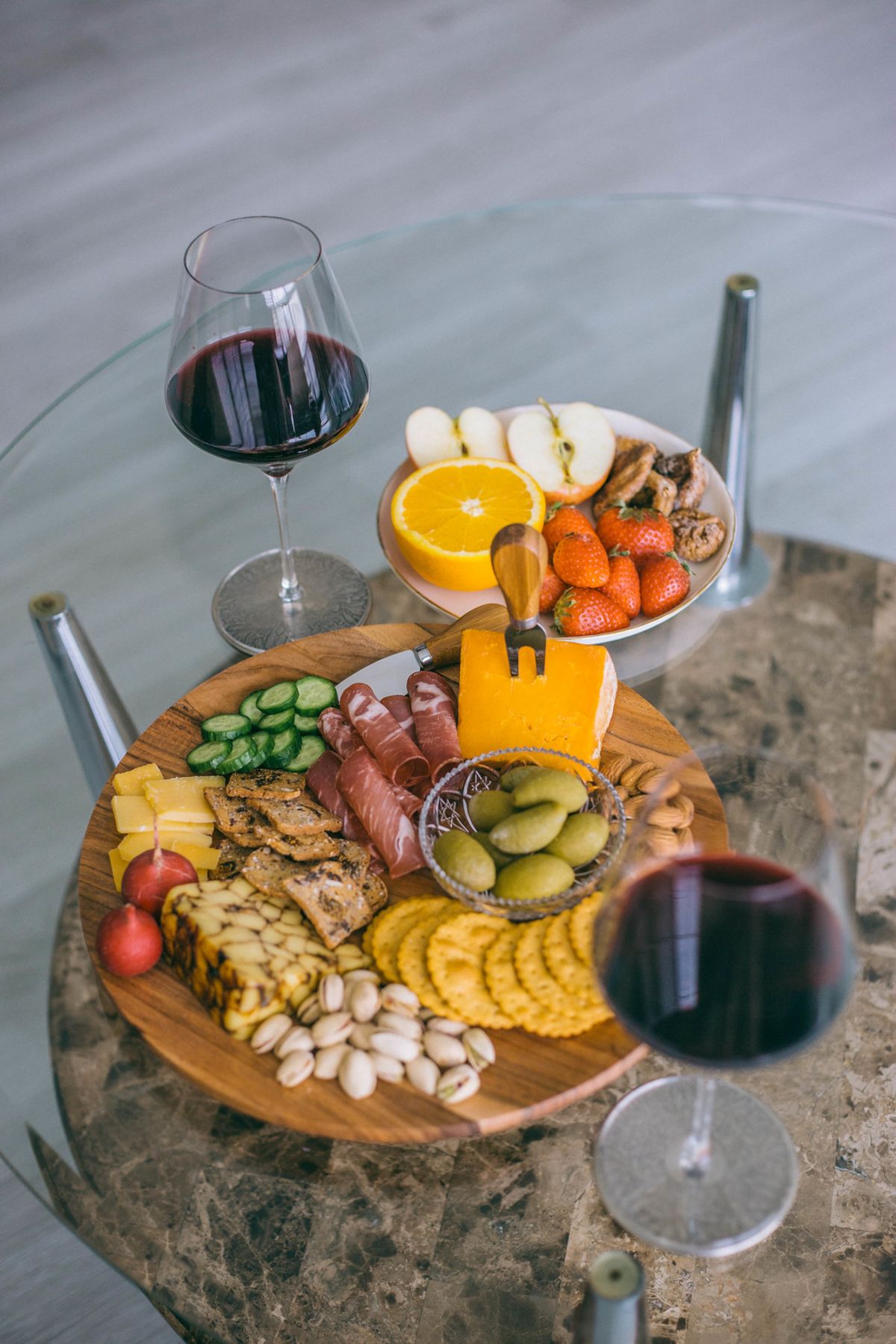 Holiday Season Cheers:
Wine Advent Calendar
Make the holiday season even more festive with a wine advent calendar. Open a new bottle of wine each day leading up to the festivities. It's a great way to explore various wines and create holiday memories.
Gourmet Cheese Sampler
Elevate your holiday cheese platter with a gourmet cheese sampler that includes unique and seasonal varieties. This festive spread will be the centerpiece of your holiday gatherings, impressing guests with your culinary skills. iGourmet on Amazon offer a variety of cheese samplers and I have bought them ahead of parties too!
Wine & Cheese Picnic Basket
Designed with both elegance and practicality in mind, it offers ample space to carry your favorite bottles of wine, cheese, and picnic essentials. Crafted from durable, high-quality materials, this tote ensures your gourmet goodies stay fresh and your wine bottles remain secure. I've got a couple that I'm eyeing:
The Ultimate Luxury
Private Wine and Cheese Tasting Event
Go all out with a private wine and cheese tasting event hosted by a sommelier and cheesemonger. It's an extravagant gift for the ultimate wine and cheese aficionado. Enjoy exclusive access to expert knowledge and rare pairings.
Wine and Cheese Subscription
Keep the luxury flowing year-round with a wine and cheese subscription. They'll receive carefully curated selections at their doorstep, turning every month into a flavorful adventure. This ongoing gift keeps the excitement alive.
Whether you're celebrating love, milestones, or simply the joy of wine and cheese, there's a perfect pairing for every occasion. Use this ultimate gift guide to find the ideal gift or plan a memorable experience that will delight any wine and cheese lover. Cheers to savoring the flavors of life, one perfect pairing at a time. Wine and cheese have never been so rewarding!