My mom's pantry organization tips and our family pantry has always been a spectacle in our house. Whenever we have family or friends visiting, they're blown away by the amount of spices, the organization, and the lack of labels! Most people will say that their mother is a great cook, but my mom in particular is amazing. Her Gujarati cuisine is considered some of the best and she has a culinary intellect that even a Michelin chef has noted. I grew up eating all types of Indian dishes and my mom utilizes an assortment of herbs, spices, nuts, seeds, lentils, and grains to make wholesome meals. Our meals at home are no doubt flavorful, but they're also incredibly dynamic. From sweet and savory to tart and smoky. You'll fine each dish encompasses a unique blend of aromas and taste.
My mom and I hope these pantry organization tips give you a basic understanding on how we do things. Her pantry organization tips, that I've now adopted, are completely different from what you see on mainstream and social media. We don't do the labeling, we're not into the plastic see through containers, and it's not about aesthetic at all. Our pantry organization tips are purely for moving towards a waste-free lifestyle, long-lasting, and maximizes the lifespan of our ingredients.
I've answered frequently asked questions below, but feel free to ask anything in the comments if you have further questions about our pantry organization tips because I know we've not convered every little detail! One final note about our pantry organization tips, a lot of our jars and containers are over 20 years old so if I've not linked the exact item below, it's the closest one!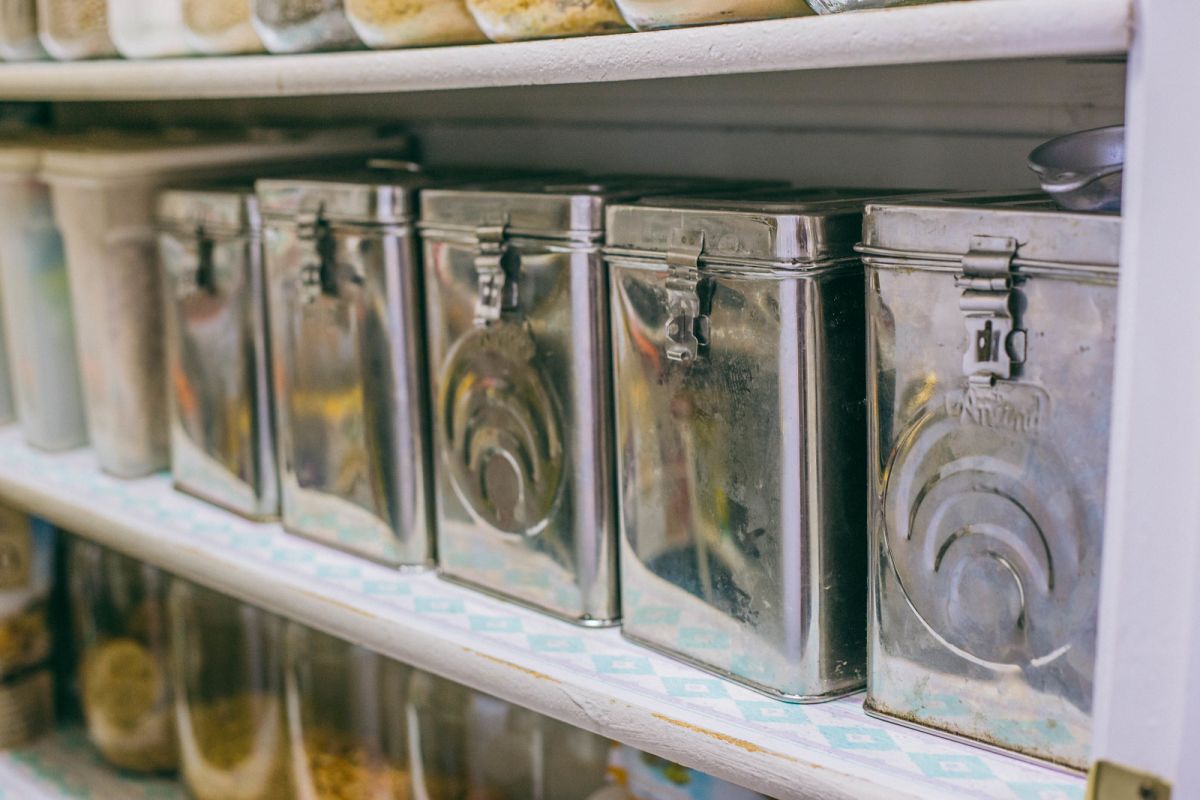 Frequently Asked Questions
Do you use labels? We don't need them and especially my mom. When I first started cooking Indian food when I was 13, my mom made me first learn all the spices. We are able to identify each one why what it looks like whole. If the spices are ground, then we can identify it by taste or smell.
How do you know where things are? My mom taught me, when I lived in various apartments, that you should just know where everything is in your home. That's how she operates her pantry. If you were to ask her where the black peppercorn is, she would ask if you want it ground or whole and then tell you where to locate it.
What items do you store in your pantry and what do you use most? Snacks, dried lentils, rice, flour, spices, canned goods, bottled goods, easy lunch items, oil, sugars.
What do you suggest I keep in my pantry if it's small? Spices should be the first thing you store as they should be somewhere out of direct sunlight. Then your flour, sugar, and excess oil.
Where are those steel containers from?! They are from India and were a gift to my mom as mentioned in the video! Unfortunately, they're super difficult to find today.
How do you store flour/atta? In the steel containers! You can also store flour in glass containers. If you use different flours and find it difficult to differentiate, then just leave a piece of the packaging in the container with the flour. When purchasing a pack of flour, just cut the part that says 'all purpose flour'. My mom does this whenever I'm home.
How do you keep track if spices have gone bad or not? Luckily we use our spices enough, so we don't have have to worry about this! We will never purchase already roasted spices and will always dry roast before using them. Most shops sell spices pre-roasted though. If you're concerned about things expiring, then just write the expiration date on a piece of paper and leave it in the jar with the spice.
Was this an expensive process? Not in the long run! These bottles are all about 30+ years old. My mom has had them since they lived in America and before I was born. She acquired them bit by bit focusing on acquiring the larger jars for storing (so spices lasted longer) and then went from there! Go at your own pace.
How do you store canned goods? If you watch the video you'll find a canned goods organizer on the left of the snacks. We don't have many cans, but we store them there! In a small space, we can fit 3x more cans!
Where do you store sugar? We have raw sugar and brown sugar in the larger square jars at the front of the pantry because they're used often in what my mom is cooking. White sugar is stored in a 128 ounce jar with our frequently used spices. We have a small container of white sugar (that we use in chai) next to the stove with our masala dabba!
Can I use a masala dabba for non-Indian spices? You most certainly can! I used to store Italian seasoning and Mexican seasoning in mine when I had a small masala dabba in college! I think it's very handy in any kitchen. We don't like putting salt in ours because other spices might get in it and mess with the salt a bit.