You won't want to miss out on what's happening and everything I've shared across all my platforms. Once a month, no spam, straight to the point. Sign up here!
It is the first time since I started my blog that I haven't been as consistent with my content. Even through graduate school, international moves, and the busy season you would find content ready from me to go. 2020 has been the year that so much has changed and sacrifices were made. It seemed like I didn't have a minute to stop and breathe because I had all these goals and ambitions for 2020 and with the pandemic and extra curveballs, things were taking longer.
There was a moment during my various life transitions over the summer where my mom and I decided to take an afternoon off to do something that brought us joy. I made a hefty pot of chai, set up my camera, and we spent the afternoon making these herby chickpea samosas my paternal grandmother taught her. There was this cadence in the kitchen that required minimal effort. The process of folding herby chickpea samosas while sipping on masala chai was the one thing that slowed me down through this year.
These herby chickpea samosas are crisp at the bite, a subtle heat at the back that blends with this minty cooling sensation, and ends on an indulgent savory note. They're wonderful as an appetizer or sneak a few with lunch. We love them with some sweet chai to balance it all out. I hope you can find a moment to slow down to enjoy the process of making these herby chickpea samosas that my grandmother so graciously shared with my mom and now with me.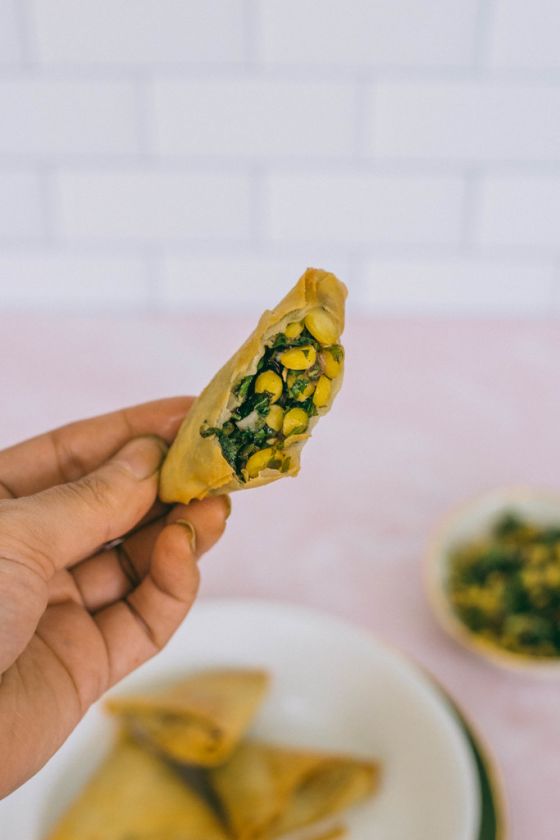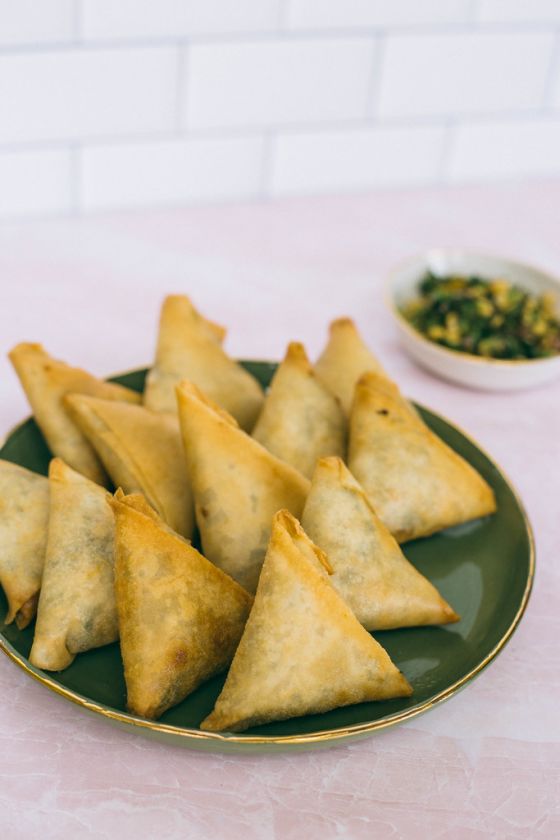 Tips for Making Herby Chickpea Samosas
Citric acid can be found near the salt in your local grocery store. A great alternative for citric acid would be regular white vinegar, but we are trying to keep the inside mixture as dry as possible to prevent any spillage or unraveling.
Regular chickpeas may not work for this recipe because of their size, try to look for split chickpeas (or chana dal in a specialty shop). Chana Dal is brown chickpeas that have been split and skinned or polished.
I shared my grandma's garam masala recipe here.
If you don't have a pressure cooker, then feel free to use the same settings for an Instant Pot!
These will not cook well in an air fryer since the spring roll wrappers are uncooked.
If you end up making a bunch, then fry the extra samosas for 90 seconds, cool on a drying rack, then place in an airtight container or bag and freeze. To eat again, remove from the freezer and let it thaw completely before frying the rest of the way.
The spring roll wrappers can be found in the frozen section of your supermarket! I get mine from Walmart and and Tesco.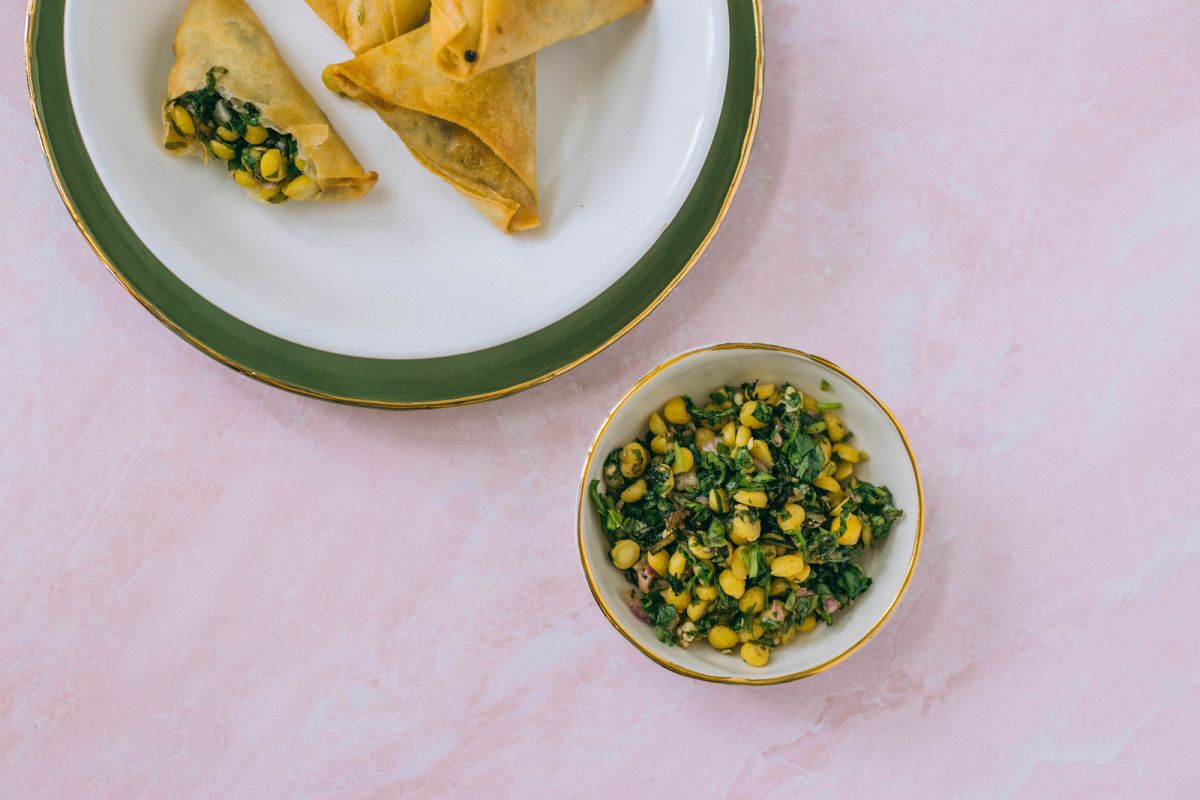 20-25 Samosas
Herby Chickpea Samosas Recipe
ingredients
1 cup split chickpea (chana dal)
½ cup mint, julienned
½ cup cilantro, julienned
1 large red onion, finely chopped
1 tsp jalapeño, finely chopped
1 tbs sugar
pinch of citric acid
½ tsp garam masala
salt to taste
3 tbs water
¼ cup flour
1 packet TYJ Spring Roll Pastry Sheets
---
method
Rinse the split chickpeas and combine in a pressure cooker with 2 cups of water and 1/2 teaspoon of salt. Cook on high pressure for 7 minutes, then do a natural pressure release for at least 15 minutes before releasing any remaining pressure. The chickpeas should be al dente, but not mushy. Drain any excess water.
Squeeze excess water from the red onion. I like to take about 1/4 cup at a time and squeeze between my hands.
In a large mixing bowl, mix together the chickpeas, mint, cilantro, red onion, jalapeño, sugar, citric acid, garam masala, and salt.
Mix together 3 tablespoons of water and 1/4 cup of flour to make the glue and set aside. This will be the "glue" for the pastry.
Using a 2 spring roll wrappers at a time, and keeping the rest covered to prevent them from drying out, cut the wrappers into thirds. Fold the edge over to make a triangle, add a bit of the flour paste at the part where the pastry meets the other side of the pastry, add a heading teaspoon of the mixture or more in the pocket of the triangle. Flip it once or twice until you have about 1" remaining. Brush the end with the flour paste. Seal the samosa well. Repeat with the rest of the wrappers.
NOTE: Watch the above video for the folding technique.
To fry the samosa, heat at least 2" of oil to about 325ºF. Fry the samosa in batches, but don't overcrowd. Fry each batch of samosa for about 4 minutes, or until golden. Drain on a paper towel over a cooling rack.
Enjoy with chutney or some sort of sauce!