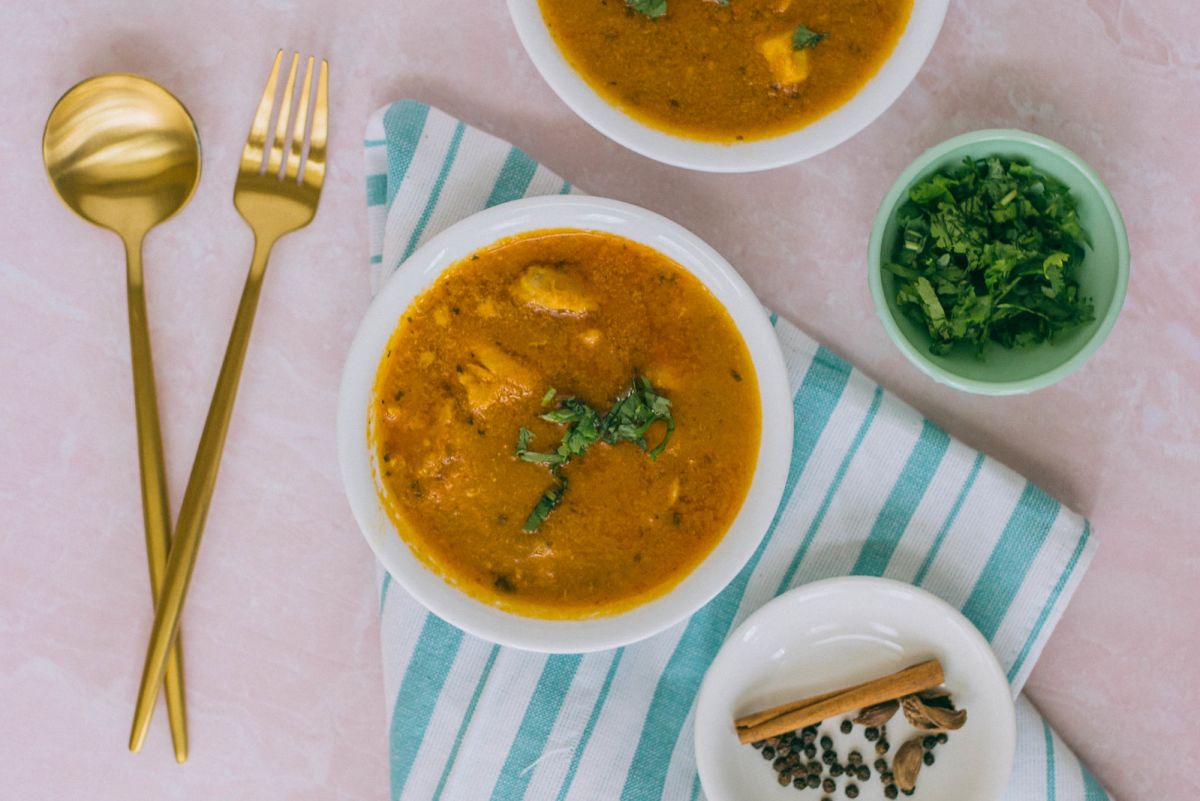 Don't let anyone ever fool you into thinking that there is a right way and a wrong way to make Indian chicken curry. When searching the internet, people fail to understand that Indian recipes were orally passed down and the countless traditional pastoral, semi-nomadic communities have their unique ways of making traditional dishes. Some preferred their dishes a little more sweetened, others preferred, many even earthy and it just depended on where the communities live and what conditions they were living under.
Fast forward to today and you have a very similar concept. Each household, even if they share a culture with another, has their own recipes that they adapt and share. My mom has never written down her recipes and continues to depend on me to remember what she shares with me and ultimately pass down to my children. This recipe is one of those recipes. She grew up in a vegetarian household where they never even cracked an egg. When she married my dad, she knew she was marrying someone who ate meat and loved it. So she embarked on learning, adapting, and perfecting a North Indian chicken curry recipe. She continues to make her Indian chicken curry recipe when I'm visiting or when we have friends over that appreciate it. It's one of the best in my books, though I might be bias.
Even though I'm sharing my mom's Indian chicken curry recipe exactly, feel free to adapt the recipe to your liking. Here are ways to change and adapt the recipe.
Aromatic spices are added in the beginning to flavor the oil and ghee. We use cinnamon, cloves, black cardamom, bay leaves, and black peppercorn. Play around with the quantities and types! You can use green cardamom and more cinnamon if you want sweeter notes and plan on adding cream later.
Slicing versus grinding the onions is something that differs a lot from one household to the next. Our Indian chicken curry recipe asks for blended onions so that the overall curry texture is thicker.
Garam masala doesn't have a standard recipe. We make our own garam masala that you can find that recipe here, but feel free to come up with and adapt your own recipe!
Have you ever made up your own Indian chicken curry recipe? How do you make it?
4 Servings
My Mom's Indian Chicken Curry Recipe
ingredients
1½ lb. skinless & boneless chicken thighs
5 tbs ghee
2 tbs oil
1 cinnamon stick
1 tsp black peppercorn
2-3 black cardamom
2 bay leaves
1 star anise
3-4 black cloves
2 medium white onions
6 garlic cloves
1 inch ginger piece
6 medium tomatoes
1 tsp ground turmeric
1 tbs ground cumin
½ tbs ground coriander
1 tsp red chili powder
1 tbs garam masala
1 tbs dried fenugreek leaves
salt to taste
fresh chopped cilantro for garnish
---
method
Dice the chicken in 1-inch cubes.
In a food processor, first blend the onions. It should be a thick paste instead of finely chopped. Set aside in a bowl. Then blend the garlic and ginger together so it is also a thick paste and place it in the bowl with the onions. In the same food processor, blend the tomatoes so it's like tomato sauce consistency.
In a large pot, heat the ghee and oil over medium-high. Add the cinnamon stick, black peppercorn, black cardamom, bay leaves, star anise, and black cloves. Stir as it simmers and flavors the ghee and oil. After 5 minutes, add the onion, garlic, and ginger mixture along with salt. Saute for about 8 minutes while continuously stirring. Then reduce the heat to low, cover with a lid, and let the mixture caramelize for about 20 minutes. Stir occassionally to prevent the mixture from burning or sticking to the bottom of the pan.
The onion mixture should be brownish in color. Then increase the heat to medium-high and stir in the tomatoes, turmeric, cumin, coriander, red chili powder, and garam masala. Season with salt. Let that come to a boil and then bring the heat down to medium-low, cover again, and let that simmer for an additional 10-15 minutes. During this time, I like to clean any dishes up in the sink, put away the food processor, and set the table.
Increase the heat to medium and add the chicken and stir. Let that cook through for about 10 minutes. Check the salt and season if needed and then stir in the dried fenugreek leaves. Remove from heat and stir in the fresh cilantro.
Hope you enjoy this Indian chicken curry recipe!