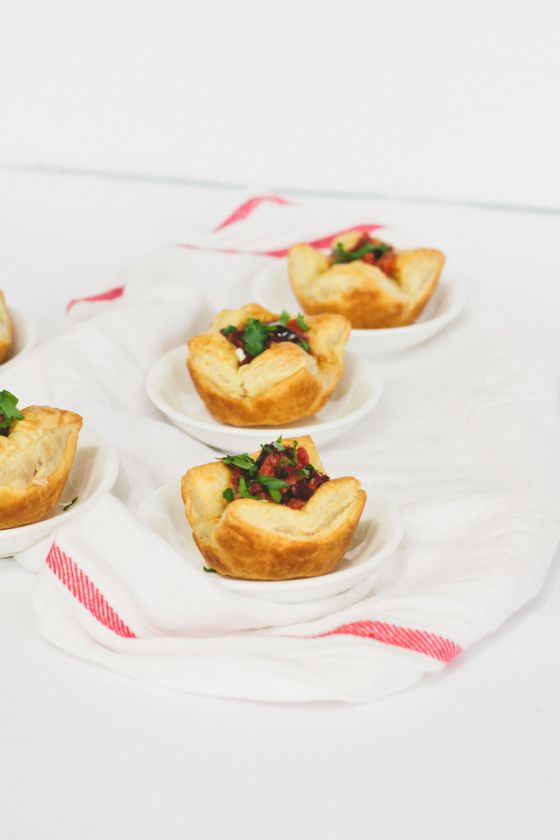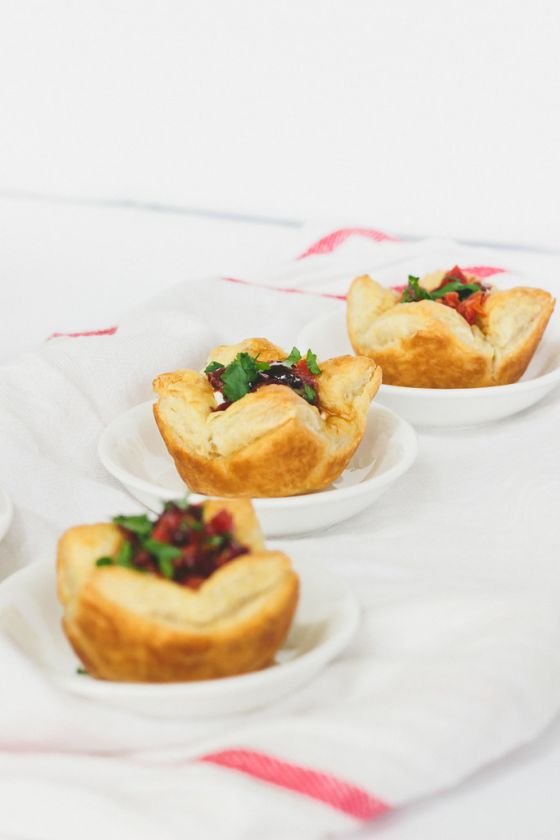 We are hosting a little gathering this year to ring in the new year and my mom put me in charge of the appetizers and bitings. Like any Indian gathering, we're going to have some nuts and little nibbles to help get the drinks going. My mom likes to serve up to two or three different types of appetizers and I'm making my white bean hummus with parsley oil to serve alongside a bunch of fresh vegetables and these goat cheese cups with sundried tomato and kalamata olive tapenade. It's tangy, salty, and the puff pastry helps cuts through to give it a bit of comfort!
You can whip this up easily and can feed a few to a whole host of people. We love making variations of these cups. Here are some ideas you can use and adapt for puffed pastry cups!
chopped apples, a little butter, allspice, and some chopped walnuts are a great dessert and perfect for autumn gatherings
crack an egg, top with bacon or chives, and you have something to serve for a brunch gathering
black beans, shredded cheese, and garnished with fresh pico de gallo for a Mexican flair
roasted butternut squash and white bean puree with crispy pancetta and sage inspired by this recipe
Now tell me, would you give this recipe a try or come up with your own ingredient and flavor combination? I think it's a great option to have up your sleeve and they're so pretty too! They would definitely impress a group of friends or a crowd!
15 Servings
Goat Cheese Cups with Sundried Tomato-Kalamata Tapenade
ingredients
1 puffed pastry, slightly thawed
1 cup goat cheese
1 tbs olive oil
1 cup kalamata olives
1 cup sundried tomatoes in oil
2 garlic cloves
parsley, to garnish
---
method
Heat the oven to 400F. In a lightly greased muffin tin, arrange each slice into a cup by pressing it against the sides and bottom.
In a food processor, combine the garlic olive oil, kalamata olives, and season with salt and pepper. Pulse until it resembles a paste or a chunky texture, whichever you prefer.
Add a bit of goat cheese to each pastry cup in the muffin tin and add a little of the tapenade. Place in the oven and cook according to the package (should be 15 minutes). Then broil for an addition 2-3 minutes.
Garnish with pasley and serve!