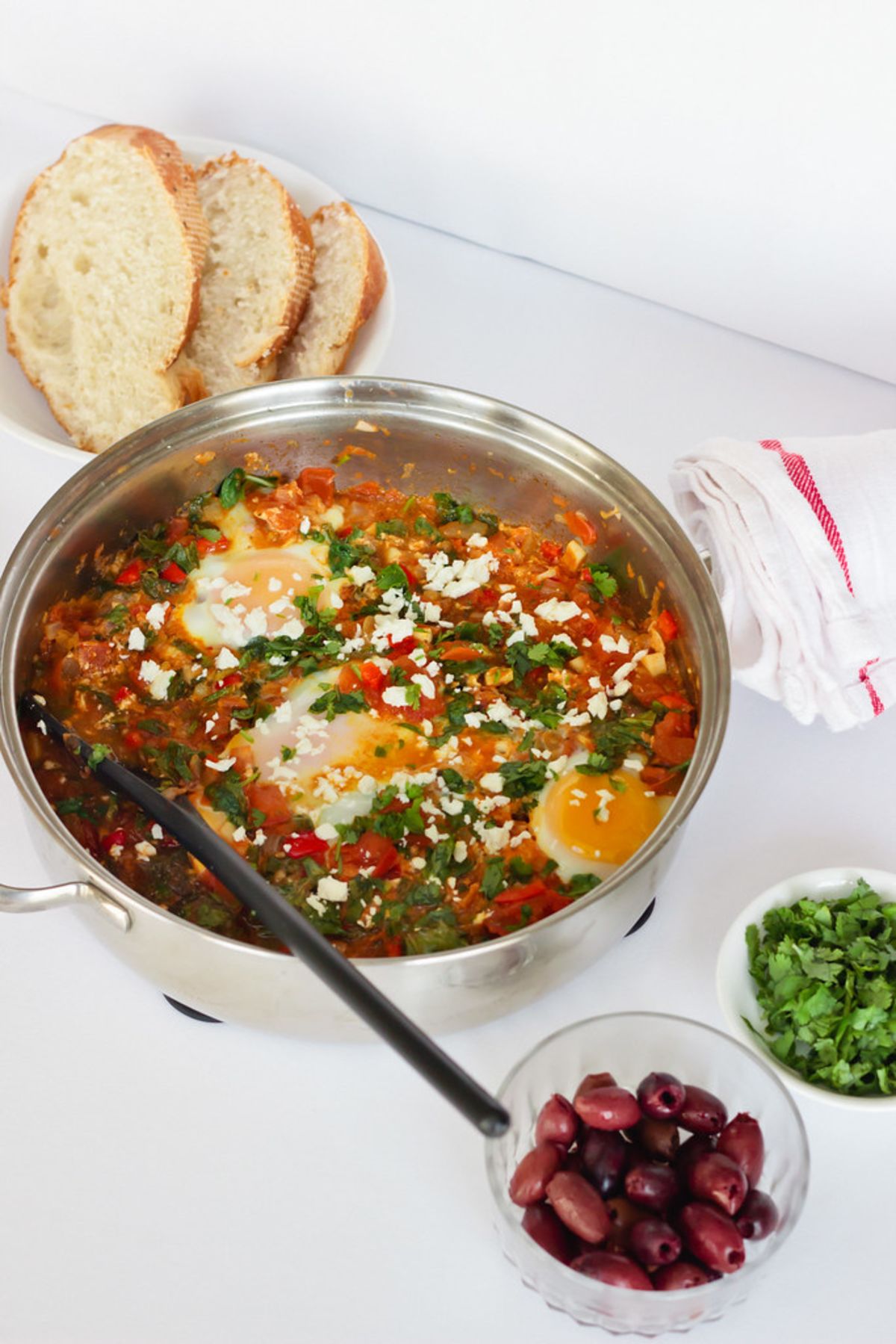 Sunday's always start early and slow and end a bit on a hectic note at times. I prefer to wake up early so I can get ready for the week and as the day comes to an end I am tired enough to get to bed at a timely manner and start the week early Monday morning. I decided to change things up recently and decided to emancipate myself from a to-do list and just embrace what Sunday's are meant for. I've been reveling in slower Sunday's and start making brunch in the mornings with this spinach and pepper shakshuka recipe on the menu!
I decided to make brunch and have a few friends over. A very casual affair. Spinach is in abundance this time of the year and with a recent evening perusing through old travel photos, I thought adapting a traditional shakshuka recipe would be fun. I took some of our Indian techniques of turning spinach into a paste, incorporated a few extra spices, introduced more vegetables to boost up the nutrition, and added a little heat! This spinach and pepper shakshuka recipe might seem like a little work from your normal shakshuka recipe, but it's worth it!
If you're looking to make another type of shakshuka, then why not give my green shakshuka recipe a try?
Notes for the Recipe
Immersion Blender & Cup - This is a kitchen basic for me as I used it to blend soups and daals for a velvety consistency. If you have a heat-tolerant blender then feel free to use that. I just love using my immersion blender and cup though! You can also purchase a cup if you already have an immersion blender.
Tomato Paste - The ingredient makes all the difference in this dish as it brings a strong acidity to the dish and harmonizes with the fresh tomatoes. Tuscanini is my favorite brand of tomato paste!
Sautepan & Lid - If you're looking for a good saucepan and lid, then I prefer this one. The reason why I don't use a cast-iron skillet for this dish is that I want to keep the vegetables vibrant and colorful rather than it becoming a single puree.
2 Servings
Spinach Shakshuka
ingredients
4 tbs extra virgin olive oil, divided
1 white onion, chopped
1 tbs tomato paste
2 tbs ground cumin
1 tbs paprika
½ tbs turmeric
1 tsp black pepper
1 tbs red chili flakes, optional
4 cups spinach
1 red bell pepper, chopped
1 green bell pepper, chopped
4 large tomatoes, chopped
salt to taste
---
method
In a large sautepan with a lid, heat 2 tablespoons olive oil over medium-high heat. Add the garlic and white onion and saute until fragrant for about 5 minutes. Stir in the tomato sauce and saute for an additional 3-5 minutes until the oil spearates. Season with salt and bring the temperature down to medium-low and continue sauteeing for an additional 10 minutes stirring occassionally. This will intensify the flavor of the base.
Add the spinach and let the spinach wilt and make sure it's wellcombined with the onion and garlic. Grind the spinach mixture using an immersion blender with a cup, so it's a thick paste.
In the same saucepan over medium-high heat, add the remaining olive oil and saute the paprika, turmeric, black pepper, red chili flakes, bell peppers and tomatoes. Add salt to taste. Let the mixture simmer for about 10 minutes.
Bring the temperature down to low, add the spinach mixture and create 4 wells in the mixture. Place a cracked egg in each well. Cover and let the steam and heat cook the eggs for about 6 minutes without opening up the lid. The yolk should be runny, but the white portion of the egg should be cooked through.
garnish with chopped parsley and serve with pita and olives!