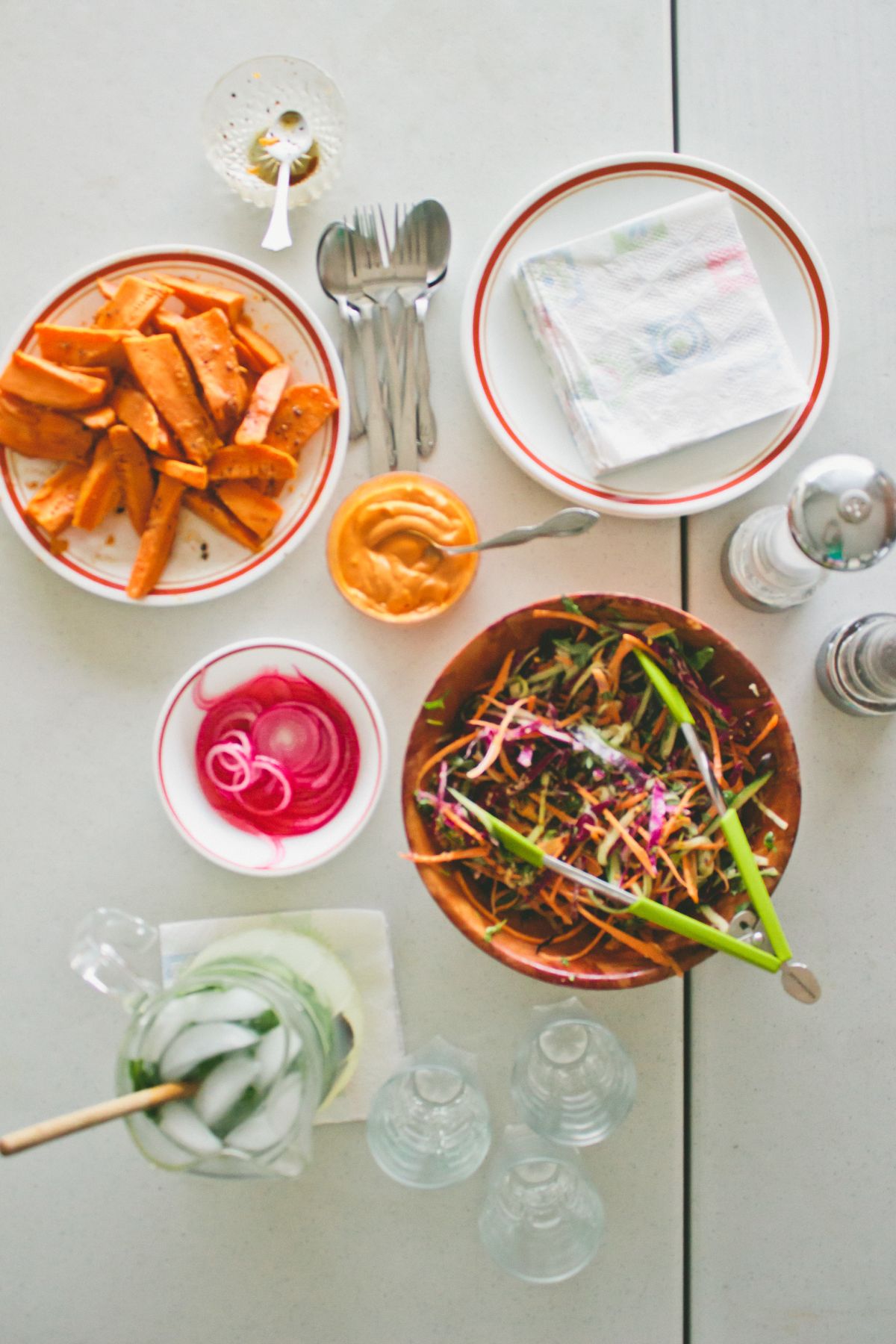 Burgers and fries never really appealed to me and that's probably because I grew up in a fast food nation. I always associated the combination to chains and franchises that serve you meat and vegetables that are so far removed from their original source that we're unsure what we're eating. I'm sure my opinion of this will change greatly as I start enjoying the great burgers of the UK and Germany, but for now I reveled in the fact that I was kind of craving some comfort food in the form of chicken burgers. Yet I wanted a chicken burger that was spicy, savory, and indulgent!
My grilled Asian chicken burgers and sweet potato wedges are everything I hoped for and truly made the cut with a quality cast-iron skillet pan. If you have to invest in anything type of pot or pan in your kitchen then make the cast-iron skillet pan one of them! This one will do the trick for you! Cast-iron skillet pan are an all-in-one for sauteing, searing, pan-frying, baking, broiling, roasting, and a lot more! The material allows for easier clean-up and I love that you can basically just cook a whole meal in one pan.
So I ended up giving my Asian chicken burgers and sweet potato wedges a chance at the cast-iron. Ground chicken burgers are notorious for being dry, and they came out amazing. The wedges for crispy and soft! All around, a great meal and a cast-iron investment totally worth it!
Okay, let's start with the chicken burgers!
Serves 4
Grilled Asian Chicken Burgers & 5-Spice Sweet Potato Wedges
ingredients
1 lb ground chicken
2 tbs garlic, grated
2 tbs ginger, grated
1 tsp ground white pepper
1/4 cup cilantro, chopped
1/4 cup peanuts, chopped
zest of 1 lime
1 large egg
salt to taste
1 medium red onion, sliced
3/4 cup rice wine vinegar
2 large sweet potatoes
avocado oil
2 tbs Chinese five spice
3-4 tbs avocado oil
4 tbs mayonnaise
4 tbs Sriracha
---
method
In a large bowl, combine the ground chicken, garlic, ginger, white pepper, cilantro, peanuts, lime zest, and salt. Stir to combine well, then add the egg and work it into the mixture. You'll notice it start to stick together. Divide mixture in 4 and set aside.
In a condiment bowl, mix the mayonnaise and sriracha.
In a serving bowl, add the sliced red onion, red wine vinegar, and 1/2 tsp of salt. Set aside for now! Cut the sweet potatoes in wedges, par boil them. Remove them from the water and lightly dry them with a kitchen cloth. Then set aside.
Add avocado oil to a cast-iron skillet over medium-high heat. Add the burgers and cook both sides for about 8 minutes each.
In the same cast-iron skillet pan, place sweet potato wedges flesh side down in the skillet, spacing evenly. Sprinkle with Chinese five spice seasoning, flip after 3 minutes and give an additional 2-3 minutes. Remove and place on a paper towel lined plate. Sprinkle with sea salt!
Note 1 • Serve with Srouted Kitchen's Asian Slaw or fresh butter lettuce!
Note 2 • For the chicken burger, prep a bun with the sriracha mayo, add the chicken patty, top with slaw and pickled onions!