13 Oct 2016
Aubergine Chips with Smokey Tomato Compote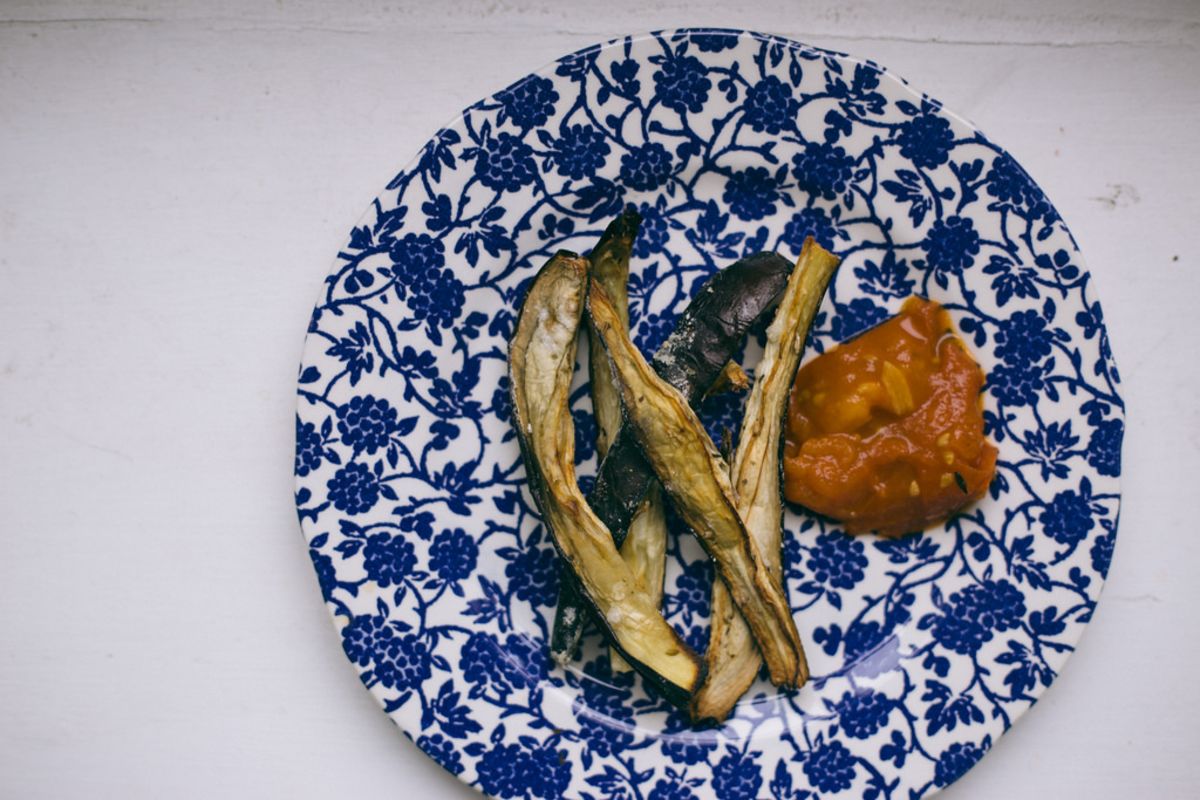 "Ba" n. grandmother in Gujarati
She is 87. She is one of 4 sisters and one brother. I used to peek through tired eyes in the morning as she impressively braided, twisted and secured her hair in a bun every morning. So perfectly intact and not a single pin in sight. Her patience is something I acquired and I'm quite fond of. She was also a young mother of three kids and was a teacher in Zambia too so she has opinions and perspective that she doesn't waver from. She is both private and loquacious in a way I can't quite describe, but she makes friends wherever she goes and is so, so endearing. Sometimes, however, she was a bit passive and reserved. I guess everyone has those moments, but those are the times that I spent sitting in her lap oftentimes sucking my thumb and getting tangles on the edge of her sari. I spent much of my childhood by her side, tugging at her sari and playing with those three gold bangles. She probably could even recite the lines of "Honey I Shrunk the Kids" as it was played over and over again. She used to sing to calm me down, a song I hum and sing at times of distress or miss her most… like recently. These aubergine chips remind me of her.
a little more about her…
When I visited her a few years back she needed to hold my hand when she got up after sitting for too long or read her the fine print. Sometimes I even needed to remind her of who a visitor was, one of her closest and oldest friends. Before I left I gave her an envelope with a few photos for her to keep by her bedside including a picture of me at age 4 in her lap. Living far from family is hard and harder is when you see something so unexpectedly and you immediately think of someone you absolutely adore. I bring my grandmother up on this post because she absolutely loved aubergine. My grandfather, on the other hand, was quite the contrary when it came to what appealed to his palette. But his flavor combination, he lapped it right up. When my parents were away in the evenings, my grandmother would slowly roast a whole aubergine and carefully spice the slightly charred and surprisingly sweet membrane with cumin, ginger and garlic and topping it off with a fresh tomato. The flavor composition has become a bit of nostalgia layered into it and now reminds me of my childhood, but more prominently, my grandmother. PS - I will be visiting her in just over a month! So I adapted some bits and made these aubergine chips to remind me of her.
Aubergine chips are a great alternative to potatoes, slightly sweet, soft to bite and can be aromatic. I often choose these aubergine chips for a snack too!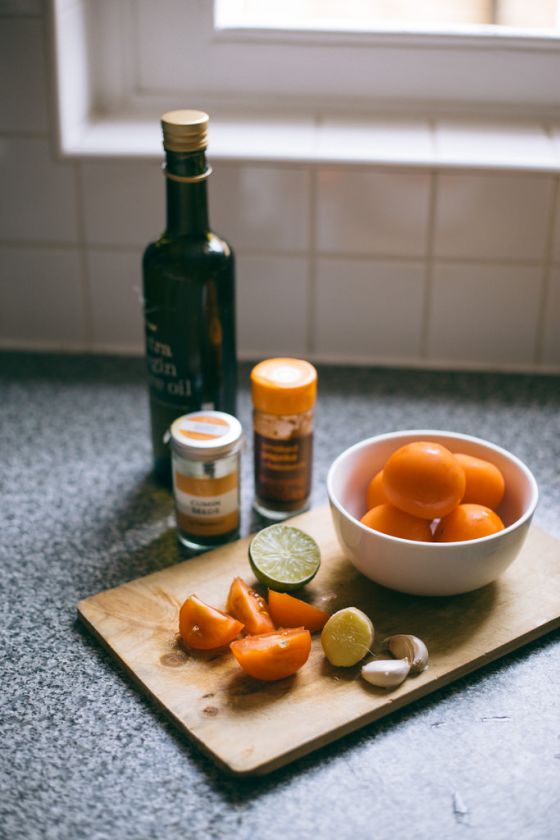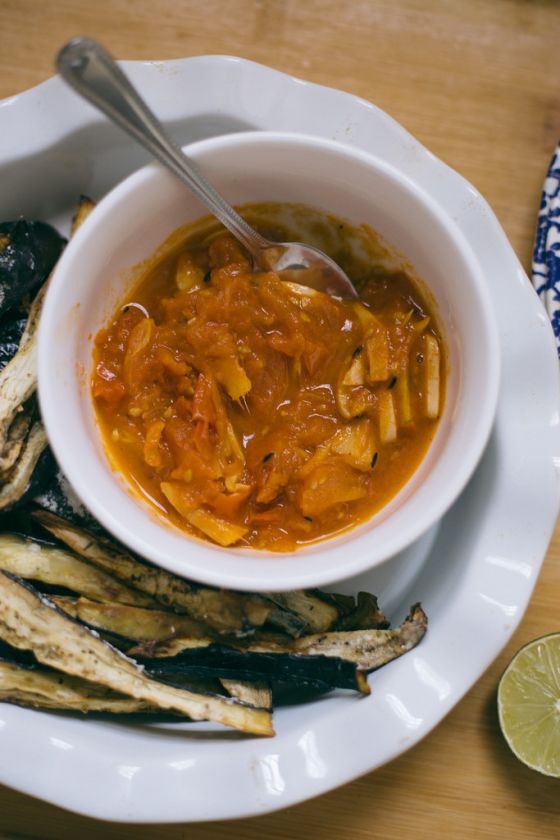 serves 2
Aubergine Chips & Smoked Tomato Compote
ingredients
2 tbs olive oil + more
2 aubergines, sliced
2 tbs flour
1 tsp whole cumin
1 tsp dried coriander
2 tbs olive oil + more
1 tsp whole cumin
6 small tomatoes, chopped
1 garlic clove, sliced
1 tbs ginger, minced
1 tsp smoked paprika
---
method
Preheat the oven to 200C and prepare a baking tray. In a large bowl combine the flour, cumin, and coriander. Toss the aubergine slices in the flour mixture and then add a bit of olive oil and toss again. Align the aubergine so they're not touching each other, a few centimeters apart. Sprinkle a bit of sea salt and minutes. Leave on the side to cool a bit.
For the compote, heat 2 tbs olive oil in a small pot over medium heat. Add the cumin and let it temper in the oil until fragrant. Carefully add the tomatoes, garlic, ginger and smoked paprika and turn down the heat to medium-low. Simmer until desired consistency (I got about 20 minutes).