21 Mar 2019
The Bristol Hotel Review: How I Work While Traveling
I decided that this year I wanted to make my travels a bit more purposeful. I want to be able to share places, meals and experiences that can help make you (and me) a mindful traveler. The first few months of the year always means things are busy with work and I don't plan any major trips abroad if I can help it only because it gets a bit overwhelming for me. So when I had the chance to go to Bristol for the weekend, I couldn't pass up the chance. Bristol is a city that truly embraces its creativity, the new edge and lots of personality among its populations. With that comes a very impressive mix of industries like defense/security and banking. and The Bristol Hotel sits right in the middle of all that!
My stay at The Bristol Hotel was complimentary, but all opinions and thoughts are my own.
The Bristol Hotel provides a charm like no other hotel possibly can in the city. As far as hotel reviews go, you won't see me commend the customer service of a hotel more. Upon arrival and checking-in the process was seamless, but also personalized. She knew we were there just to enjoy the city for a few days. She shared her favorite spots and recommended a little route to us too. A little birdie told us that there was a really nice view of the harbor from the 6th floor and Jess and I immediately went to check it out before we even got to the room. Ask for a room facing the harbor, you won't regret it. There are twinkling nights in the evening and soothing sounds of the water in the morning. Where The Bristol Hotel is situated, makes it the perfect place if you're a professional looking for a quick holiday (like me) or a digital nomad embracing the world as your desk! Below are a few tips on how I get work done while I travel.
Tips for Working While Traveling
Figure out what you need to get work done. Do you need wifi or a quiet place to take a call? Based off of that, make your plans accordingly. Call places ahead of time and look up opening hours. It helps to look up reviews of others doing the same thing.
Print out your paperwork. Reviewing a contact? Then print it out. Almost always you will some sort of an issue. Make sure if a business center or ask your front desk. I know it's not environmentally friendly, so opt for recycled paper.
Schedule your time like a work day. If you have a call at 1pm and then need to send an email by 3:30pm, then block out your time and plan around it. I use my calendar block template even when I travel and plan around important work tasks!
Keep a normal sleep schedule. Don't aim to get "work done early" or "stay up an extra hour." You are already exhausted after a trip and don't need to make it worse.
Have extra chargers for your devices. I love my Mophie charger so much!
Optimize tasks based on transportation. Take a hand held call whilst driving, churn out emails on trains, read through client paperwork whilst waiting.
Use noise cancelling headphones to blur the noise and help keep you focused. You don't need to turn on the music and it's great when you'r taking a call so you can hear the person without a problem.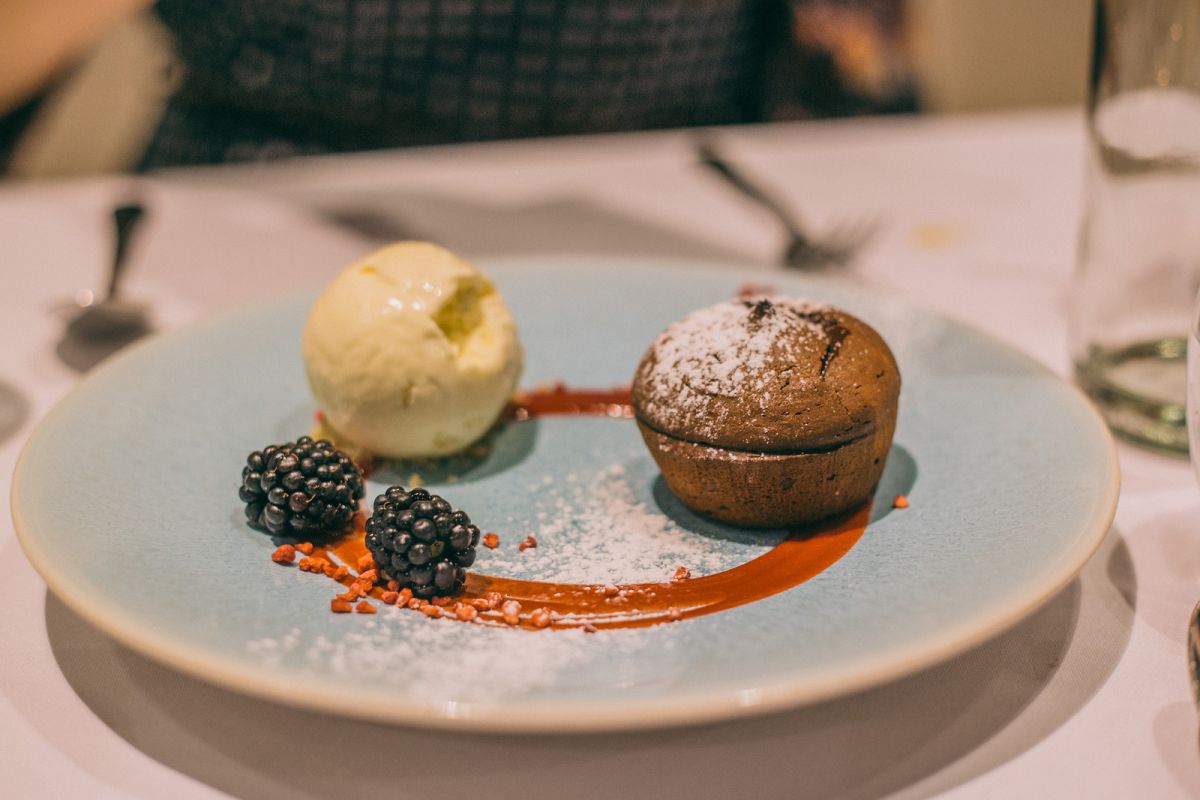 The River Grille
Like any hotel, you have the option of dining in your room, but I highly suggest making it down to The River Grille for dinner and then the buffet breakfast. The River Grille is one of the fine dining style experiences in Bristol with a view that just brings everything together. We started off with a spiced soup of the day that had hints of cumin reminding me of home and the scallops fiercely seared and packed with such a depth of flavor. It could have been the amuse bouche itself with the freshness from the green pea and lemongrass puree and a tease of saltiness from the serrano crisp. For mains, I had the duck leg confit because it's not something I can make easily at home. Crisp and bronzed and salty and rich. It's not a complicated plate of food, but it was satisfying and the cherry jus just brought it all together. Finally, we finished with the chocolate fondant. It's the country's favorite dessert and it was delivered just how they like it. With a slow ooze as you cut right into it.
With every single experience packed into one meant it was such a wonderful experience to stay at The Bristol Hotel. I highly recommend it with its convenience to so many attractions and the Temple Meads station too!