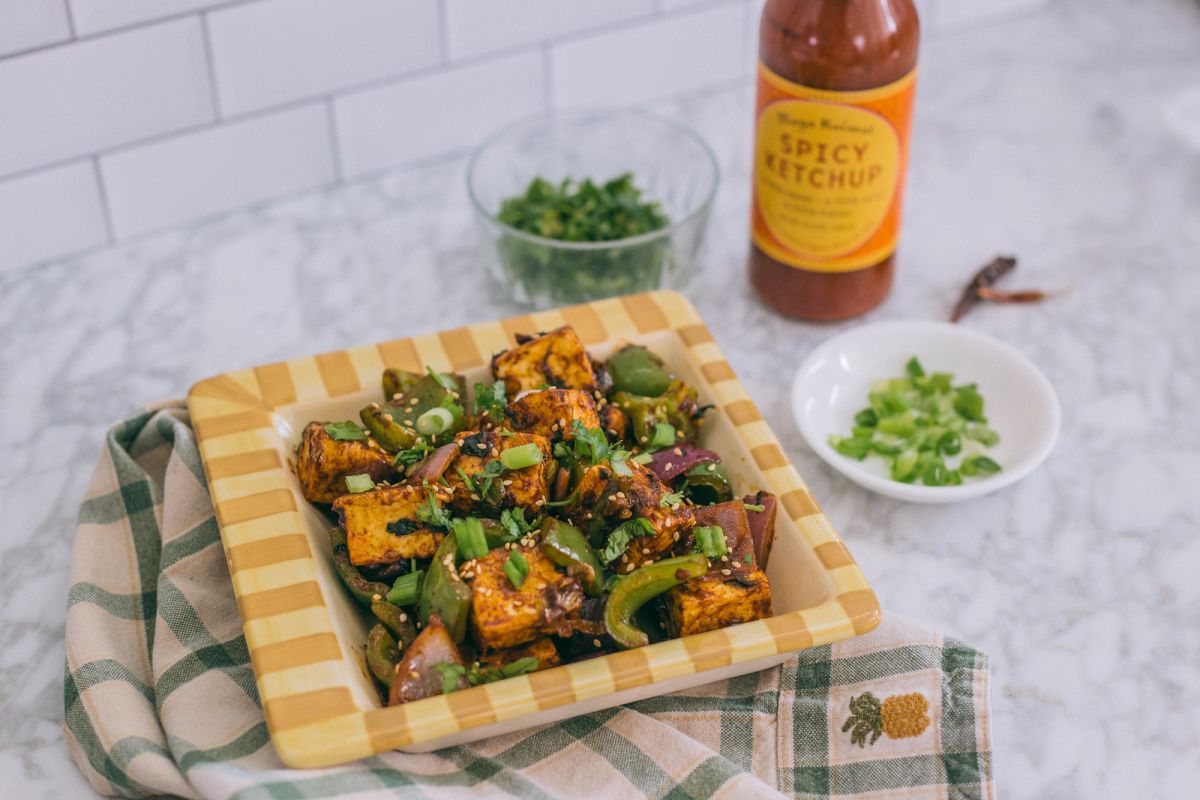 I started cooking and grew a fondness of how food is made and prepared near the end of college. If you've been following along, you'll know that I lived in the Middle East for a while. It was at that time did I realize that ingredient variations and availability was something that fascinated me. I started experimenting with easy dishes and recipes but rarely tried Indian cuisine. Admittedly, I was intimidated by Indian cuisine and had not built the confidence to try it.
One day when I was visiting home from the days I was living in DC, I told my parents I wanted to cook them dinner that evening. My notes had outlined everything I needed to make an Italian meal and right before I was cooking, I took a moment and sat with my parents and a chili paneer recipe came upon the Indian channels. My mom told me that it would be nice for me to attempt a chili paneer recipe because it's a great Indian restaurant appetizer that blends the flavors of Chinese and Indian food. Yes, I took offense to what she said. and I didn't even attempt to make chili paneer recipe until years later when my cooking skills improved enough to be considered advance.
It wasn't until I got hold of Maya Kaimal's Spicy Ketchup did I get the urge to try a restaurant style chili paneer recipe! It might sound strange to use ketchup in this recipe, but it provides a citrus flavor that helps emulsify the other wet ingredients. My chili paneer recipe came out spicy, tangy, the right amount of crisp and indulgent enough that my mom took seconds and thirds! Chili paneer is more often found on the appetizer section of a menu in most North Indian restaurants. This means the paneer is slightly crispy and can be enjoyed on it's own as it's often cooked with bell peppers and onions.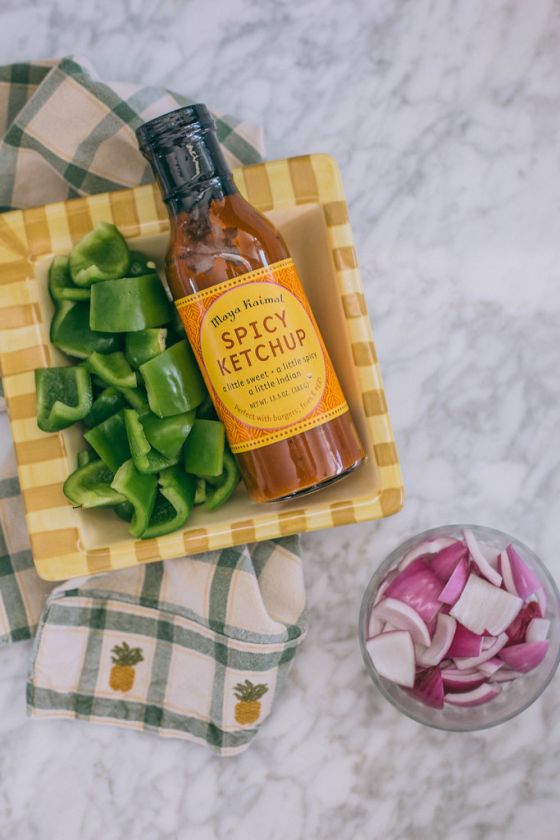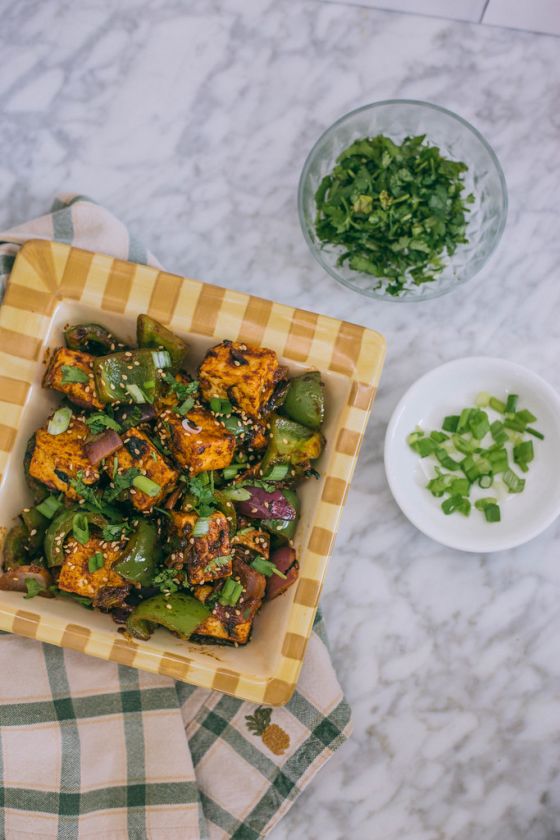 What is Paneer?
Paneer has been a longtime favorite of Indian cultural cuisine and its origins date back to the 16th century in the reigns of Persian and Afghan rulers. It's not a typical staple of homemade Indian cuisine, but it often found on Indian restaurant menus. Paneer is Indian cuisine's equivalent to cottage cheese that is ultimately prepared and cooked like halloumi. The flavor is a bit bland, so marinating and grilling or frying and adding to curry makes paneer the best alternative to meat for vegetarians. You can find it in an Indian grocery store in the refrigerated dairy section.
What to Serve Chili Paneer with
If you're planning on hosting a few friends over, then why not try making your typical Indian takeout? I love making a big batch of my red lentil daal recipe that is a one-pot delight full of flavor and aromatics. This can easily be eaten with some Basmati rice or just on it's own. I would make the chili paneer recipe as a starter. So just fry the paneer and then you can put it all together with the sauce in minutes when everyone arrives!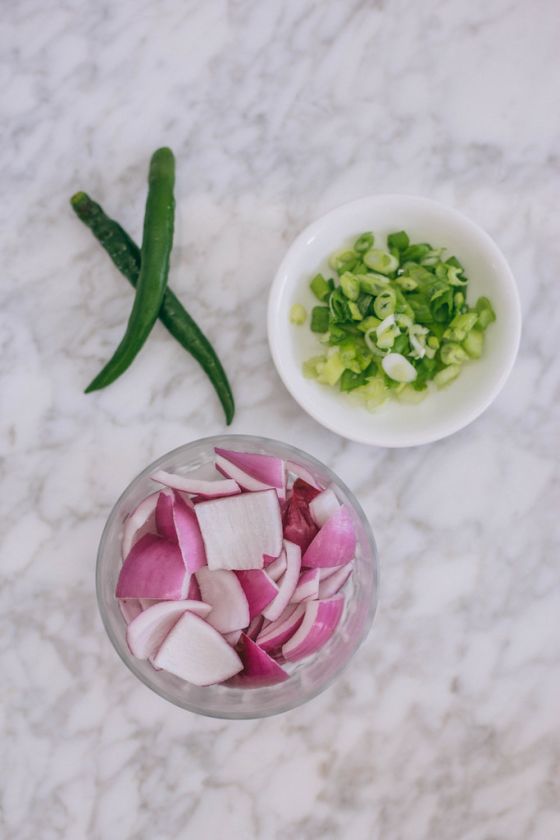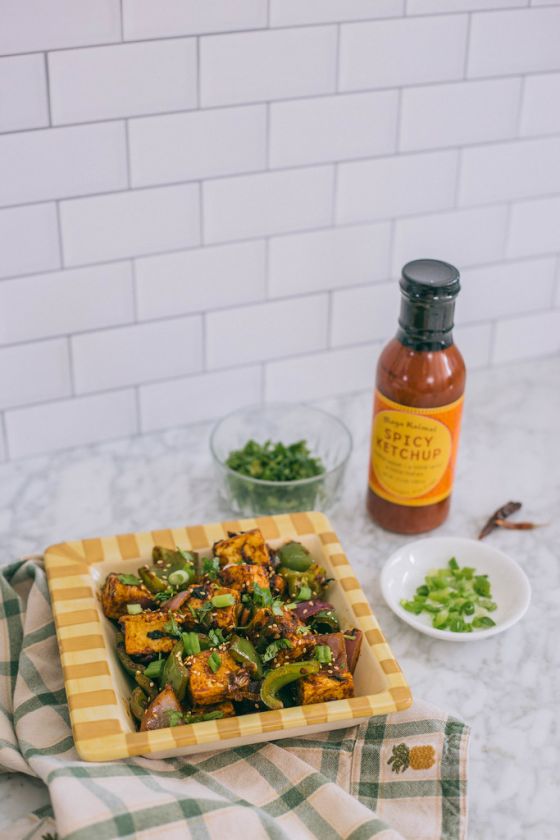 This restaurant style chili paneer recipe is the perfect starter to your Indian meal or a vegetarian's delight if you're hosting a barbeque! It's spicy, crispy, and a restaurant favorite!
Serves 4
Restaurant Style Chili Paneer Recipe
ingredients
2 tbs flour
3 tbs corn starch
1/8 tsp salt
¼ cup + 1 tbs water, divided
2 tbsp corn starch, divided
250 grams paneer, cut in cubes
oil to deep fry
1 tbs oil
1 tbs ginger, finely chopped
1 tbs garlic, finely chopped
2 dry red chili, roughly chopped
2 tbs cilantro stems, minced
1 medium onion, cut in quarters
1 medium bell pepper, cut in cubes
1 tbsp soy sauce
1 serrano green chili, sliced in half
1 tbsp Maya Kaimal Spicy Ketchup
1 tsp sugar
1 tbs sesame oil
---
method
In a bowl, add flour, corn starch, salt and ¼ cup water. Mix well with your finger ensuring there are no clumps. Cover the paneer cubes to the flour mixture and make sure they're well coated. Heat the oil in a frying pan and add the paneer cubes in batches. Fry until light golden, drain on absorbent paper or a reusable towelette. Set aside to cool. They will crisp up.
In a pan, heat oil over high heat and add garlic, ginger, dry red chili, and cilantro stems. Saute for a few minutes then add onions and bell peppers and continue to saute until fragrant. Add the soy sauce, serrano chili, Maya Kaimal Spicy Ketchup, and sugar and mix well. Add about 1/8 cup of water to the pan. This will help release some steam and prevents anything from burning or sticking to the pan. Using the spatula, scrape up any of the bits that is stuck to the pan. This is flavor!
Toss in the fried paneer and half of the spring onions and coriander you set aside for the garnishes. Remove from heat and garnish with the rest of the coriander, green onions, toasted sesame seeds and sesame oil.