27 Sep 2020
Mediterranean Pearl Couscous Salad with Sumac Dressing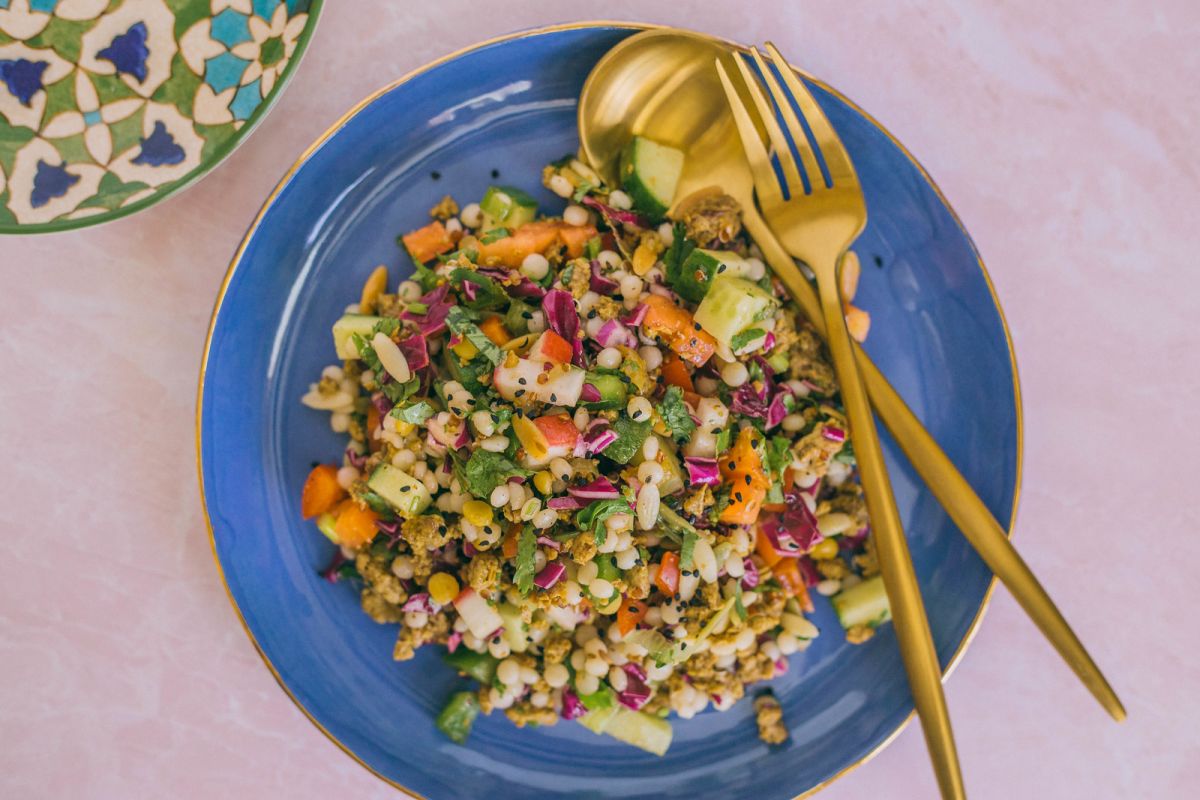 Since spending time with my parents, I've come to learn a lot about saving and growing. They moved to America with the typical immigrant story, and that is with very little in their pockets. What you see today is what they've worked hard for and built on their own. Their answer when asked how they've achieved so much up until now is simple: take what you have and make something exceptional. My brother and I were brought up with the same principle and regularly reminded that we have is enough. This principle is still practiced today in our household and adapted into each aspect of our life, especially food.
As mentioned before, my parents are always working towards a zero waste lifestyle. Their entire pantry is zero waste, they compost, grow their fruits and vegetables, and my mom is the queen of putting together nutritious meals, so nothing goes to waste! This pearl couscous salad is a Quorn recipe that encompasses the very principle we believe in, put into practice.
My pantry is full of different types of grains, seeds, and lentils to make daal and incorporate into other dishes. When they get to the point where there's not enough to make a full serving, I always save them until I have a mixture of grains, seeds, and lentils that make up a full serving and combine them with any vegetables that are in desperate need of being used up. Doing this made me discover a regular vegan recipe on rotation in my kitchen, my Mediterranean pearl couscous salad recipe! To add a bit of protein, I turned my vegan pearl couscous salad into one of my favorite Quorn recipes!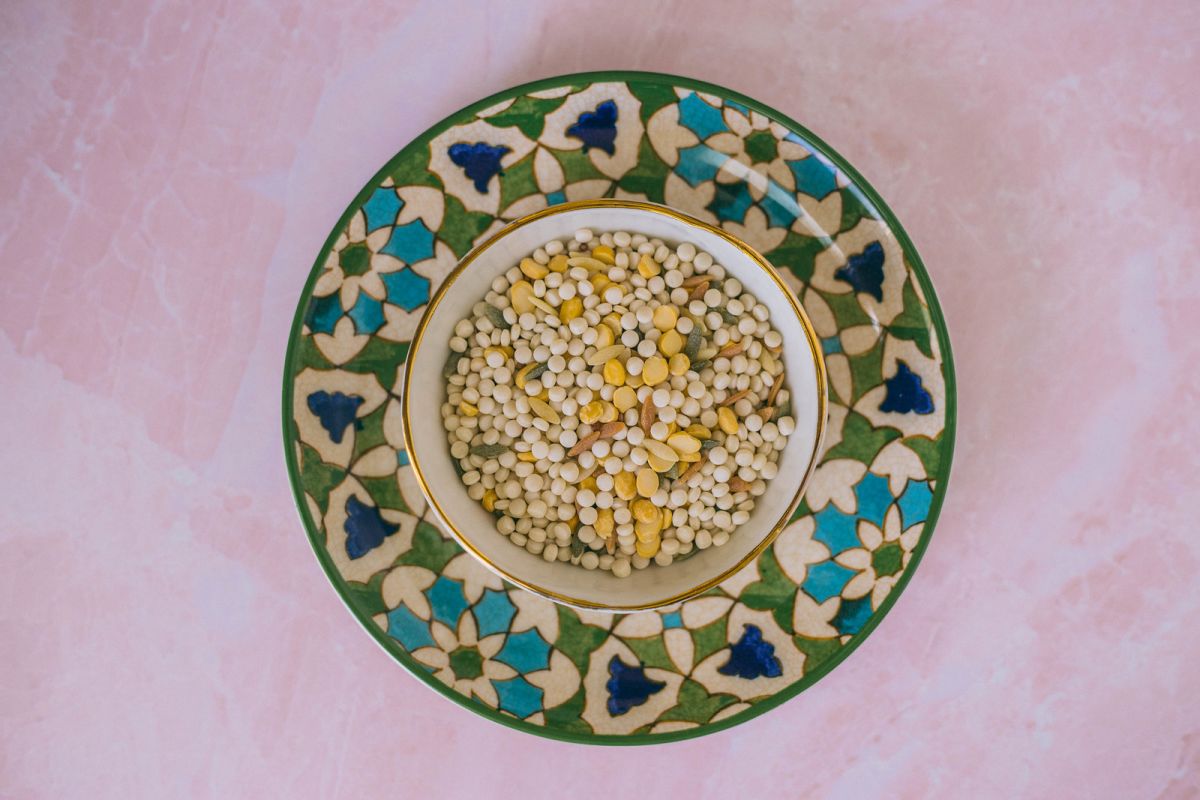 The Ingredients
Pearl Couscous is made of semolina and has a slightly chewy texture and savory flavor. It's great to have on hand for warm or cold dishes!
Orzo is a short-cut pasta that looks like rice. It's perfect for soups, one pot meals, and salads!
Split dried chickpeas is a staple in my kitchen. I will cook it with coconut milk, turmeric, and ginger for daal or boil and dress it for salad.
Quinoa has lots of great health benefits and I try to add some into my soups and salads or eat it as rice. This pearl couscous salad utilizes red quinoa, but you can use any color.
Quorn Mince is something I always have on hand because it can make just about any of my favorite meals in plant-based dishes.
Nigella Seeds truly enhance this pearl couscous salad! They like a combination of onion, black pepper, and oregano.
Notes About the Chickpeas
You can find split dried chickpeas in the dried pulses and lentils section of your grocery store.
I prefer my chickpeas to be a bit firmer in this recipe, but you can soak for an hour minimum beforehand if you want the split dried chickpeas in the pearl couscous salad to be softer.
If you prefer to use tinned chickpeas, then just rinse and toss it into the salad at the last step. No need to boil it longer!
Adapting This Recipe
A mixture of vegetables that you need to use up is best here. I always have peppers, spring onions, and tomatoes that I love to use in this recipe. It should come out to be about 1 cup of chopped vegetables and herbs all together. Get creative and aim for zero waste!
If you don't have all the dry ingredients, then feel free to use 1/2 cup of pearl couscous.
A great alternative for sumac is lemon zest.
Quorn recipes are so versatile, so feel free to change up the spice combination for the mince.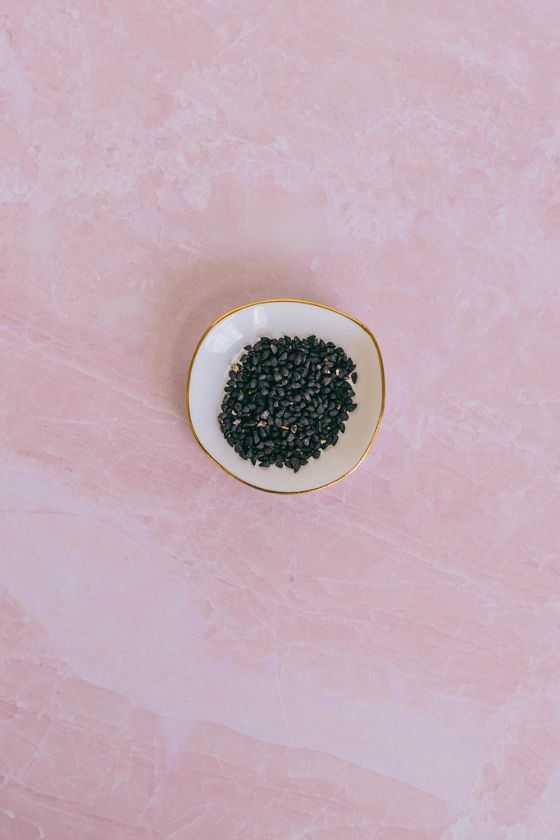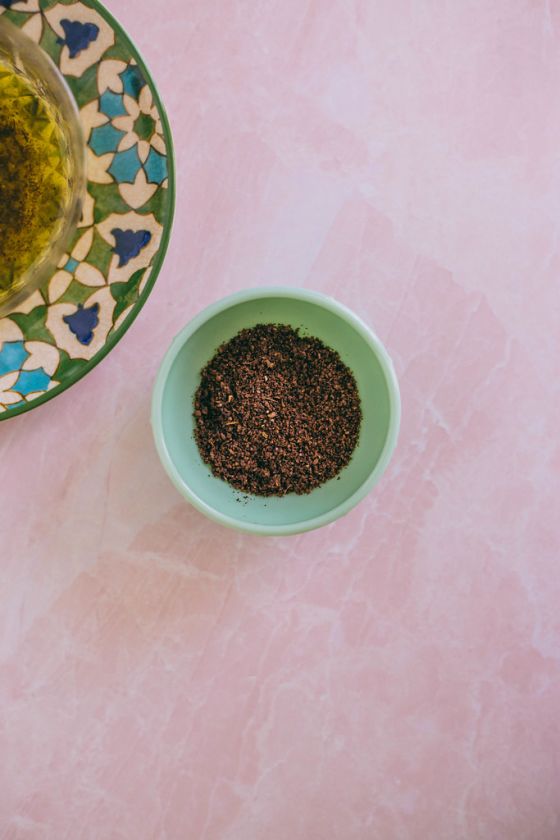 4-6 Servings
Mediterranean Pearl Couscous Salad with Sumac Dressing
ingredients
3/4 cups (or 1/2 bag) Quorn Mince
2.5 cups water
1/2 cup olive oil, divided
1/4 cup pearl couscous
1/4 cup uncooked orzo
1/4 cup quinoa
1/4 cup split dried chickpeas
1/2 medium onion, chopped
3 garlic cloves, minced and divided
1 tsp cumin seeds
1 tsp coriander powder
1/2 tsp ground turmeric
1/2 tsp red chilli powder
1/4 red bell pepper, chopped
1/4 green bell pepper, chopped
2-3 radish, chopped
1/2 cup red cabbage, chopped
1 Persian cucumber, chopped
1 plum tomato, chopped
2 spring onions, chopped
small bunch coriander, chopped
10-15 mint leaves, julienned
1 tbs sumac
1 garlic clove, minced
1/2 lemon, juiced
1 tbs nigella seeds
salt and pepper to taste
---
method
In a pot, bring the water and add 1 tablespoon of the olive oil to boil. Add in the pearl couscous, orzo, quinoa, and split dried chickpeas. Reduce the heat to medium-low and let it simmer between 20-25 minutes. Once cooked, drain the excess water and rice under cold water to stop the cooking process and prevent everything from sticking.
In a separate pan, heat 2 tablespoons of the olive oil and add the chopped onion and 2 minced garlic cloves. Sauté for 3-5 minutes and add in the cumin seeds. The mixture should be fragrant and the cumin toasted after 3 minutes. Then add in the Quorn mince, ground coriander, turmeric, chilli powder, salt and pepper to taste. Stir over medium heat for 8 minutes and set aside.
In a large bowl, whisk the remaining olive oil, 1 garlic cloves, sumac, lemon juice, and salt and pepper. Stir in the pearl couscous mixture, Quorn mince, chopped vegetables, fresh coriander, and mint, and nigella seeds. Then serve with an extra little lemon wedge on the side!