11 Apr 2022
Recipes Using Grey Poupon: Chive & Artichoke Quiche with Dijon Crust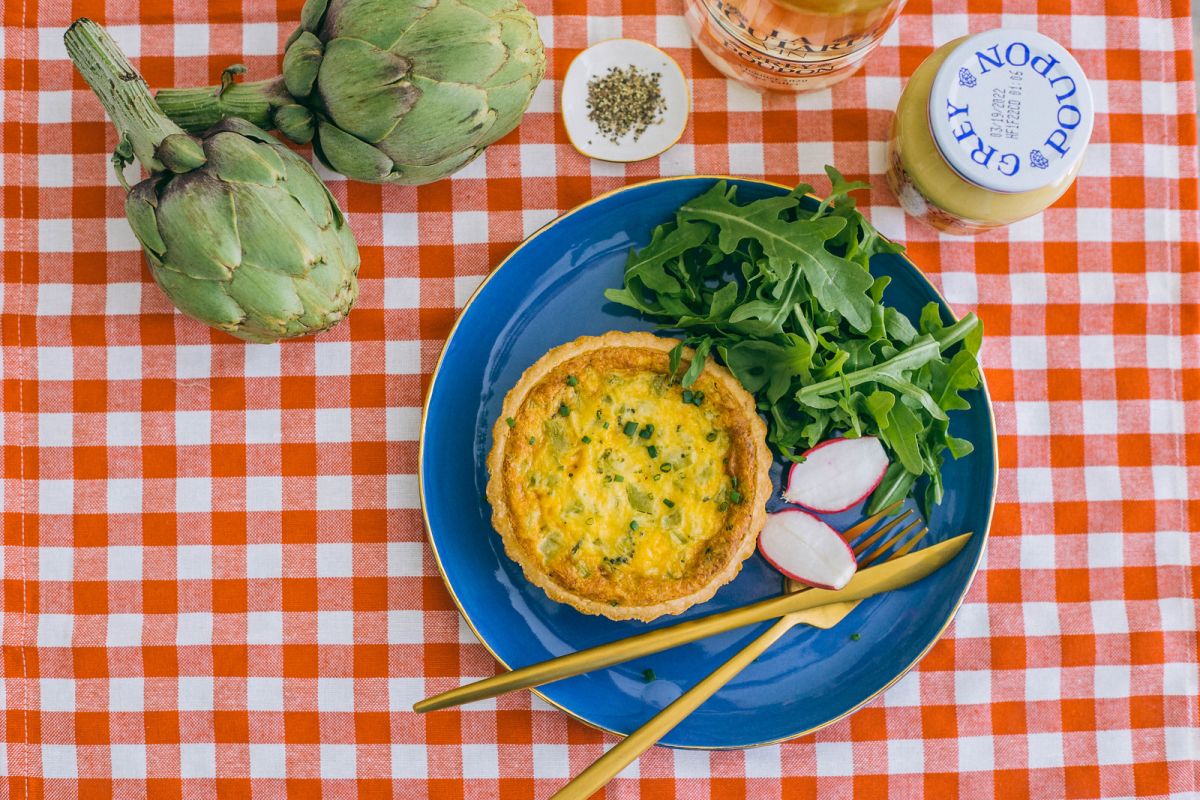 I've been doing a lot of thinking about setting down roots.
My life has felt very chaotic when I look back on it since settling down in America again. Things have always been fast-paced, high-energy, and full of obstacles and challenges that make the slightest inconvenience today feel conventional. Since I'm so used to moving and thinking about the next chapter, the process of moving in and creating a life and then packing up to leave again is so methodical that the notion of slowing down feels foreign.
It's like the pandemic was this organic energy shift that I needed, and it helped me stop, be present, and then evaluate what I truly wanted instead of thinking about the next thing. I used to be the über regimented person that often thought about what was for dinner the next day before I even finished dinner today. So, I guess what I'm saying is that living in the moment and just going with the flow is this new perspective I adopted that changed the way I view so many things from relationships, goals, and choices and decisions.
Transitioning from this very routine-driven lifestyle hasn't been the easiest for me. But the process of making food has helped me welcome this new pace of life that I didn't foresee. I've been letting the sun wake me up in the morning and letting my mood and energy dictate what I do next. Most often, it means going through ingredients in my refrigerator, and tickling all my senses as I work with various textures, aromas, temperatures, and noises. I watch my flat fill with sunlight or shadows as they creep up and then dance around my kitchen walls.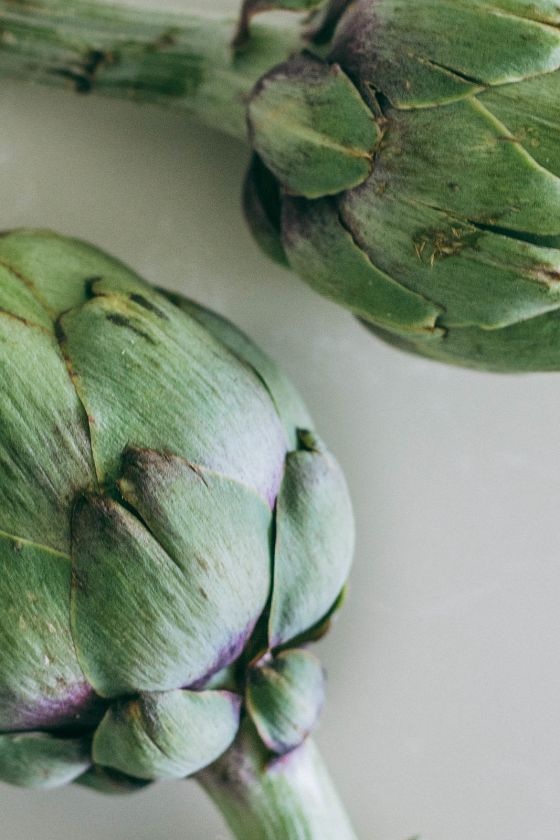 Chive & Artichoke Quiche Recipe Notes
This chive and artichoke quiche marries the dijon crust in an influential way that almost feels like it should have always been there as a pleasing piece of assembly. As the earthy flavors and strong herbaceous notes offer the artichoke to take reign, the dijon and chive flirt with the floral notes to elevate your ordinary Sunday quiche.
Pre-cook the artichoke, and if you plan on using a cut of meat then be sure to cook those through to help release natural juices and flavors. This will also control the moisture balance in the quiche, so you don't end up with a soggy crust.
Here's a video on how to trim an artchioke. Remember that we will only be using the hearts for this recipe.
Don't know what to do with the rest of the artichoke? Chop them up and toss them into salads or a dip and enjoy!
Use fewer additional ingredients. To add flavor to a quiche, you don't have to overload it with ingredients or a variety of spices and herbs. The less you do the more you can get out of your quiche in terms of flavor! It's why I decided to use a single vegetable and add the slightest flavor to the crust with dijon.
Do a blind bake of the quiche, which is already outlined in the recipe. This will ensure that you don't end up with a soggy bottom crust or something deep in color yet stodgy consistency.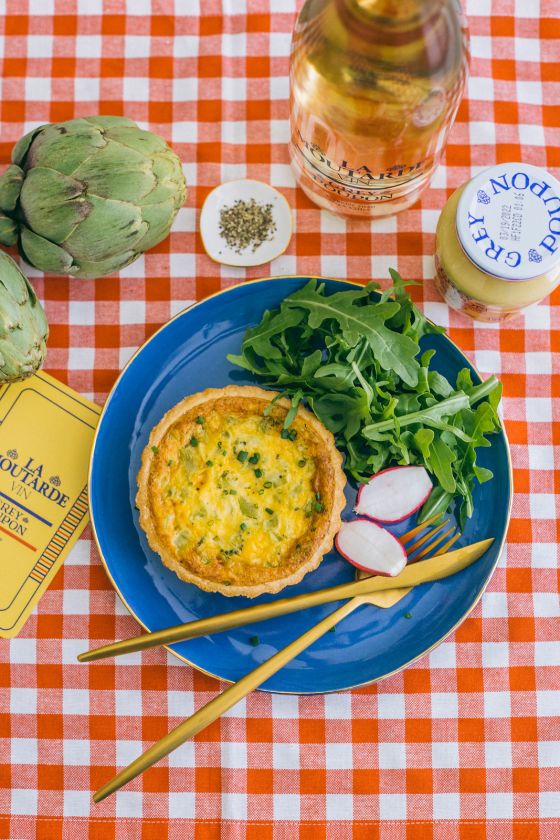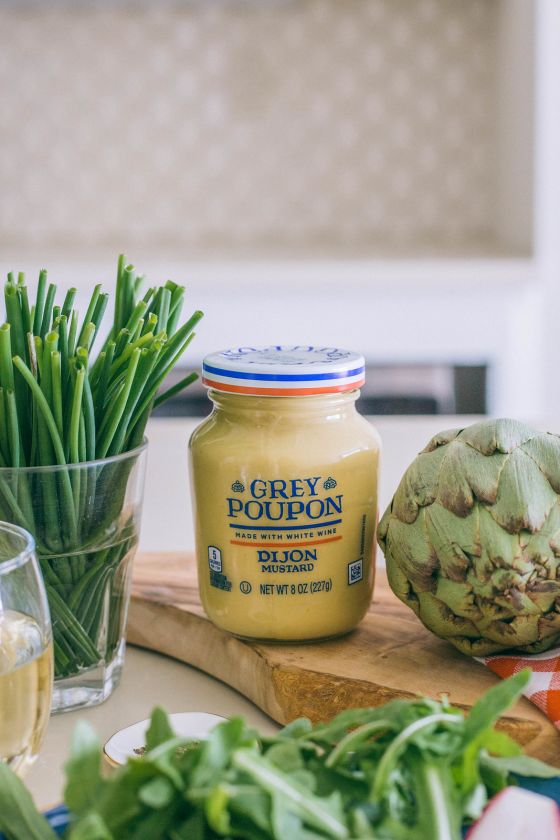 Serves 6
Chive & Artichoke Quiche with Dijon Crust
ingredients
1 cup all-purpose flour
1/2 tsp salt
1/4 tsp baking powder
6 tbs unsalted butter, slightly thawed
4 to 6 tbs ice water
1 shallot, finely chopped
2-4 garlic cloves, minced
2 tsp avocado oil
4 large eggs
1/4 cup bread crumbs
2 tbs fresh chives, chopped
1/4 tsp salt
1/8 tsp dried oregano
2 cups shredded cheddar cheese
6 artichokes, trimmed and halved
1/4 tsp black peppercorn
1/4 tsp mustard seeds
1 dried bay leaf
---
method
For the dijon crust. Preheat the oven to 375F. In a bowl, mix the flour, salt, baking power. In a food processor, add the butter in slices and pulse 3-4 times or until the pastry mixture resembles a coarse meal.
Alternate between sprinkling the ice water and grainy dijon mustard over the flour mixture until a fork can stick the dough together. No need to use all the water.
Roll out the dough on a floured surface so that it's 12-inches in diameter (perfect for a 9-inch pie pan). Transfer the rolled out dough to a pie pan and fold or press in the overhanging dough. Use a fork to gently prick holes in the bottom and sides of the crust (this helps it not puff up while blind baking).
Freeze the crust for up to 20 minutes before blind baking. Remove from freezer, and fill the pie with pie weights or dry beans. Crumble a parchment paper and lay on top of the pie crust, so it doesn't get too brown. Bake for 15 minutes, remove the weights and parchment paper and bake for an additional 6-8 minutes.
Remove the crust from the oven and fill it using the quiche mixture below.
For the filling. In a large pot, bring water to boil and add in the 6 artichokes, black peppercorn, mustard seeds, bay leaves, and artichokes. Simmer for about 35 minutes or until tender. Remove from water, remove the hearts, and chop roughly.
In a skillet with avocado oil, sauté shallot, garlic cloves, and set aside. Whisk the eggs, bread crumbs, chives, salt, and oregano. Stir in the cheese, artichokes, and onion mixture. Pour into the pie plate with the prepared dijon crust. Bake at 350F for 25 minutes or until the knife inserted in the center comes out clean.
Note: If you do not have country dijon Grey Poupon available, then feel free to use any coarse or grainy dijon mustard.