a siblings getaway
Sitting in London, with the rain pecking against the window, I can't help but miss my brother dearly. Let me preface this post with how beautiful this trip truly was. The Instagrams, Stories, photographs and videos don't do it justice at all. There was a moment in one of the very dim-lit restaurants where my eyes welled up with how seamless this trip was going and who better to share it than my younger brother. I was going to list all the locations and places to east in this post at first, but realized that a proper digest of every aspect of the trip was probably what would be more appreciated. So let's get this Marrakech city guide started!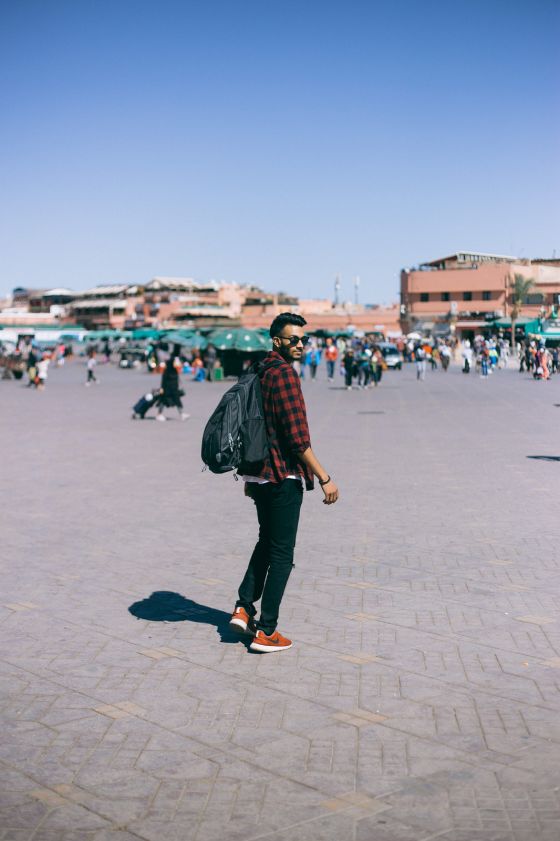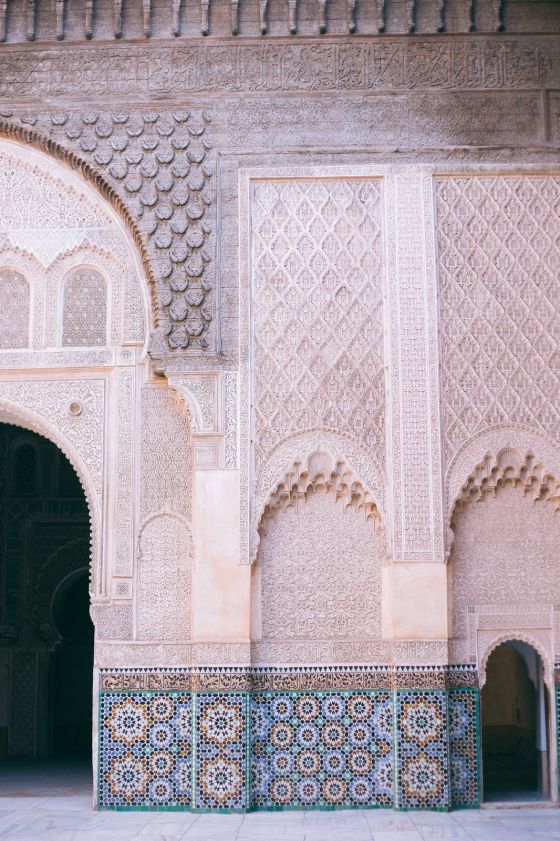 day one
We started with checking-into Riad Boussa, which was a sanctuary from the hustle and bustle that was merely a few minutes away from the door. If there was one thing, we were spoiled by how quiet the riad was considering it's essential location just a short walk away from the main square and the maze of souks. Instead of diving into great lengths about our incredible stay and new friendships with Brigitte and Ali, I will just guide you to the dedicated blog post here… Shortly after dinner, however, we did take a walk through Djemaa el-Fna, a great marketplace where you will find people charming cobras, playing with monkeys, selling food, drawing henna tattoos and more. My friend Diogo, who studied abroad to Morocco, made me promise to have orange juice on the square. Literally pennies, the orange juice was the most fresh, sweetest juice I've ever had. That quickly became a daily routine to enrich our vitamin C intake. The first day was my favorite day of this Marrakech city guide.
what my brother wore
jeans H&M shirt H&M sunnies MAUI JIM his instagram @SHYDESAI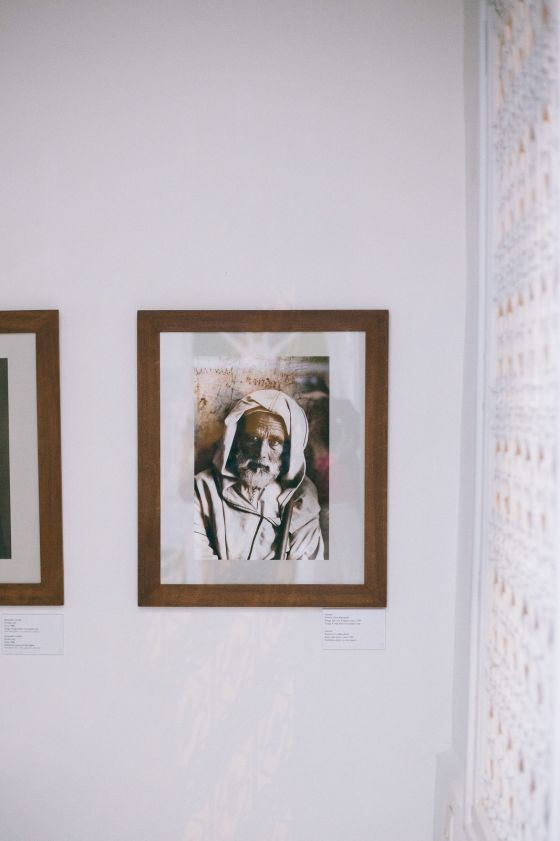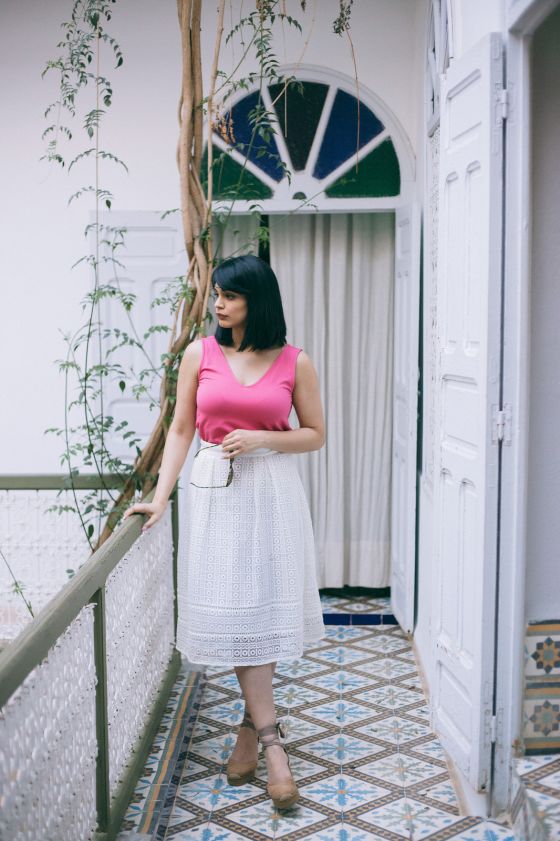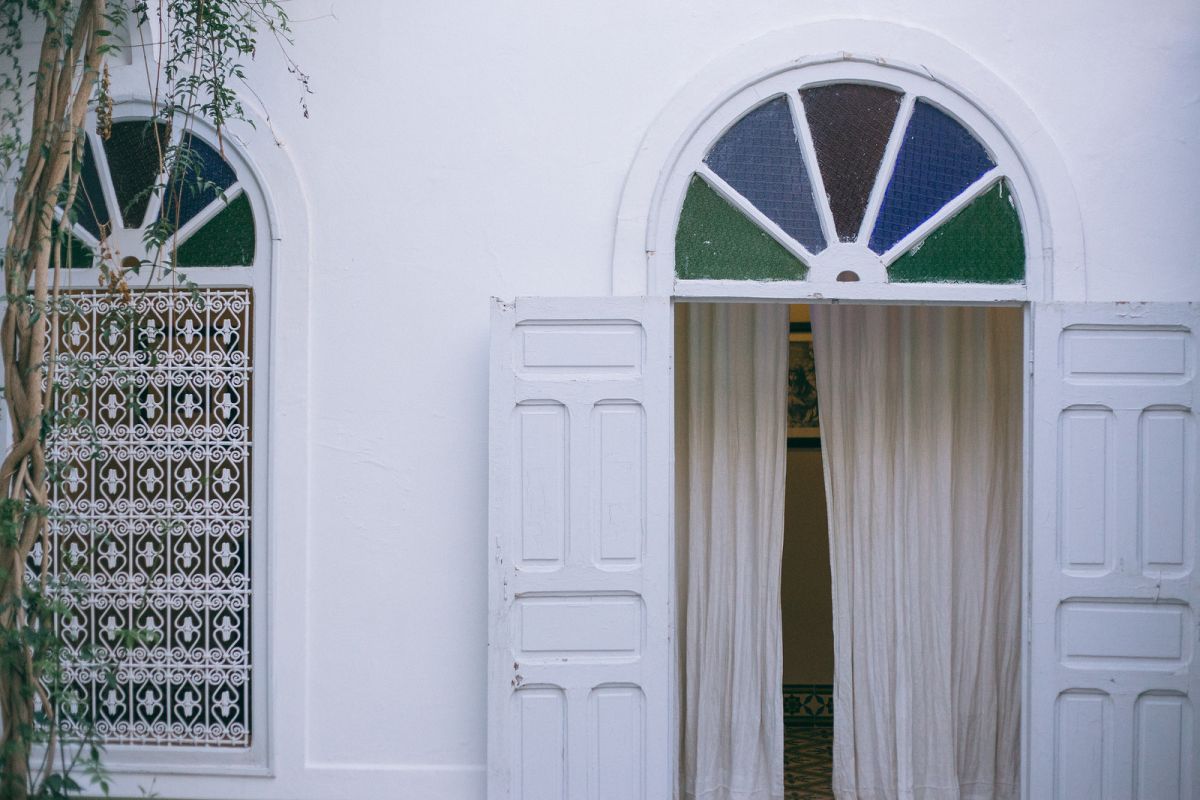 day two
On our first full day in Marrakech, we were a bit ambitious and wanted to explore and understand as much of the history, culture and politics as much as possible. The best way to do that was actually taking the cooking class at La Maison Arabe. You can find the detailed historical account of the ingredients and culture plus recipes for a full Moroccan feast on my last post from Marrakech right here.
After the class, and a belly full of food prepared by our own hands, we decided to take a walk through the souks and find Cafe des Épices. Climbing the stairs, we knew we were about to be well-impressed. We sat down and immediately ordered a sugary mint tea. And looking to the left we were greeted to a view of the spice market. Though high up, we were able to smells the subtle smell of rose petals, sandalwood, turmeric and cumin. And with the warmth of the sun, it felt like the perfect place to spend a few moments to unwind.
Once refreshed, we took off to the other part of the old city that felt incredibly residential. In between the homes, were significant monuments that brought the country's heritage to life. We made our first stop Ali Ben Youssef Medresa. We walked down a dark hallway and opened up to an incredible oasis-one of the largest Islamic schools from the 1100s. The intricate details and scriptures are derived from Quranic versus that sits atop stucco, wood and marble forming geometric print called zellig. This is a must see in my Marrakech city guide.
and furthermore…
Playing in between all the hallways and student rooms, we made our way down the street and perused the hallways of Maison de la Photographie de Marrakech, which houses a permanent collection of photographs that depict life and society of Marrakech. Just a tip, I advise you go to the terrace for gorgeous views of the Atlas Mountains and a proper coffee too! The hidden gem to visit in this Marrakech city guide.
We watched the sunset on the terrace of the photography museum and once the sun was pretty much gone, we made our way out and peeked at the metal shops with lanterns all lit up. Each lantern was intricate and gorgeous with stain glass and exotic shapes. And after getting a few little trinkets for mom, we made our way down the street to Le Foundouk. Upon our arrival, we were a bit early, we were greeted by a massive room with high ceilings and lots of seating. At first, I thought the owner was a bit ambitious on filing the space. To our surprise, by the time we sat and enjoyed half a glass of Moroccan Syrah, we looked around and saw that so much of the restaurant was full and there were many more coming in. Traditional menu, we decided to go for some of the seafood dishes and the pigeon pastilla. It was so beautifully decorated and the portions were extremely generous. The seafood was fresh, still salty and uniquely presented. Frederic, the owner made his way around introducing himself from table-to-table and reassured everything was alright, whilst sharing notes with the staff. It was an experience I haven't had since being in America. The service was unstoppable and the food had just as much to praise.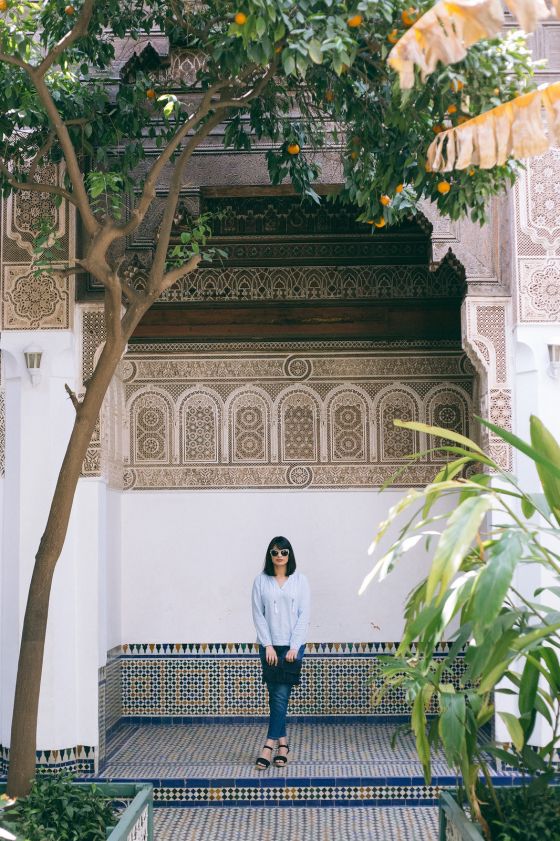 day three
We started the day early to avoid the crowds. Many people have been coming to Marrakech on holiday, but what was mostly baffling was people thanking us for visiting when we told them we were American. My experience in the Middle East has always been interesting. Indians usually come as laborers and Americans are hated because of their egotistical behavior. So the welcome was surprising.
But I digress, so we made our way to Palais de la Bahia. A palace from the named after the word, 'brilliance', was built in the 19th century to be considered as one of the most extraordinary palaces of its time. Considering today is the 21st century, I was floored by how beautiful and intricate the details were. From one terrace to an open garden, to a courtyard and then an oasis. It was heaven and a nice getaway from the craziness within the souks. Soon after we made our way to Palais el Badi, but I found myself a bit disappointed after perusing the colorful walkway of Bahia. The stone touches and urban corners made this the perfect scene for my brother to enjoy and play with photography a bit. I think what did make this momentous was the view from the terrace that overlooked Marrakech with its winding orange-peach walls and the sounds of the prayer in the distant.
the day continued…
After hundreds of photos and exhausted after spending the afternoon directly in the sun, we found our way back to the souks, through the winding "streets" and then were coughed up to the courtyard where Nomad sat. We were taken to the top floor where we had a view of the cafe from the day before and then spice market. And right after we ordered, the call of prayers started and there was nothing to be heard just the prayers. It was majestic and beautiful and felt so different to the everyday life we're used to as the people working the restaurant continued on with their responsibilities. This is the best rooftop in my Marrakech city guide.
We decided to try the cheese from Essarouia, the fish and the lamb. What I found most impressive was that everything was locally sourced and produced. Each ingredient was fresh and each bit felt like Morocco had truly engaged itself culinarily. A true gem in my Marrakech city guide.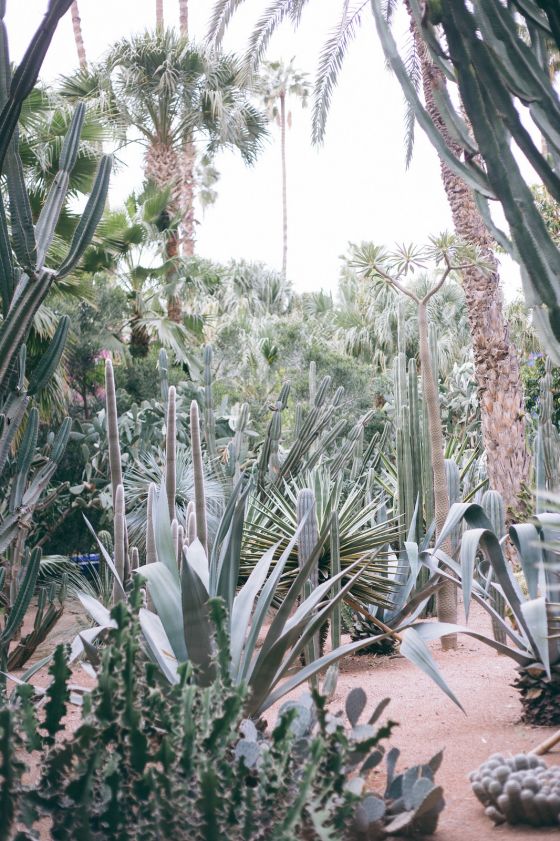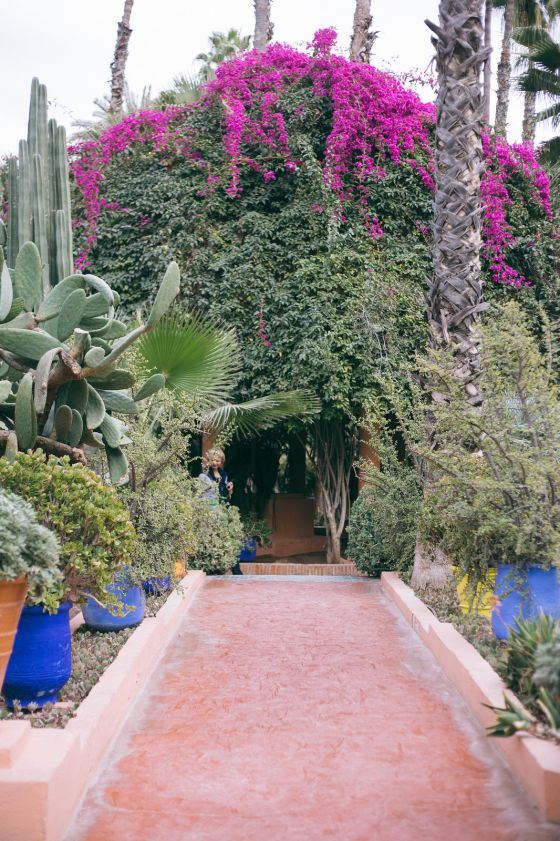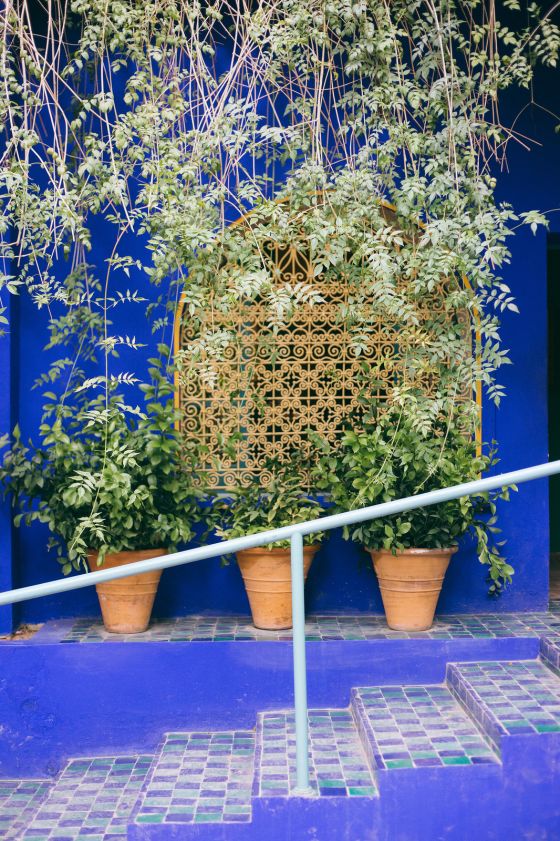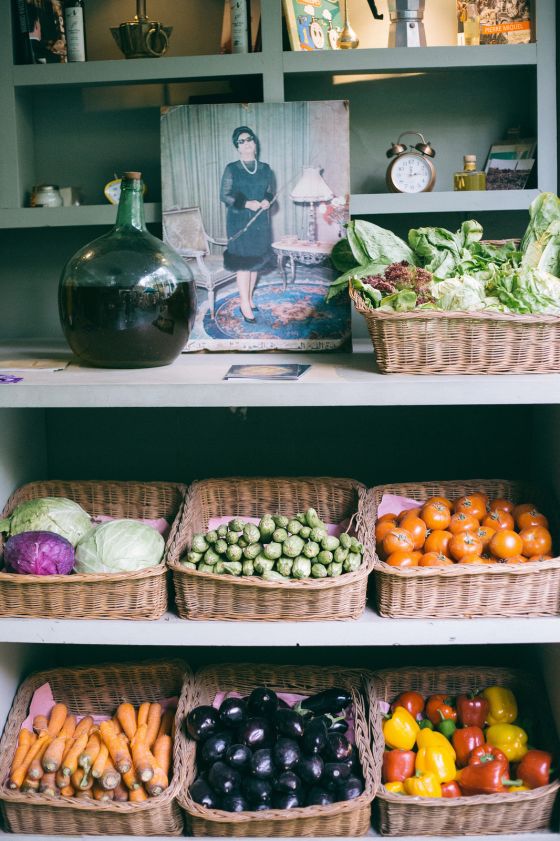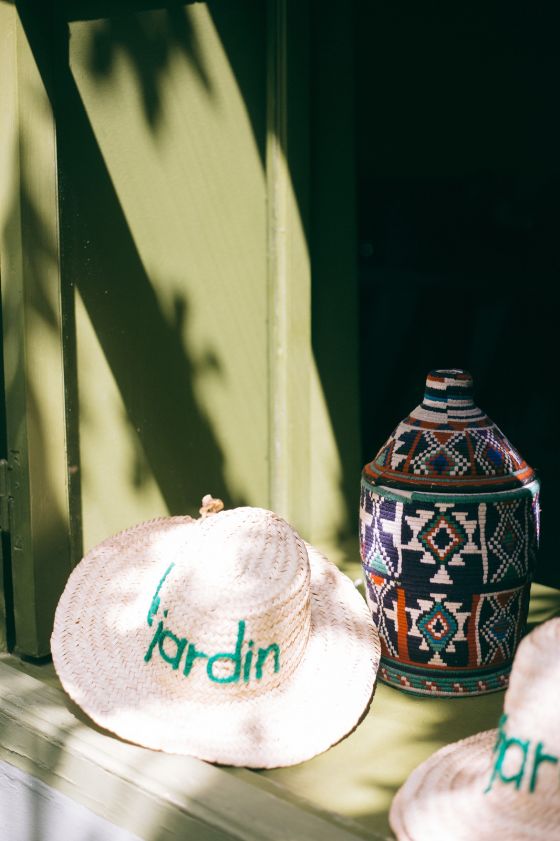 day four
Our last final day was upon us and there was a somber feeling between my brother and I. It meant our time together was coming to an end and hopefully we didn't have to wait another year to see each other in the flesh. We made our way to Jardin Marjorelle after a bit of haggling with a taxi driver off the main square. Making our way to the garden, the moment we got to the ticket counter we were so surprised by how much it reminded us a bit like Paris. The street signs labeled as Rue Yves Saint Laurent and then the wide courtyard at the entrance with the fountain. As we walked through, pungent and bold colors were splashed on the walls and there was a large cacti garden. It was breathtaking. And to think that right outside those gates was a city that was loud and highly energetic, this space was controlled and quiet. All you could hear were the faint chats of the tourists and the goldfish in the pond swimming fighting with the food the keeper provided them. A bit of inspiration in my Marrakech city guide.
After our a long morning at the jardin, we were feeling just a bit peckish yet didn't want to over do it. So we made our way to the Le Jardin for a light lunch. We grabbed a bunch of starters, an avocado shake and an iced mint tea. The restaurant grounds was in the middle of a garden and a lush green oasis with many turtles casually sauntering around. After an incredible orange blossom creme brulee, we decided it was time to do some souvenir shopping in the souks.
We seemed to find everything we wanted from Souk Semmarine and the places des epices for all our friends and family. They were the easiest to navigate and the easiest to haggle. After literally hours of perusing shop after shop and row after row, we went back to the hotel for a little late afternoon relaxation. Before our final dinner at Le Tobsil. This was the best dinner included in my Marrakech city guide.
When the sun went down and we had another orange juice from the square, we made our way to the other part of the city. We walked into this dim lit alleyway that wasn't quite so inviting. After a right and then possibly a left a couple of times we made our way to a door with an overpass that even had me ducking. The room opened up to what seemed like a palace. So intimately decorated with rosepetals, nothing but candles and live Berber music-it was the moment where I knew it was going to be a pretty epic dinner.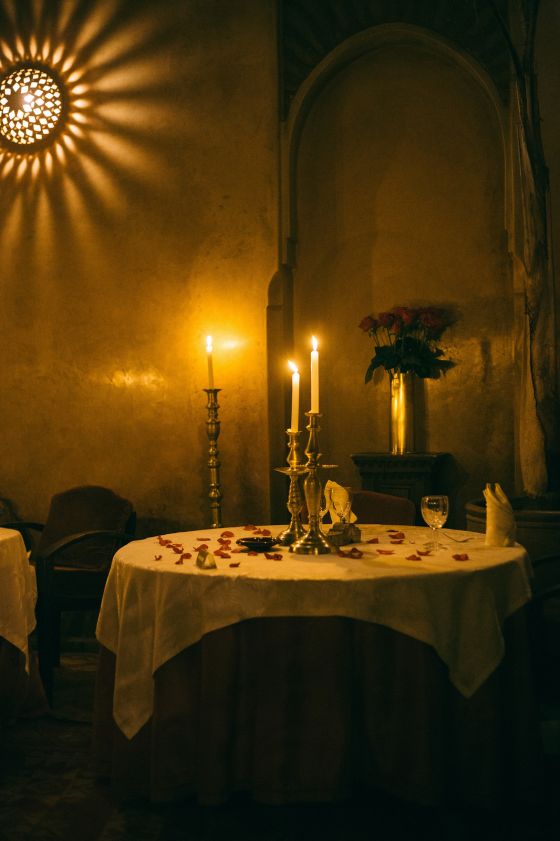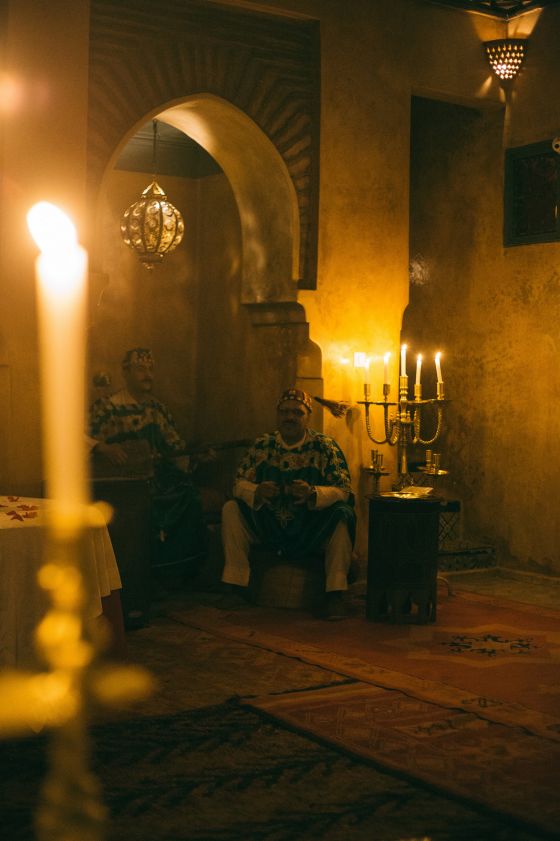 true romantic experience at Le Tobsil
It was a set menu with non-stop flowing drinks and not a pretentious wine list to choose from (only "red, white or rose"). We had the rose as we weren't sure what we would be served, so it seemed appropriate. People gradually trickled in and there was literally only 4 couples sitting at their own tables adorned with tall lit candles and rose petals. At the moment everyone was seated, the first course of 6 different types of salads came out. Moroccan cuisine is known for its array of warm and cold salads, so it was nice to try something outside the roasted aubergine and dig into a variety. Some were set, some spicy, some flowery and some became a quick favorite. And we couldn't even finish all the salads and by the next point chicken tagine wrapped in a pancake was served. It was absolutely lush. The chicken literally falling off the bone and the light pancake with the crunchy edges made the experience so unique for something we have never encountered before.
The third course came out and I saw another tagine. I looked at my brother and said that there must have been a mistake, but in reality, the lamb was the next course. A slow roasted lamb tagine served with a beautiful couscous that was topped with roasted vegetables and caramelized onions. There was lots to eat, but we ate the meal like kings. Then the final course… of the two desserts. The poached fruit with pears, oranges and strawberries. The orange peel help sweetened everything and it made for a stunning poached recipe and entry to the orange blossom milk pastilla. We started our trip with these two desserts at Riad Boussa and were excited to end on the same sweet note. If you're looking for a romantic evening, then Le Tobsil brings that to Marrakech so effortlessly.
What would you add to your Marrakech city guide?