It's no secret that I spent a lot of time in Notting Hill when I was living in London. It's even less surprising considering I hosted an Airbnb Experience giving a guided Notting Hill tour! It was wildly successful and thanks to my tips on hosting a successful Airbnb Experience here! Surprisingly enough, many people don't realize that Notting Hill had a humble past and continue to thrive to be an area of London that is diverse. There are plenty of restaurants, cafes, shops and photo opportunities. It was the late 20th century gentrification that turned it into what we know of it today: high end boutiques, Michelin-rated restaurants and the home of famous people and famous film settings. This is not an exhaustive list of things to do in Notting Hill, but it's essentially my guided tour that I used to host!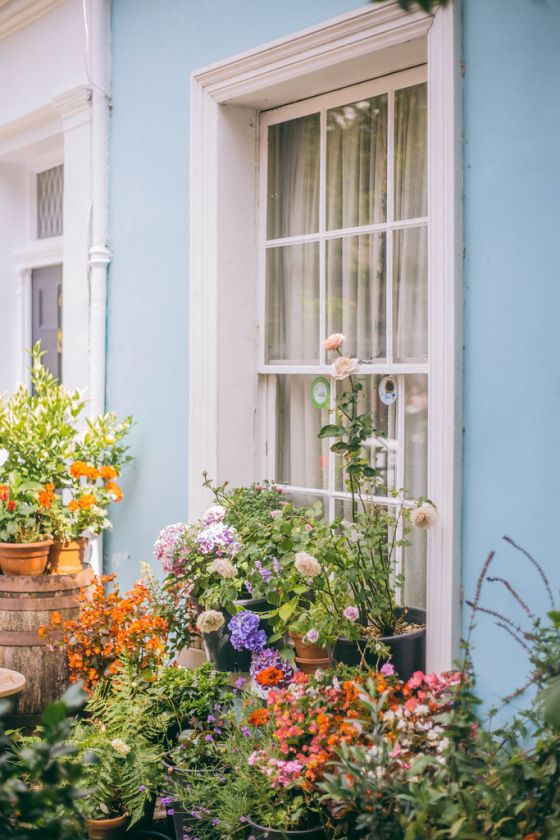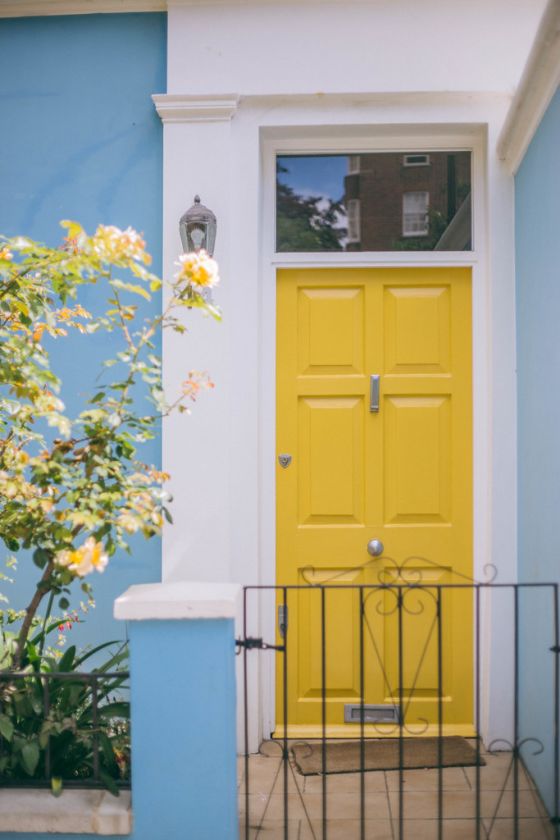 Start by Walking down Pembridge Road
I like to call this the fake Portobello Market because tourists seem to love the shops here. The stores are full of goodies, but it's not the official market. If you're looking for some refreshments or a cheeky treat, then I love Brown & Rosie for their coffees, Unico for their gelato and Arancina for their pizzas! On your right you'll see some vintage shops that are full of gems! Notting Hill is very art and fashion focused, so you'll get some great deals at Retro Man and Retro Woman.
Take a left onto Portobello Road
You'll start seeing some gorgeous colorful houses here! The first set on this Notting Hill tour. During the spring and summer months, the house fronts are covered with beautiful wisteria, hydrangeas, roses and more. One of the first houses you'll see is where George Orwell used to live! Keep walking down and on your left you'll find Farm Girl cafe. It's your all day Australian eatery. On the top floor is Sister Jane for all those vintage style enthusiasts. Be sure to take a look at their latest collection.
At the junction of Portobello Road & Chepstow Villas
You've seen the entrance into Portobello Market along with some beautiful and various architecture of Notting Hill. The area was developed at different times over the last 200 or so years, so you'll see plenty of different types of buildings.
Portobello Road Market
Next stop on the Notting Hill tour is the world's largest antique market that started off as just a place for people to come to sell goods and services on a country road. Today you will find shops selling toys, books, clothes, jewelry, art and more! The first part of the market is full of high end antiques, the second part is more like a flea market and full of gems, the third is the farmers market and the fourth section has become a place where artisanal and handcrafted goods are sold! Here are a few shops you should visit:
Keep walking down Portobello Market and you'll run into the gorgeous Electric Cinema, which is the oldest working cinema in the UK. It opened its doors on 24 February 1910 and today shows both old and new films! The inside is gorgeous and they'll let you have a look around if there's nothing playing! A historical gem on my Notting Hill tour.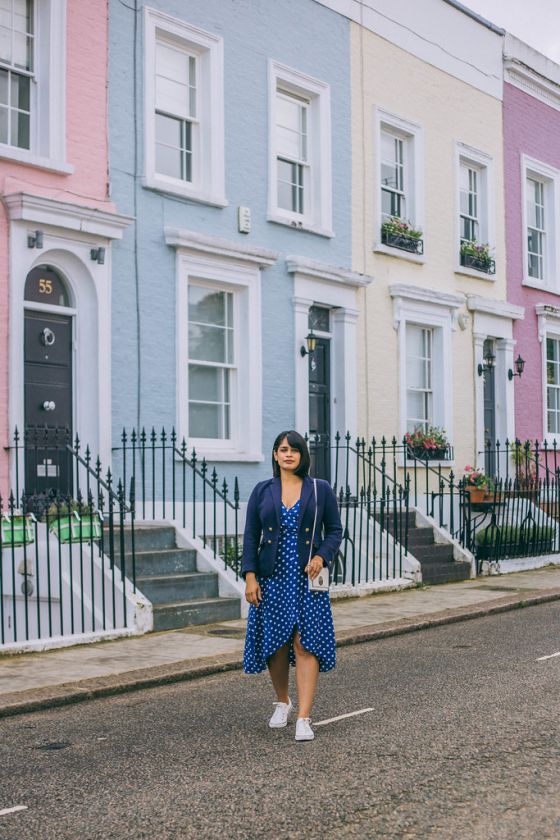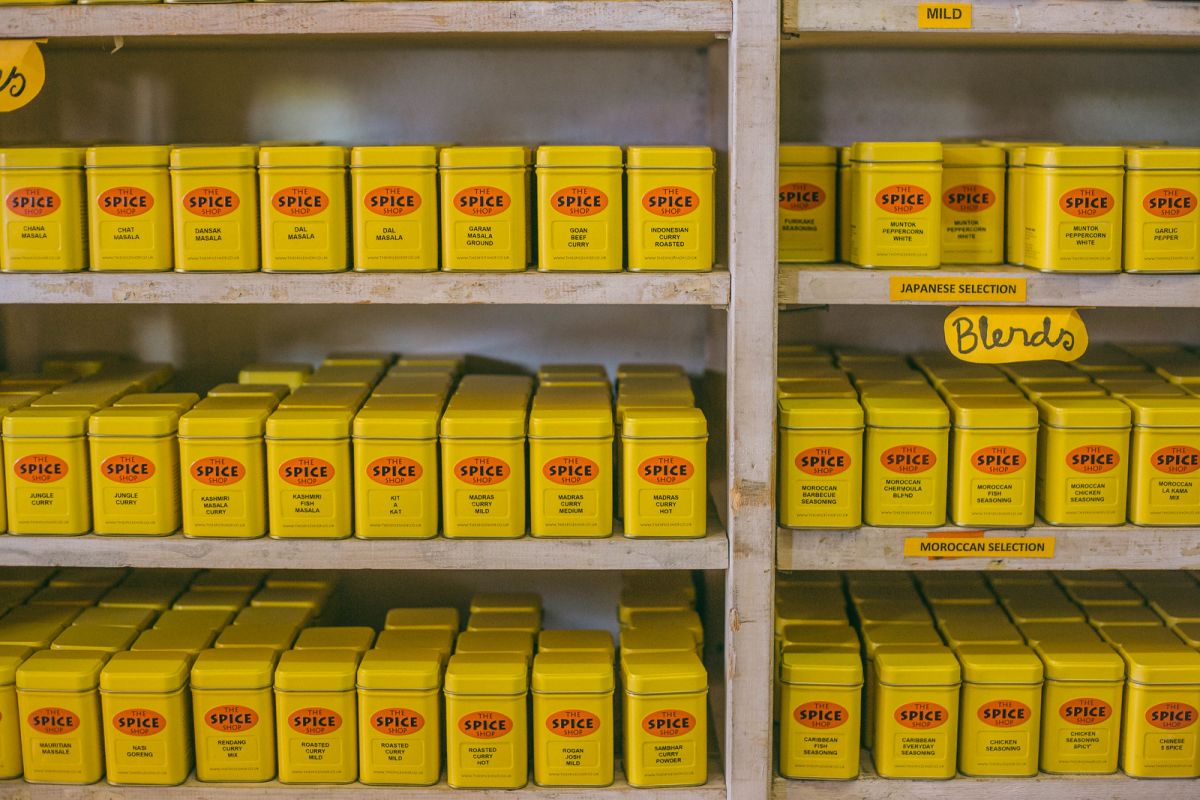 Turn left onto Blenheim Crescent
You'll find an array of speciality shops that help make this Notting Hill tour even more special! Be sure to visit the following shops:
They're reviving the British tea biscuit and with class! The exterior reminds me of a coloring book and the interior smells like heaven! Be sure to take a look around and definitely buy a single biscuit to try! I love the ginger jolly that are available all year round. You can sign up for icing classes or ice your own biscuits as part of their afternoon tea too! This is my favorite place on the Notting Hill tour!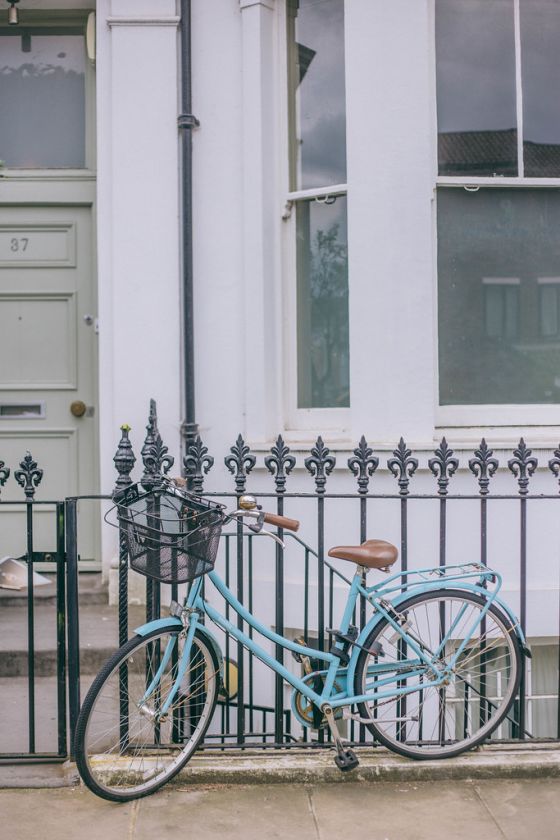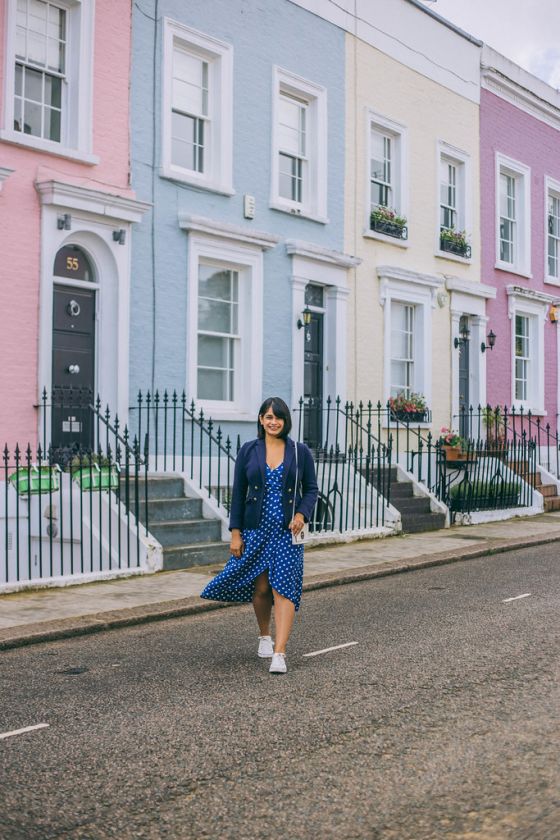 Continue walking down Blenheim Crescent
You will find Codrington Mews on the left. When you walk into the mews you will see a set of flats and a little corner that reminds me of Belgium. So quaint and quiet from the rest of market. On your right is XL Studio Recording, which is a fully functioning Independent British recording studio and on the first wall you will see a large mural inspired by Thom York's album cover, The Eraser! If you look closely, you will that it's an ode to London with some iconic buildings. Around the corner, you will see another mural. This wall seems to change because it changed twice over the course of 1 year on my Notting Hill tour.
Walk back towards Biscuiteers and turn left onto Kensington Park Road
You are just parallel to Portobello Market and properly entering the Ladbroke Grove area. This is where a lot of the Caribbean immigrants moved to in the 1950s and 60s and continues to be a place where their culture is celebrated. At the end of the street, when you look up to the right, you will see a window installation of some iconic musicians. When you look ahead, you'll see an Ancient Egyptian inspired home complete with engraved hieroglyphics, a pharaoh, obelisk and two sphinx on either side of the entrance.
Take a right onto Westbourne Park Road and then a left onto Portobello Road
This is my favorite part of the market. The streets are often lined with artisans and speciality shops with lots of trinkets and handmade jewelry from all over the world and including London-made! It's also the heart of London's very own Carnival festival, a Caribbean Festival that is considered the second largest in the world outside of the original in Brazil.
Take a right onto Lancaster Road
Continue walking on the slight incline and you'll see some vibrant and bold colorful houses. The signature hues are said to show off the vibrancy of the Caribbean culture. If you look up, you'll see metal decor in the form of exotic animals.
Take a right onto All Saints Road and then left onto St. Luke's Mews
You'll see the word mews everywhere in London. Originally it mews' was where people used to store their horses. Today, most mews' have become commercial and residential properties. St. Luke's Mews is just so beautiful with its cobblestone streets and colorful houses. The pink house on the right is also from the film Love Actually! I've given all the homes an alter ego because the design and color is just so distinct. Be sure to be respectful as these are people's homes!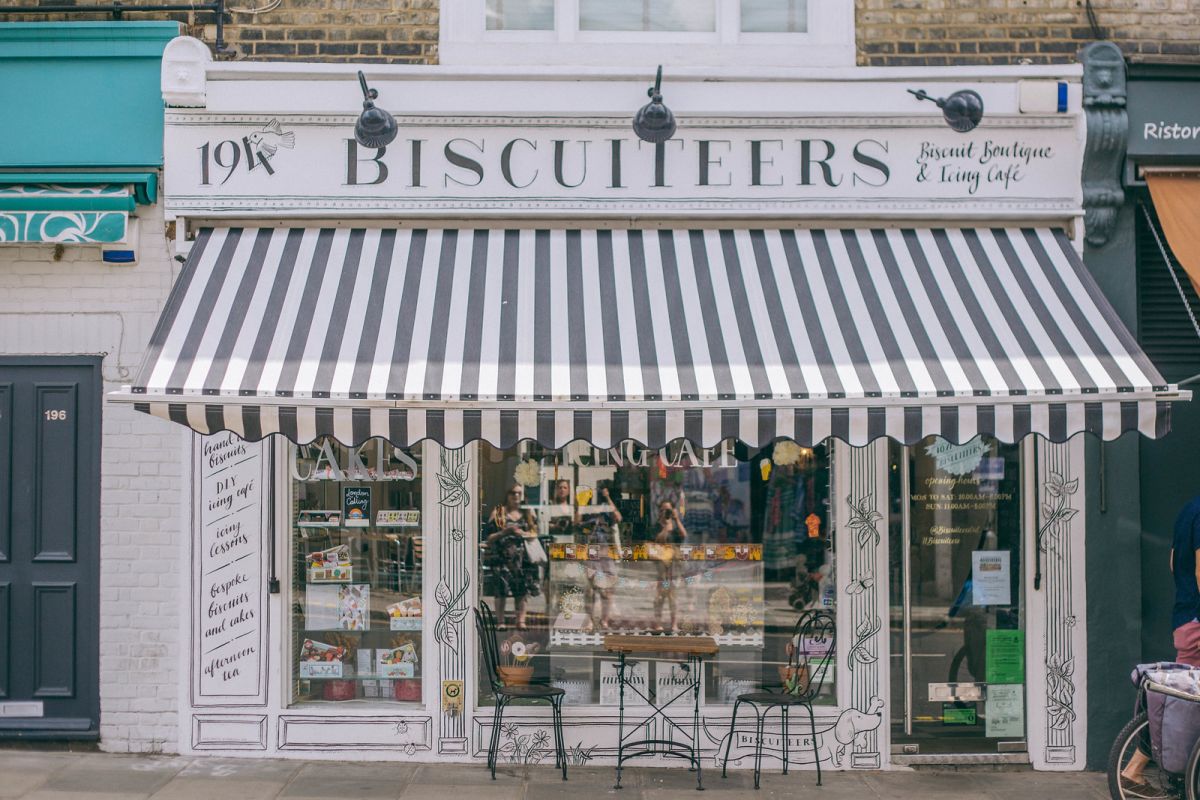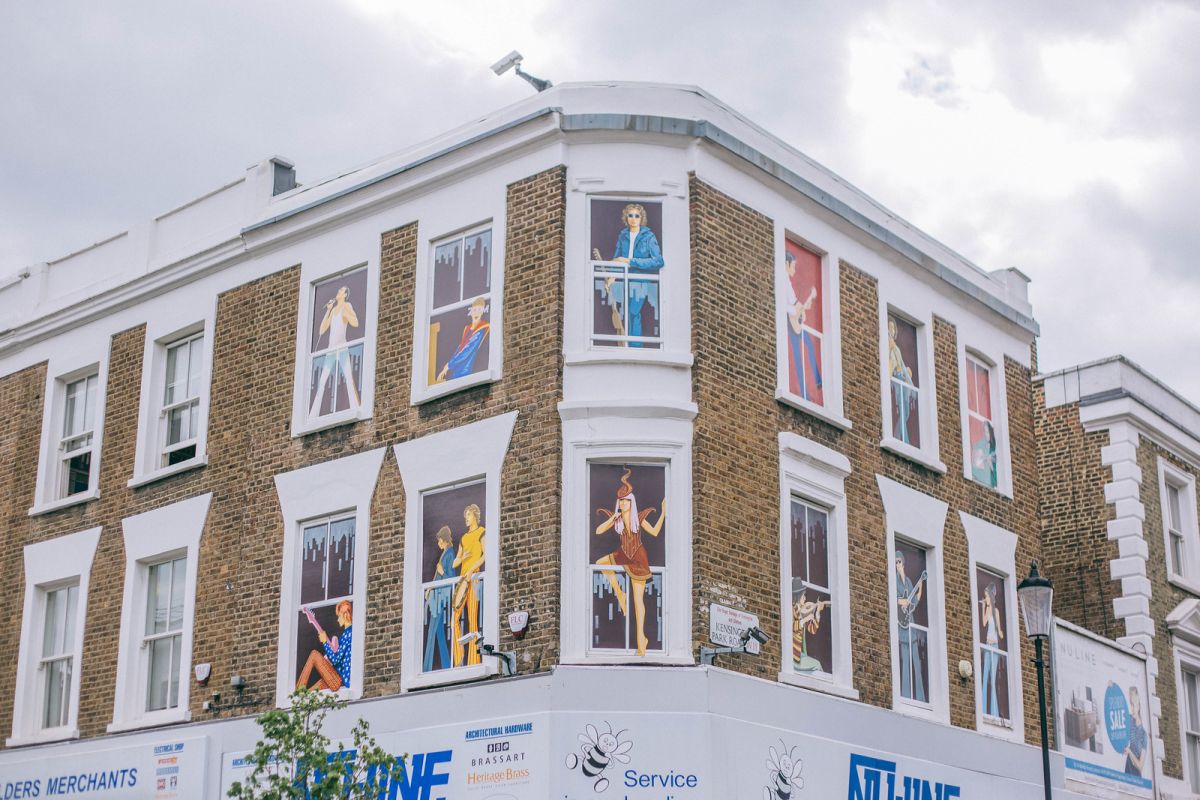 Walk through the Mews and towards Powis Gardens
Walk down Powis Gardens and you will finally experience the everyday life in Notting Hill. Beautiful homes and people just living their normal lives. Then take a right onto Talbot Road. You'll see my favorite view in Notting Hill looking down towards Colville Terrace from Talbot Road. On your left you'll see a gorgeous church dating back from the 1800s that has been turned into a pub that specializes in Caribbean food and drinks and doubles as a community center. Check out their posters to see if you can make any of their live music events!
Continue on Talbot Road and take a right onto Ledbury Road
This is where you will enter the Westbourne Grove area. You'll see the vibe completely change and it will be a bit more uppity than the former part of the walk. On your right is The Ledbury, one of the top restaurants in Notting Hill with a Michelin Star. Continue walking and you will see a cute door at 91 Ledbury Road! Be sure not to trespass, but it is indeed a famous one! The rest of the street is dotted with shop and you'll notice that the area is very fashion friendly! My favorite stop is Ottolenghi, which is the perfect spot for an afternoon treat that blends Mediterranean flavors and European techniques.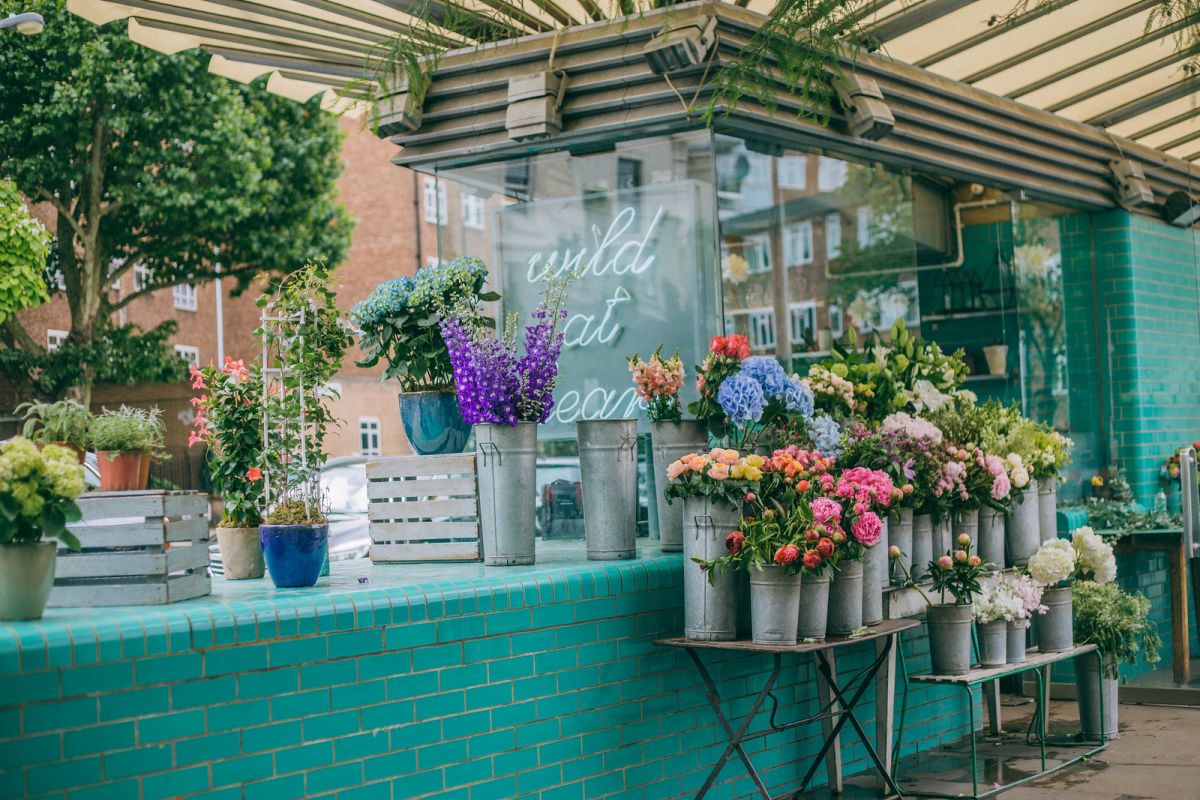 Take a right onto Westbourne Grove
You can spend an entire day on this street alone going in and out of shops, people watching and trying different foods! Here are a few places I recommend:
Take a left onto Denbigh Road through Pembridge Crescent
Continue walking on this road for a while and stop to admire all the homes! This is a gorgeous area that is calm, secluded and drips with money. The homes were built in the 1800s and you can tell by how detailed they are around the windows.
Take a right onto Pembridge Road
Walk towards the major junction, which is where you started. Cross the junction and you will see a little street leading to Farmer Street. Keep walking down that street until you hit Hillgate Place. This is the jackpot of all colorful houses on my Notting Hill tour! Enjoy the walk around the streets and definitely end the tour with a beer at The Uxbridge Arms!