28 Jan 2023
Self-Guided Tour of the Historic Center of Mexico City
This autumn, I decided to take a month-and-a-half-long trip to Mexico City. Initially, I planned to expand my culinary skills and interests. However, after reading up on the city and its offerings, I realized that the history and culture felt no different from India. I often said this while in Mexico City, as I felt at ease in my day-to-day. My parents joined me for a week to explore the city. I blended in with the city's ebb-and-flow, so I mapped out a self-guided tour of the historic center of Mexico City for us to take.
To preface this self-guided tour of the historic center of Mexico City, you'll find that this tour is a combination of history and culture as well as food and lifestyle. So, let's begin!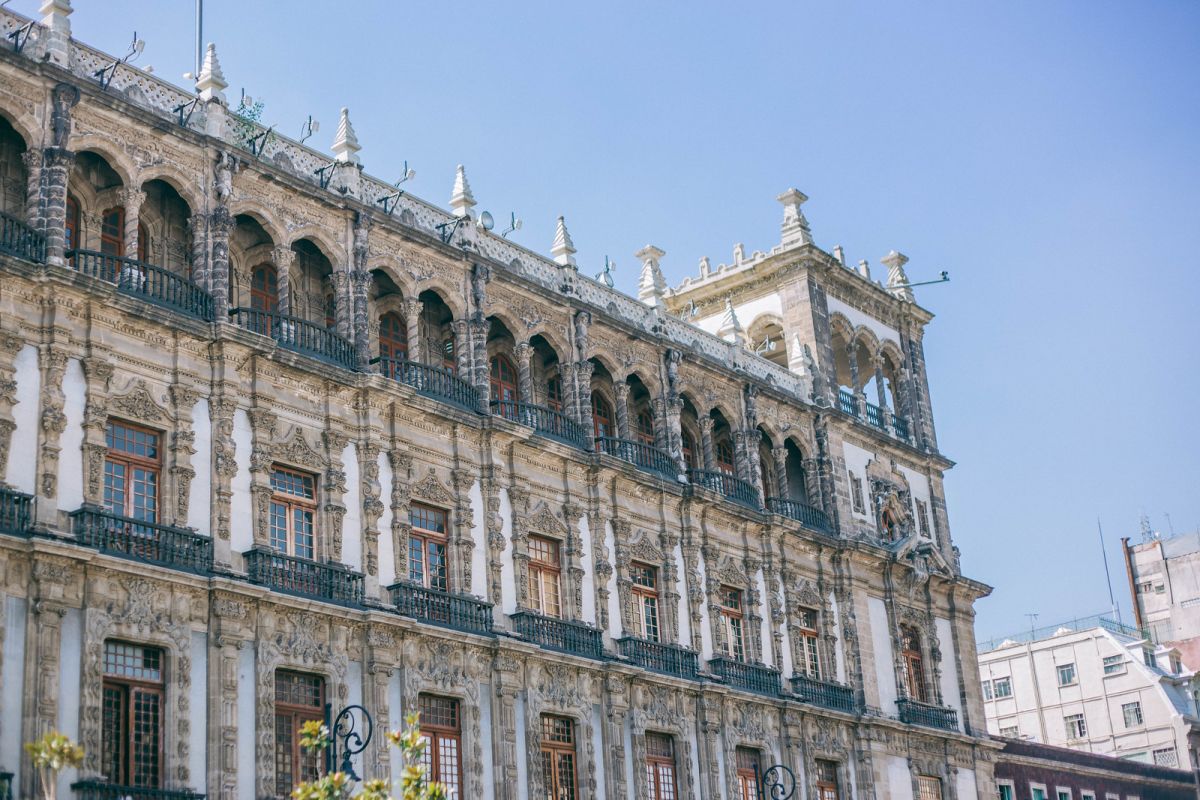 Start at Zócalo
We were heading into the historic center of Mexico City on a warmer Saturday afternoon, which meant crowds were inevitable. Our car dropped us off just a block away from Zócalo, a large public square that hosted a book event that day. The main square of the city today is the square, but before colonialism, it was a ceremonial center for the Aztecs. You'll find many references to the plaza's history and it is surrounded by stunning buildings decorated with blue and white tiles!
Next on this self-guided tour of the historic center of Mexico City, you'll walk over to Templo Mayor. It was once the main template of the Mexica people in the original capital city of Tenochtitlan–or what we know as Mexico City today.
Mexico City Metropolitan Cathedral
No Latin American city tour or is complete without a visit to a grand and beautiful cathedral. The Mexico City Metropolitan Cathedral. It is no less than immaculate, but what truly sets it apart is that it includes five centuries worth of Mexican art and architecture. There are a number of must-see artwork and the facade is truly exceptional. The church, as it stands, is sinking and there are plenty of efforts with trying to control the foundation. So you'll notice uneven floors and foundation.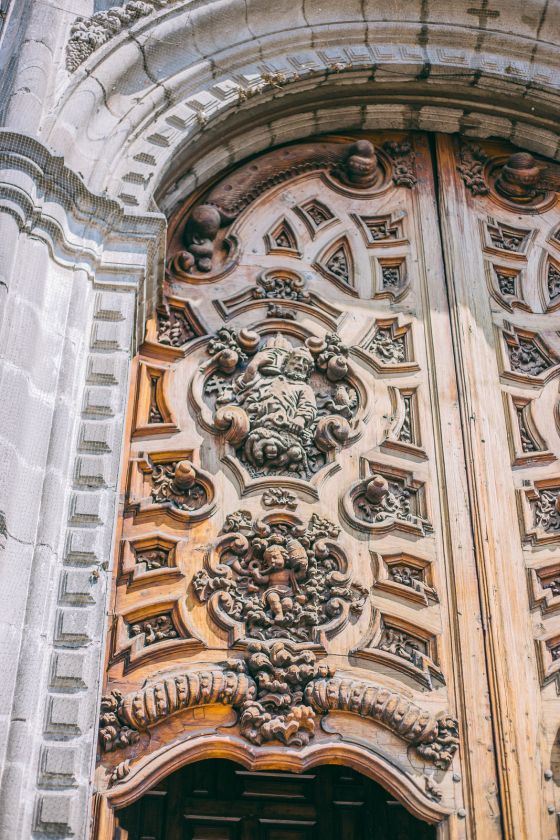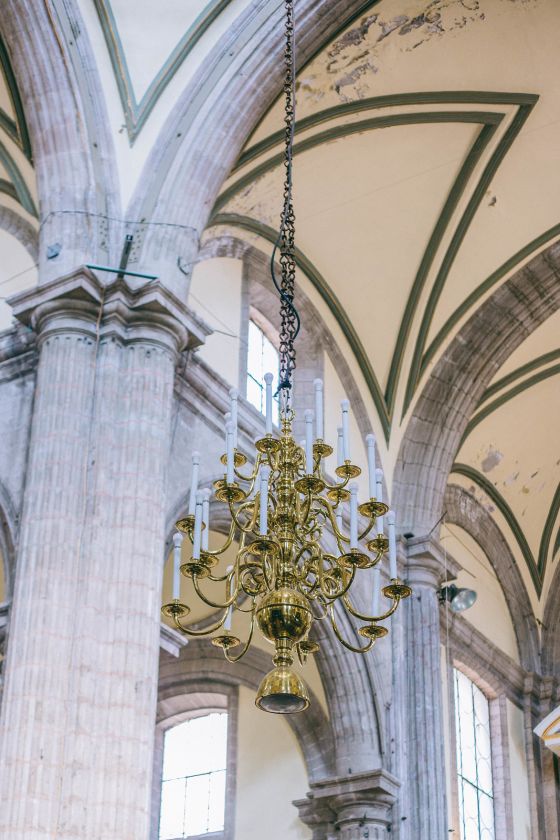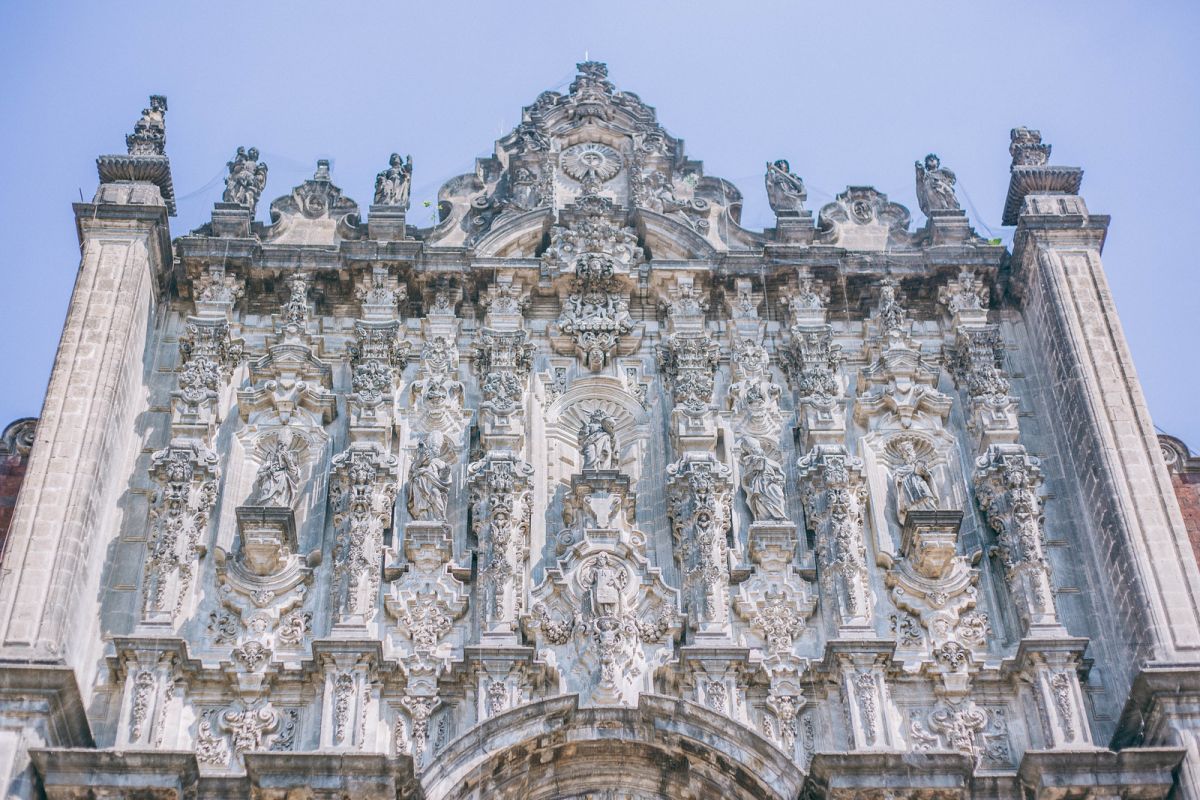 Walk down Avenida Francisco I. Madero
After a brief historical tour, we arrived at Madero Street, named after Francisco Madero, a key figure in the Mexican Revolution and former president who was assassinated in 1913. The pedestrian street is now full of shops, cafes, and restaurants, making it an ideal spot for an afternoon of exploration and admiring the stunning views of historic buildings.
Grab a photo at the House of Tiles
Near the end of the street, don't forget to look up to the House of Tiles, or Casa de los Azulejos. This stunning 16th-century building is covered with tiles and reminded me of my weekend in Porto! These tiles are a symbol of success in the colonial era. Make sure to take a moment to walk around the building, as it is completely covered and offers plenty of corners for photo opportunities.
If you have a few extra days and want to explore more of Mexico City's historic center, try to catch a show at the Palacio de Bellas Artes. If you're short on time, take a stroll around the courtyard that houses the Palacio de Bellas Artes—the cultural epicenter of Mexico City renowned for its music, dance, theatre, opera, and literature events.
Alameda Park
What Central Park is to New York City, Alameda Park is to Mexico City. Every single time I visited the Historic Center of Mexico City on the weekend, I found the park packed full and too crowded to enjoy. Visiting Alameda Park on the weekdays will be your best bet to enjoy a little picnic or walk around. If you're planning on doing the other parts of this self-guided walking tour of Historic Center of Mexico City, then walk through Alameda Park over to Barrio Alameda.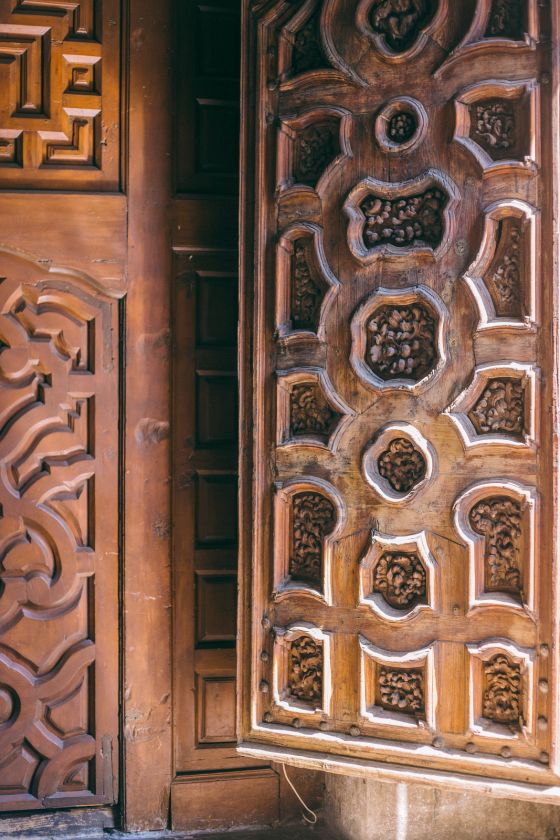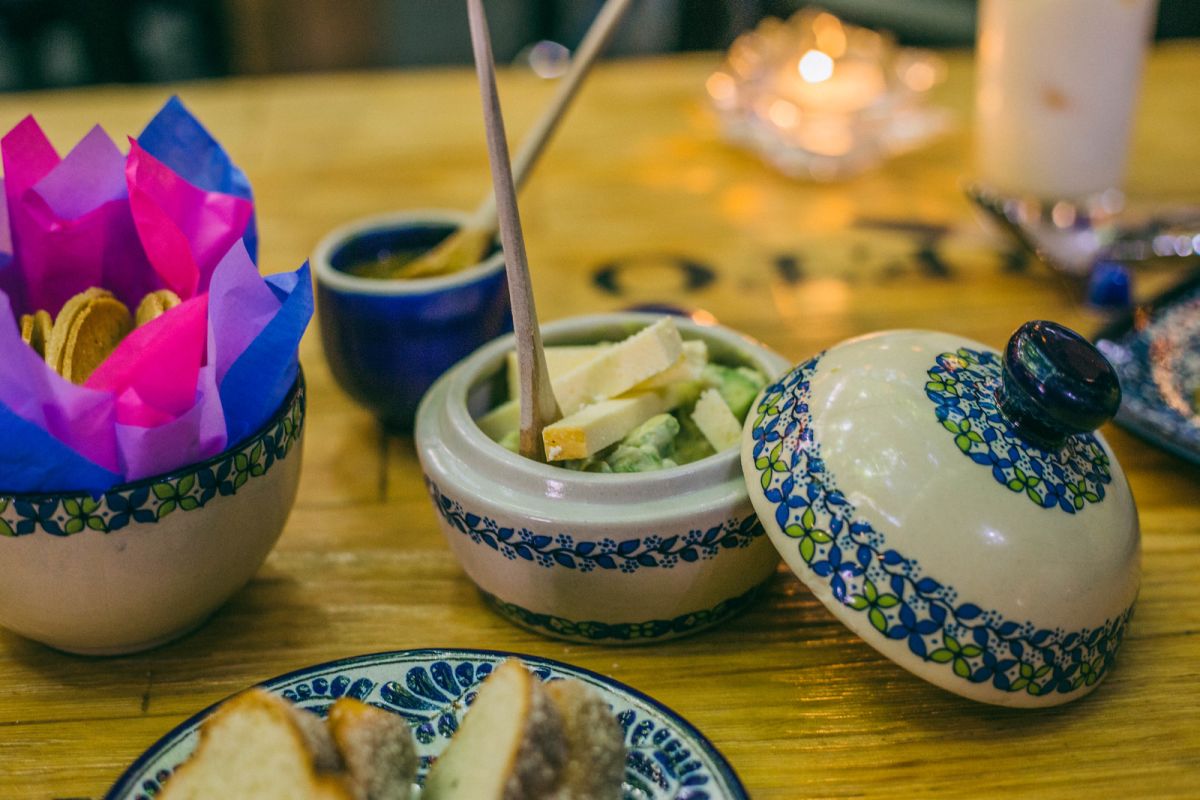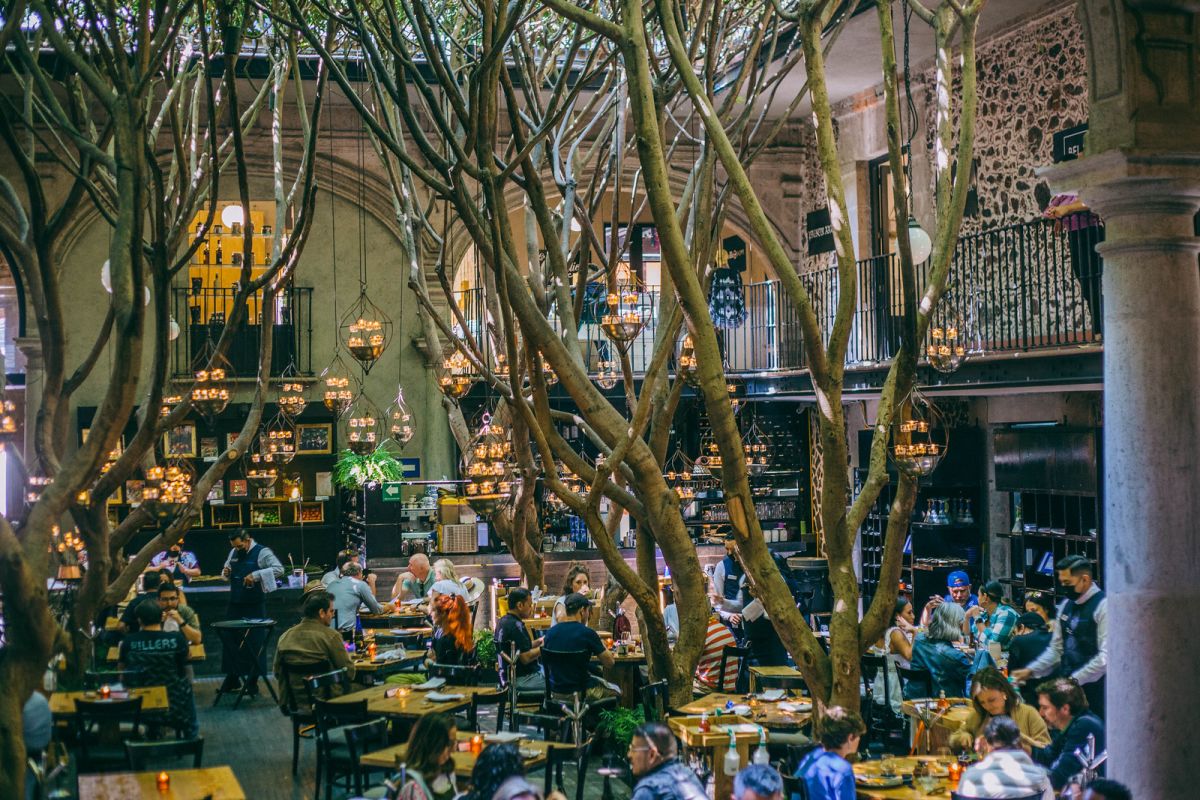 Barrio Alameda is a must-do in the historic center! The 1920s building used to be full of doctors, lawyers, and other professional offices. During the earthquake of 1985, Barrio Alameda was badly impacted and needed restoration. Since the restoration, the building has inspired and become home to a number of shops, bars, cafes, and restaurants. Pro tip: be sure to go to the top of the building for the best views of Alameda Garden!
Fall in love with Palacio Postal
As evening starts to set, be sure to walk towards the Palacio Postal. The building itself is gilded and stunning and cannot be missed for design enthusiasts. Right after my quick walk around Palacio Postal, walk towards Azul Historico and you'll see Torre Latinoamericana in the distance.
The Torre Latinoamericana is a prominent skyscraper in the historic center of Mexico City. If you're keen, there is an observation deck where you can take in stunning view of the city! If you've got a sunny day on your hands, then I highly suggest it.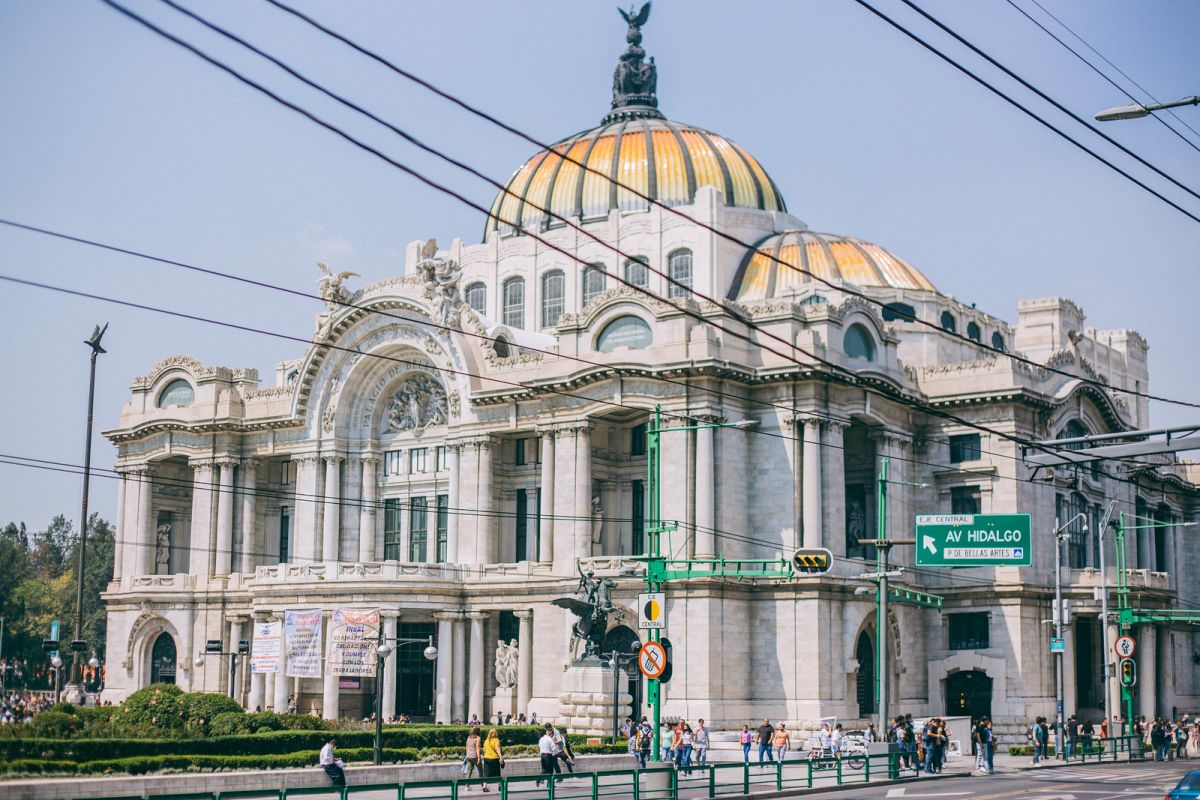 Eat at Azul Historico or Cafe De Tacuba
If you're looking for a nice dinner option in the historic center of Mexico City then you have a number of choices. The two that stuck out to me with similar atmosphere were Azul Historico and Cafe de Tacuba.
Azul Historico is an dark, romantic, and intimate space under fairy lights and tree-line courtyard of a 17th-century palace. Chef Ricardo Muñoz Zurita has re-envisioned moles and salsas to bring a new experience to Mexican cuisine. Order the mole negro, chipotle salsa, and Oaxacan tortilla soup.
Cafe de Tacuba is your spot if you're looking for a traditional Mexican dinner. This century-old institution is elaborately decorated and has a live mariachi band that will give you a true Mexico City experience. Their spicy house mole is to die for. Go here if you have time and want to enjoy a long dinner as the kitchen takes their time follow traditional recipes and techniques.
Whilst in the Historic Center of Mexico City, I was lucky enough to experience a couple of nights with live traditional music. My local friends and I spent the night dancing and sipping on mezcal! If you're looking for a fun experience, then no visit to the historic center of Mexico City is complete without a night at Zinco Jazz Club. A cool, retro club playing both Mexican and international favorites and classic cocktails.